On Tuesday we saw a BUY signal for Adtran (NASDAQ:ADTN) on our Swing Signals list. Back on Tuesday, after checking the chart, it looked to me like the stock was looking quite promising but was coming up against some serious resistance.

Now that it's a couple of days later, let's take a look at the chart below and see how things are working out.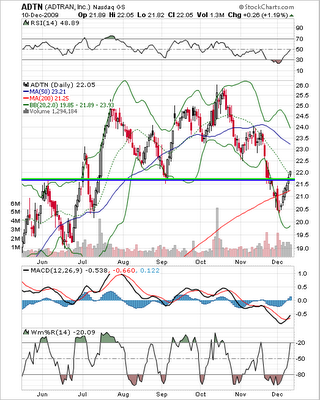 You can see how the stock fell from around $26 all the way down to $20. You can also see the major resistance indicated by the green-blue horizontal line. As of the close on Tuesday, Adtran was poised just below this line. As of the close today on Thursday the stock has managed push roughly 2% above this resistance line. MACD has also turned bullish now. It looks like the stock is ready to run.

Background
Adtran is a $1.39 billion networking company whose products support voice, data, video, and Internet communications. They are essentially in competition with companies like Cisco. Adtran sells primarily to large corporate customers and telecom companies.

Financials
Financially, the company isn't doing too badly. The following chart shows the last five quarters:
The last three quarters show steady improvement. The outlook for tech continues to be favorable and there are no reasons to believe Adtran won't continue to benefit. The growth in gross margins shown on the chart should support further improvement in earnings. The company is cash flow positive and pays a dividend.
Currently however, the stock is not exactly inexpensive. The PEG of 1.88 suggests the stock is reasonably priced and is not cheap.The Price-to-Sales ratio, the trailing PE and forward PE are consistent with this assessment.

Outlook
Valuation suggests upside could be limited in the near term but the chart looks like the stock might be on a roll. It looks like that dip below the 200-day moving average was just a head fake.

Disclosure: no positions