By Jeff Bailey
Carl Icahn's publicly-traded investment vehicle, Icahn Enterprises (NYSE:IEP), had this to say, among other things, last week about Netflix (NASDAQ:NFLX), the video company the billionaire investor's firm had purchased a 10% stake in about 14 months earlier: "we believe the company remains significantly undervalued."
That remark, of course, came in a news release in which Icahn disclosed it had sold more than half of its stake for almost $1 billion. Icahn retains a roughly 4.5% stake in Netflix. If the company was, indeed, undervalued in the hours before Icahn made that statement, it became a screaming bargain in the hours after the disclosure, as the market digested the news. (For the record, Icahn sold 2,989,000 shares at prices from $304 to $341, so the firm missed the absolute recent top in Netflix shares but did nicely, just the same.)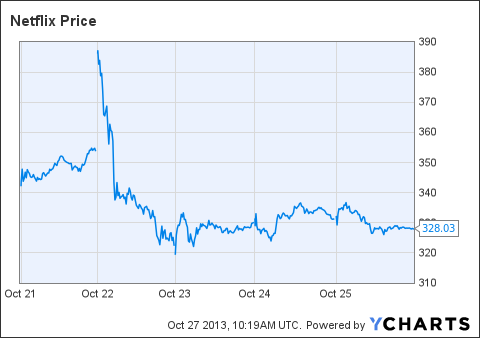 The episode is a lesson in the opportunities and dangers of momentum investing, buying stocks with sky-high valuations because they're rising, say, rather than out of belief in the underlying business. At $58 a share, Icahn's cost basis from buying in 14 months ago, the underlying business of Netflix could certainly have been the attraction. Above $300, the stock more resembles a squirrel running into the trees: dogs are compelled to chase it. (We're not calling anyone a dog, by the way.)
Other momentum stocks Tesla (NASDAQ:TSLA), Trulia (TRLA) and Zillow (NASDAQ:Z) would seem likewise vulnerable to any discouraging news.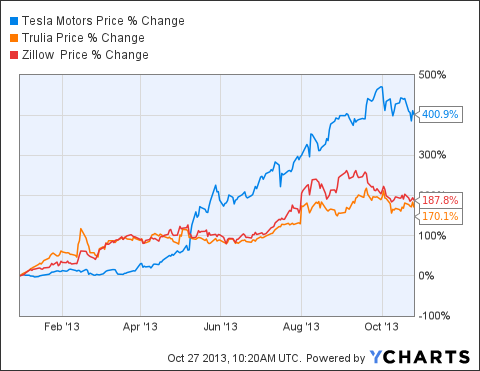 As for Netflix, after yesterday's plunge, all us value investors can scrape it up for about 275 times trailing earnings.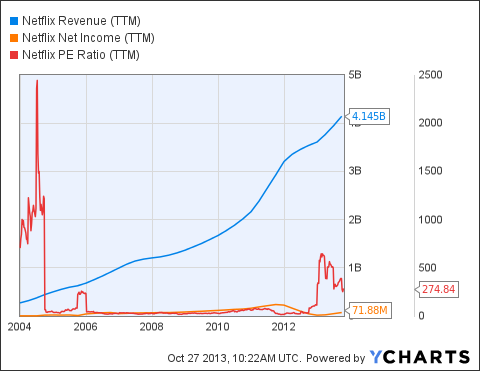 TTM) Chart" _fcksavedurl=" >TTM) Chart">
NFLX Revenue (TTM) data by YCharts
David Schechter and Brett Icahn, managers of the Icahn Enterprises fund that holds the Netflix shares, said more fully: "Our cost basis in Netflix is $58 per share. Despite its notable appreciation in just over one year to $323 per share, for the reasons set forth below, we believe the company remains significantly undervalued."
Carl Icahn added:
While I basically agree with David and Brett's assessment above and have often held positions for many years, as a hardened veteran of seven bear markets I have learned that when you are lucky and/or smart enough to have made a total return of 457% in only 14 months it is time to take some of the chips off the table. I want to thank Reed Hastings, Ted Sarandos and the rest of the Netflix team for a job well done. And last but not least, I wish to thank Kevin Spacey.
The old boy's sounding a little giddy, eh?
The Wall Street Journal's Martin Peers wisely pointed out that it's a good thing for Icahn and other Netflix holders that Netflix CEO Reed Hastings ignored the billionaire's advice to seek a buyer for the company.
Disclosure: I have no positions in any stocks mentioned, and no plans to initiate any positions within the next 72 hours. I wrote this article myself, and it expresses my own opinions. I am not receiving compensation for it. I have no business relationship with any company whose stock is mentioned in this article.