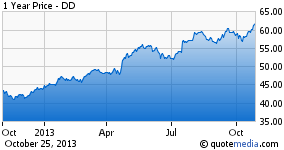 DuPont (NYSE:DD) has found itself in the crosshairs of activists calling on it spin-off assets to be a more focused chemical company and unlock shareholder value. Specifically, famed activist Nelson Peltz has acquired a $1.3B stake in this well-known chemical maker.
This agitation has already driven some shareholder friendly moves. DuPont announced this week it intends to spin off its specialty chemical businesses. This move was applauded by Wall Street, which bid up the shares more than three percent as rumors surfaced this week as to DuPont's intentions. Earlier this year, DuPont sold its performance coatings business to private equity firm Carlyle Group for $4.9 billion in cash.
This was the trigger that prompted Citigroup to immediately upgrade the shares to "Buy" from "Neutral" and lifted its price target to $70 a share from $61 a share. This is one of several positive comments from analyst firms in the last few weeks.
JPMorgan upgraded the shares prior to the spin-off announcement this week. It upgraded the shares to "Outperform" from "Neutral". It also raised its price target to $67 a share from $60. Morgan Stanley also listed DuPont recently as one of its top dividend picks. Finally, the shares got a positive shout out from Mad Money Maestro Jim Cramer this week.
The real prize for shareholders would be if Peltz and other activists would be able to convince the company to spin-off or sell its fast growing agricultural businesses. These businesses posted 15% Y/Y growth last quarter on sales of $1.6B. This part of business has a portfolio that closely resembles that of competitor Monsanto (NYSE:MON).
Monsanto is growing revenue in the 6% to 8% range annually. It is priced at near 4x annual sales. So what is DuPont's agricultural businesses growing in the double digits worth? Let's say we give the same 4x revenue multiple on the ~$7B of annual sales this part of the company brings in. That gives a value of $28B for DuPont's agricultural portfolio.
This accounts for approximately half of the company's overall market cap of under $60B even though agricultural accounts for less than one quarter of DuPont's overall revenues. Obviously, this transaction would create significant shareholder value.
Valuation: DuPont sports a reasonable valuation while an investor awaits for the company to continue to unlock shareholder value either on its own or under pressure from activists like Nelson Peltz. The shares yield a solid 3% dividend.
The company has beat quarterly estimates for four straight quarters, has a solid balance sheet and sells for just over 14x forward earnings (~in line with the overall market multiple). In addition, the company should reap long-term benefits from the continuing low natural gas prices in the United States which makes up a substantial portion of a chemical plant's operating costs. BUY
Disclosure: I have no positions in any stocks mentioned, but may initiate a long position in DD over the next 72 hours. I wrote this article myself, and it expresses my own opinions. I am not receiving compensation for it (other than from Seeking Alpha). I have no business relationship with any company whose stock is mentioned in this article.