On Oct 26th, SeekingAlpha published my article Zogenix Is Vastly Over-valued Even With FDA Approval, which drew heated debate instantly over the weekend. Many bullish investors believe that Zogenix (NASDAQ:ZGNX) will be a huge commercial success. Ironically, their arguments hinged on the thesis that "many drug addicts would be willing to pay through the nose for Zohydro." It's shameful that these investors build their investment thesis on drug abuse and black-market drug dealing. In this article, I'll outline the reasons why I believe Zohydro's market opportunity will be very limited.
Opioids are not effective for chronic pain
Zohydro ER is approved for long-term chronic pain management. This makes Zohydro more controversial. The widespread use of opioids for chronic pain may actually harm more people than it helps. Remember, pain killers only alleviate the pain symptoms. For chronic pain patients, the most important thing is to figure out the underlying cause of the pain and treat the root cause of the pain. Long-term use of opioids will not only cause addiction issues, but also delay the real intervention to the underlying diseases. As the disease progresses, the chronic pain will be even harder to treat. Opioids don't seem to work well when taken long term and may actually make pain worse, a phenomenon known as hyperalgesia.
The fact that opioids don't work well for most people with chronic pain has been discussed recently in numerous medical journals. At Cleveland Clinic, Mayo Clinic and other prominent medical centers, the treatment for chronic pain often begins with slowly tapering patients off of their opioids. Doctors prefer real interventions that include physical therapy, non-opioid analgesics, weight loss, exercise, cognitive-behavioral therapy and many other treatments.
" ...chronic pain is a serious problem. But opioids are rarely the answer..." said Dr. Andrew Kolodny in a New York Times article, chairman of the department of psychiatry at Maimonides Medical Center in New York City.
Prescribing opioids strains the economy
Not only opioids don't treat chronic pain well, they also cost a lot more and strains the healthcare system in many other ways. These costs, including more hospitalization, more legal expenses, more workplace costs, were nicely outlined in a recent New York Times article called "The Soaring Cost of the Opioid Economy."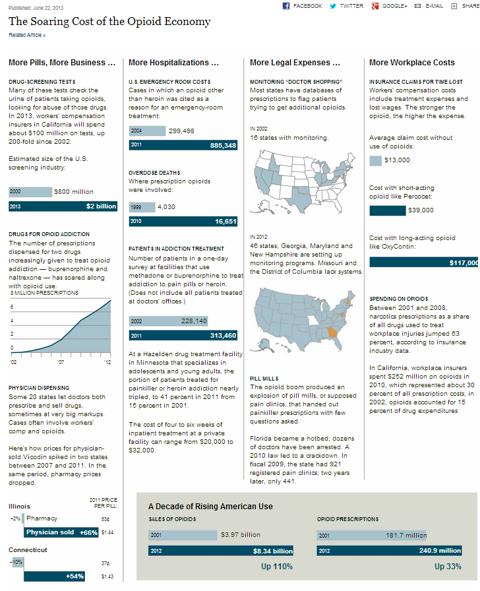 To summarize, by giving opioids to chronic pain patients for a long term, the treatment that doesn't work and may even exacerbate the pain, the patients could just end up with both opioid addition and un-treated or under-treated devastating chronic disease that may kill them eventually. Also several other companies are developing tamper resistant products. There is a real chance that FDA pulls Zohydro off the market once abuse-deterrent formulation is approved, just like what they did to Oxycontin.
If Zogenix follows the stringent REMS and the tight controls rigorously, the market size would be less than $150MM, as outlined in their presentation to FDA. If Zogenix counts on drug abuse to expand sales, FDA will not hesitate to crack down on it. Either way, Zogenix has a grim future.
Disclosure: I am short ZGNX. I wrote this article myself, and it expresses my own opinions. I am not receiving compensation for it (other than from Seeking Alpha). I have no business relationship with any company whose stock is mentioned in this article.