Summary
TransGlobe Energy (NASDAQ:TGA) is a Canadian oil & gas explorer focused on projects in Egypt and Yemen. After reaching an all time high of $18.71 in December 2010 the shares declined significantly since the onset of the political turmoil in Egypt in January 2011. The share price deterioration appears exaggerated given the company's solid operating performance throughout the political unrest in Egypt. Furthermore, the recent ratification of new concessions underpins the stability and growth of the business and point to a significant valuation distortion.
The rapid share price decline during the first quarter of 2011 from $16 to $8 was largely a result of short interest build-up as investors looked for Egypt proxy trades and a way to short the local market. There are very few liquid stocks or ETFs with exposure to Egypt available and TransGlobe appears to have been singled out given its overseas listing (TSE and NASDAQ) and ample liquidity. While the company has managed to operate without any significant disruptions from the political instability, the share price performance over the last 12 months has not recovered to pre-crisis levels despite positive developments at the company. On the back of recent broker upgrades the shares have started to break out from their 52 week low. Further upside will be driven by the company's strong fundamentals and the unwinding short interest (~25%,~66.5 days). The announcement of a payment plan by the Egyptian government within the next month and the company's 2Q2013 results on November 7, 2013 are significant catalysts to drive the stocks re-rating.
Company Description
TransGlobe is engaged in the exploration for and the development and production of crude oil and natural gas in Egypt and Yemen. The Company also regularly reviews potential acquisitions and new international exploration blocks to supplement its exploration and development activities. TransGlobe's major operations and principal activities are in the oil and gas exploration and production business. The Company has had operations in Egypt, Yemen and Canada during the past 8, 15 and 13 years respectively. In Egypt, the Company has an interest in 5 PSCs: West Gharib,
West Bakr, East Ghazalat, South Alamein and South Mariut. The Company was also awarded 4 additional land blocks (North West Gharib, South East Gharib, South West Gharib and South Ghazalat) during the 2012 bid round. In Yemen, the Company has interests in 4 PSAs: Block 32, Block 72, Block 75 and Block S-1.
Since inception, TransGlobe has recorded significant growth in production, reserves and funds flow.
TransGlobe is dedicated to improving productivity through oilfield development and exploitation practices including the implementation of industry leading secondary and tertiary recovery methods.
Thesis & Catalyst For Transglobe Energy Corp
Negative Egypt macro sentiment has overshadowed strong fundamentals in this profitable high growth E&P company.
Current trading implies a market cap of $659 million with shares trading at a 2.7x EBITDA multiple. Net asset value (NAV) without upside from exploration is estimated at $12 per share. Upside from exploration adds another $5 NAV on a per share basis.
Working Capital was $287 million as of 2Q2013 (amount which current assets exceed current liabilities) consisting mostly of accounts receivable from the Egyptian General Petroleum Company (EPGC). TransGlobe management stated in their 2Q2013 filing that they expect to collect the entire balance. The company is in continued discussions with EPGC and the Egyptian Government to determine solutions to the delayed cash collections. In addition to the ongoing variable monthly cash payments, the company is scheduled to receive 1.5 cargo liftings in the 2nd half of 2013.
The working capital balance of $287 million translates into $3.9 per share. The $70 -75 million of cargo liftings represent approximately $1.0 per share upside.
Near term catalysts:
Upside from working capital reduction: The Egyptian government is expected to outline a repayment plan for the $6 billion in outstanding debt to foreign oil companies.
Impact of political turmoil and excessive valuation discount: Recent Sinopec/Apache transaction furthermore underpins the stability and attractive valuation of Egyptian oil producers. It appears that even during the height of the recent political turmoil oil companies continued to receive payments listening to:
ENI CEO Paolo Scaroni on March 14, 2013 saying:
We have not lost a single barrel of production in Egypt...
Apache Chairman and CEO Steven Farris on August 1st, 2013:
I'd like to turn to Egypt right now, and during the second quarter of 2013 and throughout the recent political unrest, our operations have remained uninterrupted.
Positive oil price impact: Current management FY2013 guidance of $145 million funds flow is based on $100/Bbl Brent pricing with an estimated price sensitivity of $11 million per $10 change in Brent pricing. As can be seen be seen in the chart below, Brent has been consistently above $100 throughout the last quarter which will positively impact 3Q2013 results and FY2013 guidance.
Q3 results on November 7, 2013 will provide an update on regulatory approvals for key concessions and additional clarity around the Egyptian government's payment schedule along with an overview of potential business development activities.
Potential Risk Factors:
Elections are scheduled for early 2014 and civil tensions are expected to continue in Egypt throughout this time. The military-backed interim government appears to be making efforts to reduce the influence of the Muslim Brotherhood, the largest opposition group. An election outcome ensuring some level of political stability and supporting the status quo is widely believed to be a favorable outcome for oil producers.
Share Price & Financial Analysis
The share price has significantly underperformed the broader S&P500 as can be seen on the chart above, while the company's revenue and earnings have actually grown significantly since the beginning of the political unrest in Egypt (see below).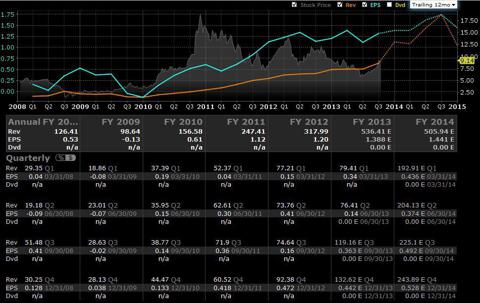 The share price declined from $17 at the beginning of 2011 to currently $9 while EPS doubled from $0.61 in FY2010 to $1.20 in FY2012 and is expected to further grow to $1.38 in FY2013E. A re-rating of the shares based on the catalysts outlined above would see the shares trading in the $12 - 15 range over the next 6 months.
Disclosure: I have no positions in any stocks mentioned, but may initiate a long position in TGA over the next 72 hours. I wrote this article myself, and it expresses my own opinions. I am not receiving compensation for it (other than from Seeking Alpha). I have no business relationship with any company whose stock is mentioned in this article.