Thesis
Going long Yongye International (NASDAQ:YONG) at its current market price of approximately $6.25 per share represents an interesting risk-arbitrage opportunity. Although the deal presents typical M&A risks as well as atypical foreign investment risks, the buyout price appears to severely undervalue the firm's intrinsic value. In most risk-arbitrage opportunities, the primary downside risk is that deal will fail to close thus exerting downward pressure on the target's price. In the case of YONG, a failure to close might actually be a best-case scenario if and when the market valuations for U.S.-listed Chinese equities eventually returns to some form of normalcy.
Full Alliance Int'l Finalizes Buyout of Yongye Int'l
On September 23rd, Yongye International announced its finals plans to be taken private by Full Alliance International Ltd. (Full Alliance) for $339.2M. Full Alliance is offering $6.69 per share in cash for all outstanding shares to be paid in full sometime in 2014; the deal is expected to close at the end of the first fiscal quarter of 2014 (i.e., between October and January).
Within a day of the announcement, on September 24th, two law firms (Faruqi & Faruqi and Wohl & Fruchter) announced that they were investigating the buyout, both citing that the buyout far undervalues the firm based on its book value of $10.03 per share. The following Monday, Nan Xu, a YONG board member, announced he would be resigning as the firm's COO, citing personal reasons. Despite the conspicuous timing of Mr. Xu's departure given these investigations, a civil and/or class-action lawsuit against the firm seems unlikely given that the buyout price reflected a 40% premium to YONG's market price ($4.79) as of the date of the announcement on October 12th, 2012.
Risk Arbitrage Opportunity
At the current price of $6.25 per share, the buyout represents a 7.04% premium to the market. Risk-arbitrageurs and 'specialist' investors who buy YONG's common stock at $6.25 per share can with relative certainty realize the differential within 3 to 6 months. The differential represents a 29.18% annualized return if the deal executes in 3 months; 14.20% if the deal executes in 6 months.
Full Alliance International
Full Alliance International is comprised of a lone Chinese female investor, Xingmei Zhong. As of December 2012, Full Alliance had a 13.9% stake in YONG's outstanding shares of common stock. On December 28th, 2012, FlyOnTheWall reported that Full Alliance had extended an additional $232M in debt financing to YONG. Aside from information concerning the take-private offer of YONG, I am unable to obtain much additional information on the company or Ms. Zhong.
Yongye International
YONG produces "green" fertilizers manufactured from humic and fulvic acids. Although the firm's products do not meet Western standards for "organic," the majority of them have been certified "green" by Chinese authorities. For a more in-depth peak into YONG's convoluted past, read this excellent post on Yongye's roots as a Mongolian shell company.
Although I cannot intelligently comment on the scientific merits of humic and/or fulvic acids as fertilizer components, the company's value statement addresses a growing problem in China; the destruction and reduction of arable land in China. According to a 2006 report by China's Ministry of Water Resources, "37 percent of China's total territory... [suffers] from land degradation". That percentage has likely grown.
Furthermore, the Chinese fertilizer industry is newly privatized and highly fragmented. In a country, which expects to experience long-term increases in standards of living, while simultaneously undergoing a decrease in arable land, this industry categorically must grow. Well managed companies with a clear value statement stand to benefit the most from this growth. If YONG's product-lines do in fact offer ecological benefits versus traditional chemical fertilizers while retaining their yield enhancing properties, YONG appears to be well-positioned to become a premium provider and an industry leader.
Even if we disregard expectations of future growth (which is inherently speculative), the current situation suggests that YONG is severely undervalued with respect to underlying asset values, cash flows, operating efficiency, and historical growth rates. Discounted cash flow (DCF) analyses, with no future growth and discount rates ranging from 10% to 15%, suggest fair values for YONG's common shares in the range of $8 to $24.
The below graphs summarize these historical metrics upon which I based my fair value estimate: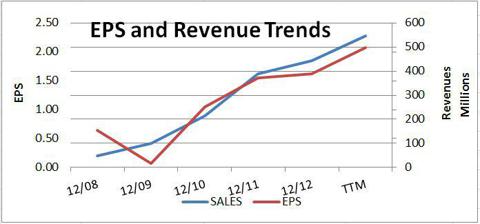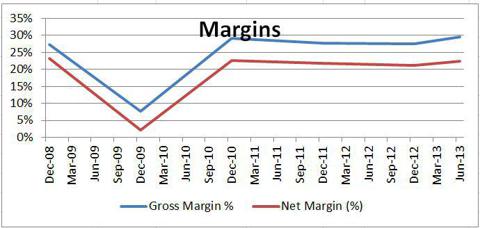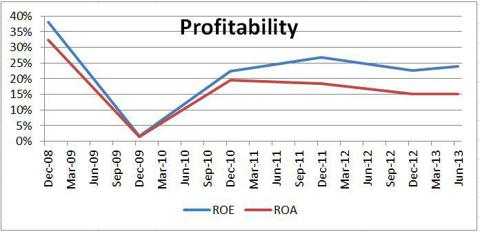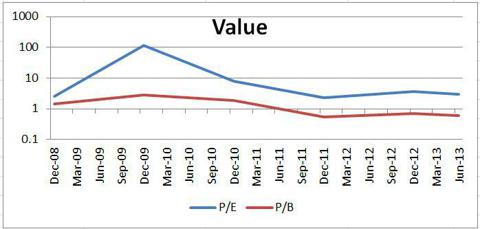 YONG's market discount to its apparent fundamental value is due mainly to foreign investment risks. YONG is afflicted by a stigma shared among many other Chinese reverse-listings. A lack of opacity, trust, and some really bad apples have poisoned the barrel. Most notable among these frauds were Rino International Corporation (OTC:RINO) and Sino Forest Corporation (OTC:SNOFF). Additionally, I would classify Longwei Petroleum (OTC:LPIH), Advanced Battery Technologies (OTCPK:ABAT) as high-risk. U.S. listed Chinese stocks traded OTC are of course much riskier as a rule. For more information on the China discount, please read "7 Reasons Why Investors Should Be Afraid of China." Jack Kreuz brings additional insights with his writings on Chinese Stock Fraud.
The jury is still out on many of these companies. I argue that the stigma has created truly excellent buying opportunities for investors of those firms that have been forthright about their businesses. It appears as though YONG is one such example, and that Xingmei Zhong is getting a real steal for the following reasons:
Most of the 2008-2011 BRIC excesses have been wrung out; trust may yet return to the Chinese reverse-listing market;
YONG's free cash flows exceed its stated earnings (a sign that it may be under-investing, but also that the company is not overstating its true earnings power);
YONG trades at 3.02 trailing P/E; a very similar firm, CGA, trades at 2.81;
YONG's breakup value, which I assess is somewhere on the order of $7.70 per share based on its balance sheet, is considerably higher than the market value and buyout price; and,
YONG's auditor, KPMG, goes directly to the bank to verify balances and cash flows. Did I mention the auditor is KPMG?!
A Synopsis of the Buyout
The previous year has been relatively quiet for Chinese reverse-listings; YONG is an exception. At one point, trading was suspended due to YONG's failure to file quarterly reports with the SEC, likely due to internal audits and due diligence assessments between the firm and any prospective buyer(s).
My analysis of the buyout agreement included a thorough study of key developments surrounding YONG's listing status and the offer to take the company private. Prospective investors in YONG should also carefully peruse the most recent buyout agreement between YONG and Full Alliance International (SEC Form 13D/A) available on the SEC's EDGAR system.
See below for a graphical synopsis of the buyout and its effect on share prices: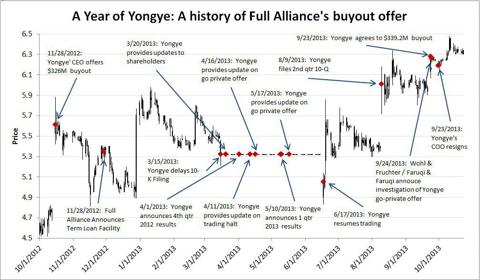 Key Developments Pertaining to the Buyout and Trading Status of YONG's Common Shares:
| | |
| --- | --- |
| 10/15/2012 | Yongye CEO offers $326 mln to take company private - MarketWatch |
| 12/28/2012 | Full Alliance discloses Term Loan Facility Agreement for Yongye at theflyonthewall.com (Fri, Dec 28) |
| 12/28/2012 | China's Yongye Jumps Most in Two Month on Loans From State Bank at Bloomberg (Fri, Dec 28) |
| 3/15/2013 | Yongye International Announces Delay in Filing 10-K and Postponement of Fourth Quarter and Full Year 2012 Earnings Call PR Newswire (Fri, Mar 15) |
| 3/20/2013 | Yongye International Provides Update to Shareholders on Trading PR Newswire (Wed, Mar 20) |
| 4/1/2013 | Yongye International Announces Fourth Quarter and Full Year 2012 Financial Results and Filing of Form 10-K PR Newswire (Mon, Apr 1) |
| 4/11/2013 | Yongye International Provides Update on Trading Halt PR Newswire (Thu, Apr 11) |
| 4/16/2013 | Yongye International Provides Update on Status of Proposed Go Private Offer PR Newswire (Tue, Apr 16) |
| 5/10/2013 | Yongye International Announces First Quarter 2013 Financial Results PR Newswire (Fri, May 10) |
| 5/17/2013 | Yongye International Provides Update on Status of Proposed Go Private Offer PR Newswire (Fri, May 17) |
| 6/17/2013 | Yongye International, Inc. Announces Common Stock Will Resume Trading on the NASDAQ Stock Market on June 17, 2013 PR Newswire (Mon, Jun 17) |
| 8/9/2013 | YONGYE INTERNATIONAL, INC. Files SEC form 10-Q, Quarterly Report EDGAR Online (Fri, Aug 9) |
| 9/23/2013 | Yongye agrees to be taken private in $339.2M deal AP (Mon, Sep 23) |
| 9/24/2013 | YONGYE INVESTOR ALERT: Faruqi & Faruqi, LLP Announces the Investigation of Yongye International, Inc. (YONG) over the Proposed Sale of the Company to Full Alliance International Limited Business Wire (Tue, Sep 24) |
| 9/24/2013 | YONG SHAREHOLDER ALERT: Wohl & Fruchter Investigating the Acquisition of Yongye International, Inc. by Full Alliance International Limited Business Wire (Tue, Sep 24) |
| 9/30/2013 | Yongye International Announces Resignation of Chief Operating Officer and Director PR Newswire (Mon, Sep 30) |
Risk Factors
M&A risks could include legal delays, complications, and even a failure to close. Foreign investment risks are additive to these. Although Chinese firms have been able to conduct buyouts, delistings, and pay dividends to foreign investors in the past, the precise meanings of Chinese regulations on foreign investment disbursements are murky at best. Chinese regulations are based on statutory rather than common law; past precedents may have no bearing on future legal interpretations. Examples of specific risk factors include the following:
Full Alliance may need to obtain approval from the China State Administration of Foreign Exchange (SAFE) in order to proceed with the buyout. Although Chinese regulations concerning routine foreign exchange transactions have relaxed over the years, Renminbi (RMB) is still highly regulated. Currently, remittances of foreign currencies (e.g., for payment of dividends, etc.) do not require approval of China State Administration of Foreign Exchange (SAFE). However, conversion of currency in the "capital account" (e.g. for capital items such as direct investments, loans, securities, etc.) still requires the approval of SAFE.
The M&A Rule, as amended on June 22, 2009, may require YONG to retroactively obtain approval from the China Securities Regulatory Commission (CSRC) for its stock listing in the United States before Full Alliance can proceed with the buyout. The rule requires offshore special purpose vehicles (OSPV) formed for overseas listing purposes through acquisitions of PRC domestic companies and controlled by PRC companies or individuals, to obtain the approval of the CSRC prior to publicly listing their securities on an overseas stock exchange. It is unclear whether YONG's common stock qualifies as an OSPV. Generally, Chinese companies are uncertain about the interpretation of the M&A Rule.
The bottom-line is that risk factors affect the present value of the deal: if the deal is delayed longer than 6 months, the annualized return will decrease; if the deal is broken, shares could return to pre-buyout levels or lower. In order to properly appraise the situation, selecting a discount rate that reflects a reasonable required rate of return given the risks involved is key.
A broken deal, however, may actually be beneficial for YONG's share price over the long run. The firm appears to be severely undervalued if one is lends credence to the firm's audited financial statements, which show healthy working capital levels, solid margins and returns on assets, robust top and bottom-line growth, and systemically positive free cash flows. This situation represents a unique opportunity in mergers & acquisition since, as a buddy of mine put it, "If the fair value of the stock is greater than the market price, then it's definitely a buy since [worst case] you get the risk arb profit and best case you get fair value when the market comes to its senses."
Quantitative Analysis of the Arbitrage
An expected return analysis that only accounts for the difference between market and buyout price grossly simplifies the risks involved. Time value of money and added risk factors should be used to derive a reasonable measure of the stock's fair value at the present time. Although the stock appears to be a steal at $6.25, there is rarely such a thing as free lunch.
The real option valuation model that I've attached shows that the present value of the buyout may be very close to the current market value. The model's results seem robust to fairly wide-ranging assumptions (e.g., discount rates, probabilities, etc...), therefore I assess that today's price pretty closely reflects the present value of the buyout. See the following: YONGYE Buyout Valuation Wksht 4.
The fair value of the deal, however, is sensitive to the expected transaction date when shareholders receive in cash the $6.69 per share on YONG. Fair value also widely varies on whether the strike price (i.e., fall-through value) is set to:
The intrinsic value (vis-a-vis DCF);
Shareholders' equity (book value, approx. $9.90 per share); or,
The break-up value (net tangible asset value, approx. $7.70 per share).
If one presumes the buyout is suppressing the market value of the shares, the stock provides reasonable upside potential with limited downside risk (i.e., a margin of safety). There is also an off-chance that the stock yields asymmetric upside if the deal fails to close or is somehow renegotiated.
While my model utilizes a trinomial tree, those interested in doing their own M&A research can use a general binomial approach as follows:
V0 = (u * max(0, Vu) + d * max(0, Vd)) / (1 + r)
R = (V0 - P) / P
where:
V0 = present value of the investment
u = probability of the deal closing
d = 1 - u
Vu = value if the deal closes
Vd = value if the deal fails
r = the discount rate (i.e., WACC + risk premium)
R = the expected return on investment
P = the current market price of the investment
Conclusion
If a 7% return seems too paltry given the risks, the valuation of many of Chinese reverse-listings (e.g., CGA, YONG, CXDC, KGJI, LIWA, TPI, ZA, ZX, etc...) reflect extreme pessimism and/or are priced for extended negative growth and therefore are excellent targets for future acquisition and/or buyout. Other listings of Chinese companies may be more risky, especially those traded OTC. While many have voiced reservations over all Chinese companies, in order for their valuations to reflect reality, virtually everything that is Chinese must be a fraud. It seems doubtful for a scandal of such grand nature to be able to transpire. In order for this sort of grand larceny, forgery, and all other forms of fraud to go unabetted, practically everyone involved has to be on the 'take': politicians, regulators, company managers and executives, institutional investors, banks, auditors, et al. Highly unlikely, yes, but not impossible considering that individual investors' pocketbooks are always the last to be plundered. I suppose when you get down to the heart of the matter, my bets on a few Chinese small-to-mid caps is a bet against one of the grandest conspiracy theories ever wrought.
Disclosure: I am long YONG, CGA, CXDC, KGJI, LIWA, ZA. I wrote this article myself, and it expresses my own opinions. I am not receiving compensation for it. I have no business relationship with any company whose stock is mentioned in this article.
Additional disclosure: While I do not expect all the above positions to yield positive returns, I assess that there is potential for one or more to yield asymmetrically large gains if held for a long enough time period.