The 41 stocks in the Consumer Staples Select Sector ETF (NYSEARCA:XLP) do not come cheap at 19x TTM earnings. To find bargains, I screened food and beverage stocks on price-to-sales ratio, and found household name brands Fresh Del Monte Produce Inc. (NYSE:FDP), Dole (NYSE:DOLE), and Chiquita (NYSE:CQB) all in the bottom 10th percentile.
SA author Jason Rivera examined the financial health of these 3 food stocks in a 4-part series concluded in SA on June 26, 2012. None of these three was in great health: FDP was my favorite because of its relatively lower debt, its relative valuations, and because of my own perceived recognition and likeability of the brand.
More than a year later, FDP valuations remain low. Current price is less than book and price-to-sales is <0.5, both having increased by 11% and less than the stock price which has increased 15%. This figure from Ycharts shows P/B in blue, P/S in orange over the past year.

P/E TTM has risen from 11.3 to 13.5 over the past 12 months, still a modest multiple compared to its industry peers. Why so seemingly cheap?
The Business. Fresh Del Monte Produce is a holding company incorporated under the laws of the Cayman Islands in 1996. FDP is a world leader in the production, distribution and marketing of fresh produce in over 100 countries in North America (53% of sales), Europe (21%), Asia (12%), and Middle East (11%). Profits derive from bananas (26%), other fresh produce (60%), and prepared foods (14%). FDP operates in difficult environments, financially and geopolitically as described in its annual report. FDP is a vertically integrated producer, marketer, and distributor for its products. FDP runs a fully integrated logistics network, operating a fleet of 14 owned and 8 chartered refrigerated vessels, trucks, and warehouses; operates 4 port facilities in the US, 41 distribution centers, 14 fresh-cut facilities; 50% of produce comes from company-controlled farms. This is a capital intensive business, with capital expenditures 40% of cash flow in 2011, 46% in 2012 though most of the capex for these 2 years was for expansions and improvements.
Of note, several unaffiliated companies manufacture, distribute and sell produce under the Del Monte brand name. Fresh Del Monte Produce Inc is the legal name for FDP; its commercial name is Del Monte Fresh Produce.
Bananas - FDP and its nearest competitors. Bananas are the leading internationally traded fresh fruit in terms of volume and dollar sales. Bananas are the single largest source of revenue for FDP. FDP is the 3rd largest producer behind DOLE and CQB as shown in the figure found at University of Florida.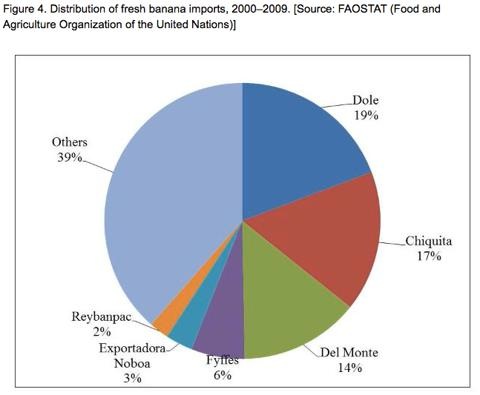 Current data comparing banana market share for these 3 companies is difficult to find. In its 10K for 2012, DOLE reported a decline in total operating income to $16.6M from $101M for 2011 in part due to lower earnings in its North America banana operations.
CQB reported a total operating loss of ($254M) in 2012 compared to a gain of $34M in 2011; operating income for the banana segment was down to $77M from $127M in 2011.
FDP reported a total operating income of $161.4M for 2012, up from $115.9M in 2011. Gross profits from bananas increased to $89.7M in 2012 from $88.3M in 2011.
FDP balance sheet. Total assets and PP&E in proportion to sales are shown in the following figure (source of data: fidelity.com). The business is asset-heavy.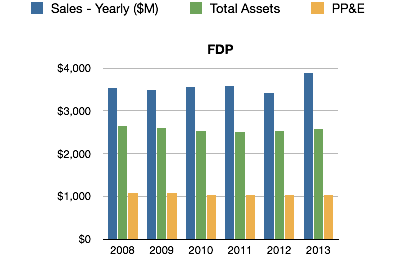 The revenue annualized for 2013 represents an increase.
The next figure shows market cap which, since 2008, has risen modestly and less than net current asset value, NCAV, defined as current assets minus total liabilities minus preferred shares (source of data fidelity.com). In 2008 FDP made several acquisitions totaling >$400M (source of data FDP annual report).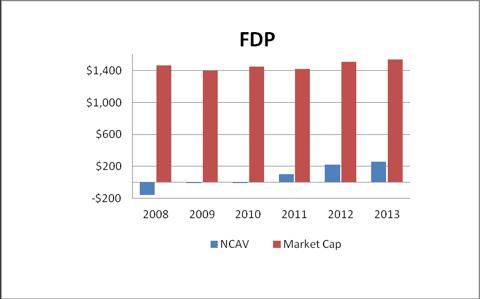 FDP price, earnings, and dividend history. F.A.S.T. Graphs nicely shows a 15 year history of erratic earnings, stock price, and dividends for FDP. Th number of common shares outstanding has declined from 63.6M in 2008 to 57.7M, helping share price to rise.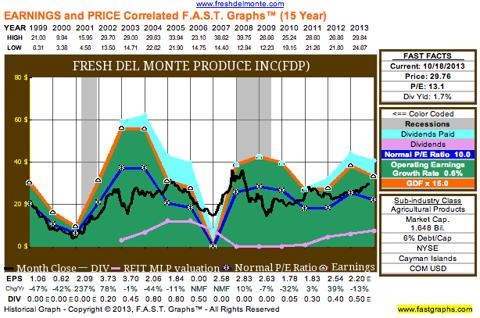 Earnings collapsed in 2006. According to 2007 Form 20F, net sales were $3.2B, cost of products sold was $3.0B; there was an impairment charge of $0.12B; that and other pre-tax losses resulted in a net loss of ($0.145B) in 2006. Some of these losses were attributed to increased fuel costs, increased container costs, product recalls, contamination in Kenyan pineapples, closure of Hawaiian pineapple operations, and impairments in other under-utilized facilities. There were further increases in the costs of fuel and packaging material in 2007 and 2008.
FDP price does not highly correlate with stock market price, and during some intervals, particularly 1999-2002, stock price has inversely correlated with price of S&P500, earning FDP a very low beta value (1-year annualized beta = 0.6, source: fidelity.com).

That lack of correlation seems to have evaporated during the run-up in prices over the past year and a half.
Since 2012 sales have increased (but are historically higher in Q1-2 vs Q3-4 according to the company). The next figure from evaDimensions.com, like the figure for NCAV in the preceding paragraph, shows that increases in market value have lagged increases in balance sheet capital.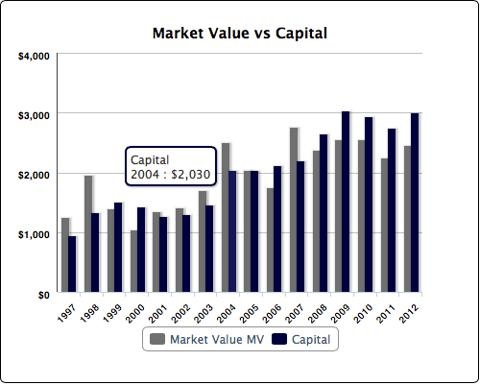 The next figure, also from evaDimensions, demonstrates that FDP generated positive EVA, Economic Value Added, in 2012 (right axis), but that FDP was undervalued by Mr. Market as indicated by the still-negative bar representing MVA, Market Value Added (left axis).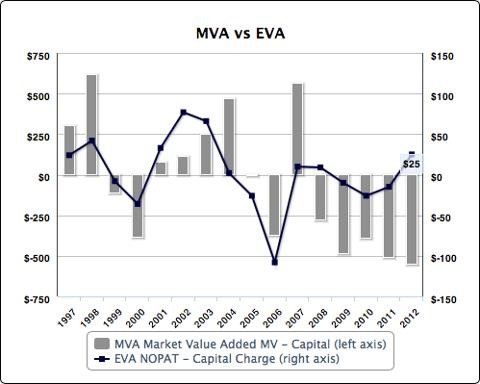 Current Financial Health. On the downside, in 2012 there was another asset impairment of $2.2M due to an underperforming production facility in the UK, and flood damage to a facility in Costa Rica. Cash and other current assets total $971M in Q2 of 2013 vs $926M for Q2 of 2012. Long-term debt/equity remains a relatively low 7% in Q2 of 2013. Sales were higher as shown in the figure above. Net income was $103.8M for 1st 6 months of 2013 vs $121.3M for the same period 2012; 2nd quarter 2013 net income was $62.0M vs $58.5M 2012Q2 (source: FDP 10Q for 2013Q2).
Evaluations compared to peers (source Yahoo Finance).
| | | | |
| --- | --- | --- | --- |
|   | FDP | DOLE | CQB |
| P/E TTM | 13.5 | n/a | n/a |
| P/S TTM | 0.48 | 0.28 | 0.17 |
| P/B | 0.91 | 1.44 | 1.27 |
| EV/Revenue | 8.18 | 15.2 | 10.3 |
| ROE | 6.9% | -8.0% | -60% |
| ROA | 3.6% | 0.9% | 1.3% |
FDP Strategy. FDP strategy has changed: from delivery of products to customers at the port, to a higher proportion of value-added services such as in-store merchandising, promotional support, and direct-to-store delivery. Sales of higher margin fresh-cut produce were 11% of total sales in 2012 and are increasing.
Reasons why FDP stock may be cheap:
Operates in difficult geopolitical environments, e.g banana tariffs, EPA fines in Hawaii, produce contamination (Kenya).
Low profit margins (7% range) that can be wrecked by an asset impairment as in 2010 when a $37M impairment reduced operating income and earnings by about 50%.
Abu-Ghazaleh family owns 34% of the Holding Company and could try to take the company private on a low ball offer.
Capital-intense business - inflation in fuel prices in the future could again erode profits as in 2006-8.
Low barrier to entry into the banana business which is largest source of revenue.
Incorporated under the laws of Cayman Islands, shareholders have limited rights.
FDP strengths:
#1 marketer of fresh pineapples worldwide. Barriers to entry are higher than for bananas.
#3 marketer of bananas worldwide.
A leading marketer of fresh-cut fruit in US, UK, Saudi and UAE; of grapes in the US.
Exposes its shareholders to emerging markets: 11% of sales to Middle East, 12% to Asia.
Valuations (except P/S) better than for DOLE and CQB with less debt, modestly increasing revenue, and current profitability.
Payout of $0.125/share quarterly in dividends which is 20% of 2012 earnings, yield 1.6%.
Bottom Line. FDP is not a growth stock, and is not a dividend champion or contender. FDP is in relatively good financial health with low valuations and is currently adding economic value for its shareholders who can anticipate being rewarded by additions to its market value. The huge difference in price performance between FDP and CQB during the past year should reverse.

Whether the FPD earnings report on Tuesday this week disappoints or satisfies fund managers is immaterial to me. I do not intend to sell any shares for a long time, and will be very happy to own Fresh Del Monte Produce during the next recession.
Disclosure: I am long FDP. I wrote this article myself, and it expresses my own opinions. I am not receiving compensation for it. I have no business relationship with any company whose stock is mentioned in this article.