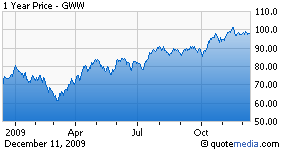 WW Grainger Inc. (NYSE:GWW) reported a 2% year-over-year increase in daily sales for November 2009; the current year period had one extra selling day compared to November 2008. The company benefited from a 4% positive contribution from acquisitions and 2% from favorable foreign currency translation. Sales were negatively impacted by approximately 1% due to lower sales of seasonal products. Excluding the impact of acquisitions, currency exchange, and seasonal products Grainger's daily sales in November were down 3% from last year.
The company witnessed a 3% decline in daily sales in the U.S., as demand remained weak across all end markets, except for Government and Commercial sectors, which were up in low single digits.
In the Canadian (Acklands-Grainger) division, daily sales were up 7% due to favorable impact of foreign currency translation. However, the division's daily sales were down 8% in local currency due to continued weakness in the Canadian economy.
Sales of Grainger's other businesses increased 223%, primarily driven by incremental sales from acquisitions in Japan and India, along with sales growth in Mexico, Puerto Rico and China.
Grainger announced two acquisitions (Alliance Energy Solutions and K&D Pratt Industrial Division) in November 2009. Both the acquisitions are expected to be accretive to the company's earnings in 2010.
In addition, the company recently announced its plans to open a 1 million square-foot distribution center in Minooka, Illinois, in 2012. The company said that this new facility will house more than 450,000 products, driving significant operational efficiencies.
Despite a weak economy, Grainger continues to concentrate on increasing market share through its market expansion and product line expansion programs. We believe the company has adequate financial strength to invest in growth opportunities.