Conventional forms of cancer treatment often require a delicate balancing act of dosage administration in order to maximize efficacy while keeping side effects at a minimum. Typically, higher dosages of therapies are most efficacious while toxicities are also more pronounced at these higher levels. Lower dosages typically have much more tolerable safety profiles while efficacy may then be compromised. Modern cancer treatments typically try to overcome this tradeoff by targeting certain expressions or proteins found only on cancer cells or only over-expressed on cancer cells. By successfully doing so, efficacy can be optimized by focusing the therapy's activity on the cancer cells, but sparing the systemic toxicity often accompanying traditional chemotherapy and radiotherapy treatment regimen. With the proper cell expressions determined and targeted, activity mechanisms are then chosen ranging from immunotherapy to antibody-drug conjugates (ADC) to a host of other approaches. Following, I wish to look at three investment candidates that are developing their own therapies to treat breast cancer as well as other cancers by targeting the Human Epidermal Growth Factor Receptor 2 (HER2) protein. Most commonly used to identify and target many breast cancers, the HER2 expression is also found in or over-expressed in ovarian, stomach, and aggressive uterine cancers among others. While many of the below candidates are indeed targeting the larger breast cancer indication, efficacy there would very well mean efficacy in treating other cancers and have an added effect on share price if clinical trials prove to be hopeful. Investors are advised to consider pipeline progression, cash burn rates, current market capitalizations, and existing clinical data before making their investment choices from below or other sources.
Dendreon Corporation (NASDAQ:DNDN) rose to the top of the biotech world in April of 2010 after the FDA approved its lead product candidate, Provenge®, for the treatment of castrate-resistant prostate cancer. The approval marked the first FDA approval for an immunotherapy agent to treat cancer. The company's share price soared as investors and the healthcare sector buzzed about how big the approval was and what could lie ahead for the hopeful fight against cancer. Exuberance soon took a sharp turn downward as the company was unable to turn a profit on the $90K plus price tag for the treatment regimen. In just a few short months, Dendreon sold its 173,000 square feet New Jersey manufacturing facility to Novartis (NYSE:NOV) for $43 million as sales failed to live up to expectations. The company's most recent financials, its Q2, 2013 10Q, was released on August 8th, with the company still operating at a loss. With a cash burn rate of about $74.6 million quarterly average for its last two quarters, Dendreon is still failing to operate in the black with Q2 revenue of about $73.3 million.
While still struggling to optimize it financials, Dendreon is still at work with its clinical research for other therapies. In October of 2011, the company announced that it had initiated enrollment in Phase II trial evaluating DN24-02, utilizing the same immunotherapy approach as Provenge®, for the adjuvant treatment of high risk HER2 positive (HER2 +3) invasive urothelial carcinoma, including bladder cancer, following resection. While it's difficult to find enrollment update information, I believe it is significant that the company spent $2.4 million in 1H 2013 with $1.7 million of that in Q2 alone solely on DN24-02 research. With the obvious recent increase in research money into the DN24-02 trial, and no solid updates on trial enrollment or interim data, I expect to see an update in the near future as large investors will likely be questioning the recent larger expenses on the ongoing Phase II trial. The clinicaltrials.gov website has the Phase II trial denoted as NCT01353222 with the last changes and updates listed simply as "October 2013". Although not always accurate, the website tentatively has June 2016 listed as the "final data collection date", so the trial is not quite half way to completion with enrollment data currently unknown. Interested investors should watch closely for the Phase II updates while also observing the company's diminishing cash reserves before opening a position in this famous-turned-infamous biotech.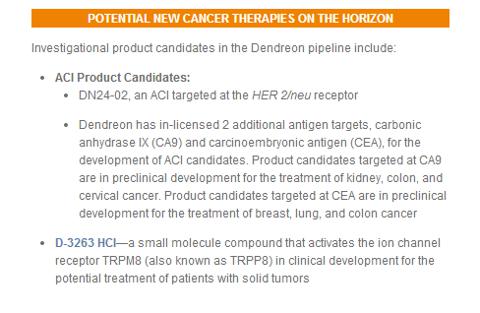 Click to enlarge
(Click to enlarge)
Galena Biopharma (NASDAQ:GALE) is developing an immunotherapy agent that it is evaluating for the treatment of breast and prostate cancers. Termed Neuvax™, Galena's lead product candidate is being evaluated in a Phase III (PRESENT) trial as an adjuvant therapy to treat breast cancer patients with low to intermediate HER2 expressions (HER+1 and +2). NeuVax™ performed admirably in Phase II breast cancer trials in which a 53 patient subset receiving at least one booster inoculation (once every six months) had impressive efficacy as evident in a statistically significant disease-free survival rate of 90.6% versus 79.5% in the control group at 24 months. This patient set had higher HER2 expressions (HER2 +3) and is considered to be HER2 positive. At the final 60-month evaluation, 84.7% of NeuVax™ patients remain disease-free versus 77.1% of patients on the control arm. True statistical significance was not determined in this trial of HER2 positive patients. However, in a parallel Phase II trial of patients who received additional booster shots of NeuVax™ in order to offset any waning efficacy, statistical significance was observed in which the 45 patient set of HER+1 and +2 (low HER2 expression) breast cancer. In this patient set, 94.4% of NeuVax™ patients remained disease free at 5 years versus 74.1% of the control arm giving a recurrence rate of 5.6% in NeuVax™ patients versus 25.9% breast cancer recurrence in the control group.
The latter Phase II trial data should be closely scrutinized as it is the basis behind the Phase III trial that is now underway and the likely next large catalyst for Galena. By targeting the HER+1 and +2 breast cancer patient sets, Galena is attempting to accomplish two things. First, these patients responded better in the earlier Phase II trials with statistically-significant results with the booster injections incorporated into the regimen. Secondly, Genentech's (RHBBY) Herceptin®is a large revenue generator and standard of care (SOC) for HER2 +3 breast cancer (in adjuvant setting after surgery to prevent recurrence). The therapy's indication is for about 25% of breast cancer sufferers and generated revenue of about $6 billion in 2011. By focusing on the HER2 +1 and +2 cancer indications, Galena is targeting an unmet need with no real competition. While the large indication Phase III PRESENT trial is garnering the spotlight, NeuVax™ is also being evaluated in a Phase I trial for prostate cancer (status is unknown, but is on the company's pipeline) and in a Phase II trial in combination with Herceptin for HER+1 and +2 breast cancer patients. Updates on either of the latter trials have been virtually nonexistent, but something interested investors should consider for the longer term.
Galena reported its Q2, 2013 results on August 9th. As of June 30th, the company had $26.8 million in cash and equivalents with a 2013 quarterly cash burn rate of about $8.8 million. The company closed a recent stock offering on September 18th and garnered $32.6 million for operations while subsequently announcing closing an over-allotment option which increased total funding from the offering to $40 million. Depending on the cash burn rate moving forward, Galena should be funded through the end of 2014, reducing the need for additional offerings for quite some time.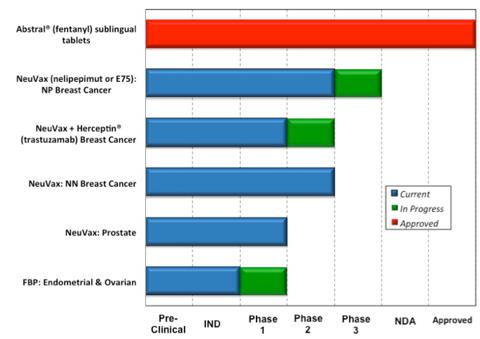 Click to enlarge
(Click to enlarge)
Array Biopharma (NASDAQ:ARRY) is taking a different approach than either Galena or Dendreon for its HER2 candidate. Rather than using the protein as a biomarker to target cancer cells, the company is developing ARRY-380 to inhibit HER2 activity in cancer. On October 1, 2010 Array reported positive interim data on ARRY-380 in a Phase I trial evaluating patients formerly treated with Herceptin® or Tykerb®. In the 17 patient set, 29% of patients had either partial response or stable disease for 6 months or longer. Of 13 patients with measurable disease (RECIST criteria), 7 had observable regressions in target lesions (54%), while of the 4 patients with no measurable disease, 3 had regressions of non-target chest wall lesions as noted and documented by photographic evaluation. On May 30th, Array and Oncothyreon (ONTY) announced an agreement to develop and commercialize ARRY-380. While I cannot locate the final data, the press release noted that, "Array previously completed a Phase I clinical trial of ARRY-380 in patients with heavily pre-treated metastatic breast cancer which demonstrated that the compound was well tolerated and had anti-tumor activity." Array would receive $10 million as an upfront payment for the agreement. Oncothyreon appears to be doing much of the early stage work in which it would fund and conduct the clinical development of ARRY-380 through proof-of-concept trials in patients with metastatic breast cancer, including patients with brain metastases. Both companies would jointly conduct Phase III trials based on the proof-of-concept data with each party allowed to option out of further research and commercialization in exchange for "a significant royalty."
In its Q2, 2013 financials, Array disclosed a bit more about the agreement than was presented in the May 30th press release. While each would ultimately be responsible for 50% of the Phase III trials, the company noted in its Q2 results that, "Array will reimburse Oncothyreon for the proof-of-concept development costs through a mechanism whereby Array bears a disproportionate amount of Phase III development costs and Oncothyreon receives a disproportionate amount of the profits in the U.S. until Oncothyreon is repaid a percentage of the amounts it has spent on the proof-of-concept trials." In other words, Oncothyreon will be bearing a bit more of the earlier financial burden of the proof-of-concept trials while Array will be bearing a bit more of the burden in Phase III trials and lose out on early-marketing revenue until Oncothyreon is reimbursed.
Array had $60.7 million in cash and equivalents as of June 30th, 2013. With multiple partnerships and various clinicals underway, it is a bit difficult to ascertain Array's cash burn rate. The company noted in its 10Q that its current cash and equivalents as of June 30th, when combined with all expected up-front and milestone payments would be enough to fund the company for at least 12 months. Interested investors should expect funding of some sort in Q1 or early Q2 of 2014 as this heavily researching company continues developing its growing pipeline and collaborations.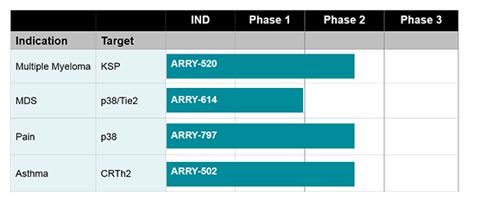 Click to enlarge
(Click to enlarge)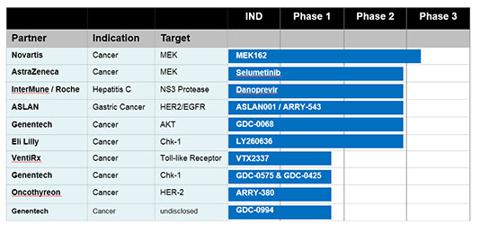 Click to enlarge
(Click to enlarge)
Disclosure: I have no positions in any stocks mentioned, and no plans to initiate any positions within the next 72 hours. I wrote this article myself, and it expresses my own opinions. I am not receiving compensation for it (other than from Seeking Alpha). I have no business relationship with any company whose stock is mentioned in this article.