Royal Dutch Shell (NYSE:RDS.A) (NYSE:RDS.B) changed lanes when it decided to invest heavily in liquefied natural gas, or LNG, last year. It is working with Wartsila North America to develop larger engines that could run on the fuel. It is also partnering with Westport Innovations to co-market new LNG-fueled trucks. Changing lanes to invest heavily in LNG is understandable from Shell's projection of the world's primary energy source as shown in the chart below.
There's one fact, however, which would be a sort of an approval for what Tesla Motors (NASDAQ:TSLA) is claiming and projecting going into the future. One would hardly expect any oil company to make the claim that electric vehicles will be the future of transportation, but that's exactly what Shell is claiming.
Source: Royal Dutch Shell
Shell brought out the New Lens Scenarios, detailing how it sees the future of energy over the coming 50 years. In the report, Shell says,
"By 2070, the passenger road market could be nearly oil-free and towards the end of the century an extensive hydrogen infrastructure rollout displaces oil demand for long haul and heavy loads. By this time, electricity and hydrogen may dominate, and affordable, plug-in, hybrid hydrogen vehicles offer the ultimate in flexibility and efficiency."
The chart below is an interesting one from that report and goes much against what a big oil company would say by and large: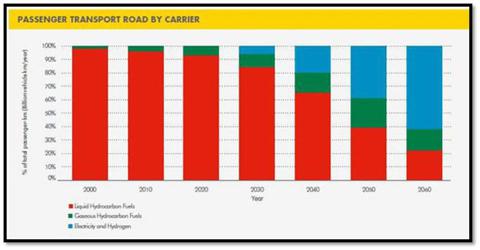 Source: Royal Dutch Shell
So, by 2060, Shell estimates that oil as a transportation fuel would just be 22% of the total energy needed and this is because of the rising use of natural gas, electricity, and hydrogen as transportation fuels.
This is a very powerful estimation and can directly decide the future strategies that Shell uses as it had already started transitioning in 2012, when it said that it would invest heavily in LNG. It is also open to further changes going forward because after going through the report, one would find that both Hydrogen and electricity is clubbed into one group. So it is not surprising to find that Shell stated in its annual report that it is actively developing hydrogen-based fuel technology for vehicles.
Is this good news for Tesla?
For sure, an oil company would never have any intentions of endorsing a company like Tesla directly. However, going by estimates that present a very good future for LNG, hydrogen and electricity-driven vehicles going forward, this is bound to stir some interest among investors. With 80 million vehicles sold last year, the potential for Tesla is huge when viewed within the context of the estimates that have come from an integrated oil company like Shell.
There is indeed opportunity for Tesla. The company is in its early stages of growth but is bound to hit a few bumps down the road. Tesla CEO Elon Musk has said that the company's stock is bound to swing as "confidence waxes and wanes." Its stock is also beyond any sanity when it comes to valuation.
There's no doubt that Shell's report will be a good indicator for Tesla shareholders, but there are other manufacturers in the EV market. Automobile majors such as GM, Nissan, and BMW etc. have been focusing on the electric car market for quite some time and it wouldn't be probably long before their cars are up to speed as Tesla. Another important fact to consider is that Tesla depends primarily on the U.S. for revenue, while the others are multi-national entities and so they can benefit from the shift to other fuels better.
For example, Nissan sells the Leaf not just in the U.S., but in Japan as well. The company has sold 30,000 Leafs in Japan already while more than 35,000 units have been sold in the U.S. This is just one of Tesla's problems as the company will need to shore up its infrastructure and build up its brand equity in other nations when it decides to move in. In addition, Tesla will need to shore up the range of its vehicles and build up the Supercharger network. Both these initiatives will take quite some time and require a lot of capital investment. And before embarking on such an ambitious plan, Tesla needs to ensure that it has enough cash and is successful in the U.S.
There are certain signs that point to the fact that Tesla is indeed gaining adoption in the U.S. The company sold 10,000 units of its Model S sedan in the first half of 2013 and analysts project that Tesla achieved this at the expense of other car brands such as Mercedes, Lexus, BMW, Porsche, etc. Most of the sales came from California and as Tesla expands, it should continue gaining in other markets as well. In addition, Tesla's Model S also overtook sales of the Volkswagen Golf in Norway, becoming the best-selling car in the country. So Tesla is making the right moves but EV initiatives from other vehicle makers could hurt it.
Fundamentals and projections
However, investors would be wary of Tesla's inflated valuation as well. The company trades at an expensive forward P/E of 98.64 and its PEG ratio is also quite high at 14.42. But if Tesla manages to expand its wings in foreign markets, it might be able to achieve the optimistic growth forecasts. The company's earnings are expected to grow 99% this year followed by a whopping 3466% next year. The five-year earnings growth forecast is also an impressive 33% annually but this can go up over time if Tesla captures more markets across the globe. The company is slated to come out with a Model X SUV next year while an entry-level Model E is also reported to be in the works. An entry-level model should help the company get more mass-market recognition and help it compete with the likes of Nissan Leaf.
What next?
Shell's recent report isn't what I would call a compelling endorsement of Tesla's prospects. Investors will need to wait and watch how the company fares in the U.S. and if it can cut its teeth in the international market where the likes of Nissan, Ford, and GM are known brands. Investors with a higher appetite for risk can consider buying Tesla despite its rich valuation. The company is making great products and is focused on expanding its reach, both in terms of customer demographic and geographically, and Shell's recent report is another positive to consider about the future of electric vehicles. On the other hand, the more cautious investors should wait for Tesla to pull back before initiating a position.
Disclosure: I have no positions in any stocks mentioned, and no plans to initiate any positions within the next 72 hours. I wrote this article myself, and it expresses my own opinions. I am not receiving compensation for it (other than from Seeking Alpha). I have no business relationship with any company whose stock is mentioned in this article.