Apple (NASDAQ:AAPL) is a silicon powerhouse. In addition to being one of the finest software/OS development houses on the planet today, it is also a vendor of some of the finest low power, high performance mobile CPUs/SoCs today. Judging from recent job postings, Apple is also hell-bent on developing its own graphics processors (Apple's A-series GPUs have been licensed from Imagination Tech (OTCPK:IGNMF)). However, the company's next big, bold move seems to have been telegraphed in a set of job postings on its websites.
Apple Hiring Loads of RF Engineers
A look at Apple's jobs page shows that the company is hiring RF engineers in droves: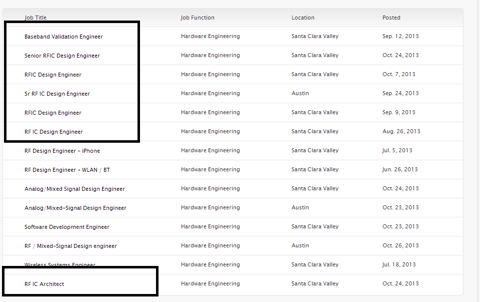 While most of the listings don't specify exactly what type of wireless technologies Apple is looking to develop, it is very likely that with the alleged acquisition of Texas Instruments' (NYSE:TXN) former wireless connectivity business, coupled with this seemingly very aggressive hiring in RF, it is looking to do its own Wi-Fi and Bluetooth connectivity products.
In particular, as Qualcomm (NASDAQ:QCOM) has already done with its Snapdragon line of system-on-chip products, Apple may be looking to integrate Wi-Fi and Bluetooth onto its apps processors. However, what's interesting is that many of the job listings seem to suggest that Apple is interested in Bluetooth and 802.11 b/g, with some references to the iPod.
Now, it doesn't seem likely that Apple would be interested in developing technologies just for the dying iPod - the R&D just wouldn't be worth it as it would be amortized over fewer and fewer units each year. No, it's likely that Apple is making a very serious attempt at developing its own wireless technologies in-house. Depending on what products Apple wants to use them in, this could either mean mildly to catastrophically bad news for Broadcom (BRCM), Apple's #1 connectivity chip supplier. That being said, it'd be very difficult for Apple to simply "roll its own" connectivity products in-house that went toe-to-toe with what Broadcom and Qualcomm have to offer. Heck, even Qualcomm needed to buy Atheros to really become a serious player in Wi-Fi!
Is Apple Doing Its Own Cellular Baseband, Too?
The next question, then, is whether Apple is likely to want to do its own cellular baseband/RF. Again, it seems that eventually Apple will need to integrate this sort of thing onto its apps processors as the rest of the merchant market is currently in the process of doing. On one hand, building cellular technologies from scratch seems nigh impossible - this stuff is highly complex and requires years and years of experience in technologies that continue to build upon what came before it (i.e. multimode 2G/3G/4G LTE).
If Apple were truly interested in building its own cellular baseband it would have purchased Renesas Mobile's LTE assets instead of letting Broadcom grab them. Further, as Qualcomm has shown by being multiple steps ahead of all of the other "heavy hitters" like Intel, Broadcom, and even Marvell (NASDAQ:MRVL), conjuring up something competitive, let alone world class, is just not easy. And, as much as I respect Apple, I don't think it could overcome the very real barriers to developing world-class modem technology without a substantial acquisition.
So, while Apple is very likely doing connectivity (Wi-Fi, Bluetooth, GPS, etc.) for at least a part of its product portfolio, I would be very skeptical in thinking that the company is doing its own cellular baseband. Of course, the question really comes down to whether Apple can be competitive, say, 3-4 generations out with its SoCs if it doesn't offer an integrated cellular solution?
Conclusion
Apple continues to double down on its silicon efforts, and it's clear that they're cooking up something to do with radios. Does the Apple A8 or A9 end up with integrated Wi-Fi, Bluetooth, and GPS? We'll just have to find out, but until then, it's going to be interesting to see if Apple can stay a step or two ahead of the merchant silicon vendors going forward.
Disclosure: I am long BRCM. I wrote this article myself, and it expresses my own opinions. I am not receiving compensation for it (other than from Seeking Alpha). I have no business relationship with any company whose stock is mentioned in this article.