Over the weekend, we got some rather interesting news. Biotech company Dendreon (NASDAQ:DNDN), which brings you the prostate cancer treatment Provenge, was potentially up for sale. Dendreon has been one of the worst performing stocks this year, but shares have obviously recovered from last week's yearly lows on this news. Today, I'll discuss why you shouldn't necessarily jump on board now.
Why would a buyout happen?
When it comes to corporate acquisitions, there are a couple of different kinds. The first kind occurs when one company buys another company that is doing well. Cisco Systems' (NASDAQ:CSCO) acquisition of Sourcefire would fit in this profile. Another type of acquisition is when a company buys another company that is struggling and can be bought on the cheap.
Dendreon fits in the second category. Dendreon is a company that is struggling mightily, so this is a purchase off the scrapheap. The following table might show this in the best light. It is the average analyst estimate for Dendreon's 2013 revenues and earnings since June 2012. The numbers are not good.
The first major nail in Dendreon's coffin was the Q1 train wreck. Dendreon reported a Q1 revenue figure of $67.6 million, well below the $80.15 million estimate analysts had. Dendreon referenced competitive pressures from Medivation's (NASDAQ:MDVN) Xtandi and Johnson and Johnson's (NYSE:JNJ) Zytiga, summed up on the Q1 conference call:
As anticipated, the largest impact was from the new complication entering PROVENGE's labeled indication with the December FDA approval of ZYTIGA and a compendia listing for XTANDI. We are feeling the competitive effect primarily in small and low volume accounts with metastatic patients who have previously received chemotherapy.
Dendreon has continued to struggle, and I stated after the Q2 results that the company's window of opportunity may have closed. Dendreon had a goal of growing Provenge year over year, but they withdrew that hope after Q2. They also did not provide any real guidance for the second half of 2013. Another negative was the fact that management stated the goal of getting the cost of goods sold under 50% by Q3 of 2013 would not be met. That's been a long running goal for the restructuring plan, but the company has had trouble cutting expenses.
So take a look at the chart again. 2013 revenues are now supposed to be less than $300 million this year. All the Dendreon bulls that claimed Provenge would bring in billions each year have been proved wrong. There's a reason that Dendreon shares have gone from the low $50s in 2010 to just about $3.00 now. It's been a great short since early 2012 when I called for a potential collapse. That was in the mid teens. Right now, it is truly time for Dendreon to prove itself or perish. Dendreon reports Q3 results on Tuesday, November 12th.
Look at the balance sheet again:
Why was that revenue/earnings table so important? Well, Dendreon is a company that is losing large sums of money, and that's not uncommon for a small cap biotech name. The hope is that over time, the company will become profitable, and sometimes these speculative biotechs do. However, if these companies keep losing millions or billions, cash flow is tremendously poor. Dendreon has stated for more than a year now that it could be cash flow positive in the US with a $100 million revenue quarter. Unfortunately, as my table above showed, the promise of that has fallen apart. Right now, it's unclear if Dendreon will hit a $100 million quarter in 2014. For a large part of the last year, many thought it would happen this year. It most likely won't.
Until Dendreon can turn things around, the balance sheet gets much worse each quarter. A summary table of some key balance sheet info is below, with dollar values in thousands.

Click to enlarge
In two years, the cash and investments pile has gone from $674 million to just over $280 million, and that was as of June 30th. By the end of Q3, which we'll get in a couple of weeks, the cash pile is likely to be down to around $250 million. Debt is likely to be around $580 million. At the end of Q2, Dendreon had a negative equity balance of more than $100 million. Basically, it's like me buying your house for $500,000, but having to assume a $600,000 mortgage. You are under water by $100,000. That's where Dendreon's balance sheet is, albeit to a larger extent. In the first six months of 2013, Dendreon's equity balance went from a positive $34.6 million to a negative $100.5 million. That number is expected to be much worse when they report Q3.
So when looking at a potential acquisition, the math isn't pretty. Any buyer will be assuming a lot more liabilities than assets they are receiving. Theoretically, Dendreon shares are worth a negative amount, so it is possible that we could see a take under here, where a buyout is below current market price. I'm not saying that will happen, but the balance sheet is very shaky. Without a deal soon, Dendreon will probably need more capital.
What analysts are thinking:
Analysts are very divided over the prospects of a deal. Here are some of the latest comments since the weekend news first broke:
Stifel doesn't believe the company can be sold given its financial metrics. The firm continues to believe that bankruptcy is possible next year. A sell rating is kept on shares.
Maxim upgrades Dendreon and raises price target from $3 to $10. Firm thinks Provenge is a viable asset and shares could fetch $10.
Wedbush said it is "very doubtful" that any buyer will emerge given declining Provenge sales and a lack of profitability. Firm reiterates an underperform rating and $0 price target.
Going into Monday, the average rating on Dendreon was a 3.4. That is about half way between a neutral and an underperform. The average price target was $3.81 and the median price target was $3.21. The price target range (going into Monday) was $0 to $8.50. There is just no consensus argument when it comes to Dendreon. You either have big upside or shares are worth zero. That's almost how you have to look at a buyout, which is what I'll discuss in my conclusion.
A short squeeze is possible:
Dendreon shares have bounced off last week's 52-week low of $2.23 in a pretty dramatic way. Of course, any buyout news will certainly fuel a rally. However, shares had started to bounce even before the weekend. I believe that part of it was due to some short covering. Dendreon short interest hit a new yearly high in the mid-October update, as you can see from the chart below.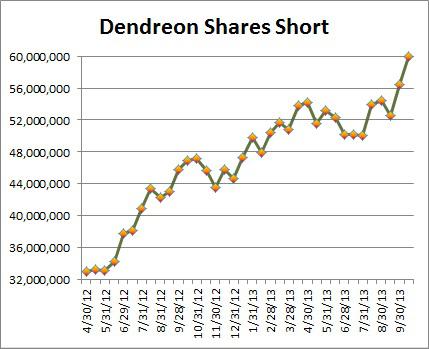 At that mid-October date, Dendreon had just under 60 million shares short. A year ago at this time, that number was under 47 million, and 18 months ago it was in the low 30 million area. Dendreon short interest has nearly doubled in the past 18 months thanks to the company reporting terrible results. Shorts have definitely been rewarded. The interesting part here is that the float is only about 148.2 million. That means that more than 40% of the float is outstanding, implying a huge short squeeze is possible on good news. Additionally, it would take about 12 trading days for all shorts to cover, with the 3-month average volume around 5 million. A short squeeze for Dendreon is certainly possible, but we need good news for it to occur. I'm sure the buyout rumors will chase some of the shorts away, but don't expect short interest to be halved overnight.
Final thoughts:
Dendreon shares popped Monday after rumors of a potential sale broke. However, investors must realize the type of buyout this would be. This is a company being bought out due to terrible results and limited financial flexibility. This is not a company being bought out because it is firing on all cylinders. A buyout would certainly make the prostate cancer treatment race interesting, assuming that it is not Medivation or Johnson and Johnson that acquires Dendreon. A larger pharmaceutical name could find some value in this treatment, but it will be a costly purchase, given what I showed above. Dendreon's market cap was around $440 million on Monday morning, for those wondering.
Usually, when I recommend a stock for its buyout potential, it is due to great underlying fundamentals. You do not have that with Dendreon. That is why I will recommend the following when it comes to a buyout:
Only use call options. This will limit your invested capital amount. You could still lose 100%, but if Dendreon shares do go to $0, you'll lose a lot less on a call option than actual shares (for the same given amount of shares between the two).
If you do want to own actual shares, hedge them. Normally put options are the best, but if you have some other strategy you like, go for it.
I do think there is the potential for some upside with a buyout, which is why I'm tagging this article as a long idea. However, as stated above, I would not own Dendreon shares by themselves, as there is the potential for Dendreon to go bankrupt, and the equity balance is already negative. Even one or two bids might be enough to push shares up on some short covering, and that's a positive. I don't want to speculate on a buyer or a price here, because I really need to see the Q3 results first. For the time being, I would not be short Dendreon, but I also would not be throwing all of my money into Dendreon shares. This is still a company in trouble, and that's why you shouldn't get too excited about the recent news.
Disclosure: I have no positions in any stocks mentioned, and no plans to initiate any positions within the next 72 hours. I wrote this article myself, and it expresses my own opinions. I am not receiving compensation for it (other than from Seeking Alpha). I have no business relationship with any company whose stock is mentioned in this article.
Additional disclosure: Investors are always reminded that before making any investment, you should do your own proper due diligence on any name directly or indirectly mentioned in this article. Investors should also consider seeking advice from a broker or financial adviser before making any investment decisions. Any material in this article should be considered general information, and not relied on as a formal investment recommendation.