EXECUTIVE SUMMARY
AutoCanada (OTC:AOCIF and ACQ in Canada) is the largest public Auto Dealership owner and consolidator in Canada, but still small compared to similar U.S. companies Asbury Automotive (NYSE:ABG), AutoNation (NYSE:AN), Group 1 Automotive (NYSE:GPI), CarMax (NYSE:KMX), Lithia Motors (NYSE:LAD), and Penske Automotive (NYSE:PAG). AutoCanada has been accelerating its purchase of dealerships and, after announcing the Q2 results were the best in its history, increased its quarterly dividend for the 10th consecutive quarter. The AOCIF climbing share price tracks the EBITDA and earnings growth and the ten consecutive quarterly dividend increases delivered to shareholders. Judging from the increased pace of adding dealerships and record auto sales in Canada, the third and fourth quarters are likely to set new records and be accompanied by more dividend hikes, making it an even dozen.
BASIC INFORMATION: AUTOCANADA at Oct. 26, 2013

$ 38.64

Share Price

$ 21,720,930

Shares outstanding

$ 839,296,735

Market Capitalization

$ 863,233,735

Enterprise Value

$ 5.70

Book Value per share

$ 0.35

Volatility (6 month)

$ 0.39

Beta (6 month)

59,356 shares

average daily volume yr. to date

$ 1.22

EPS trailing 12 months

data in Canadian Dollars
The Business
AutoCanada operates new car dealerships in Canada. It also sells used cars and does servicing. About 35% of the dealers sell the fast-moving Chrysler brand and 2/3 are in fast-growing and prosperous Alberta and British Columbia. AutoCanada was added to the S&P Dow Jones Canadian Small Cap Index on Sept. 13, 2013, effective Sept. 20th.
Let AutoCanada briefly describe its business:
"AutoCanada is one of Canada's largest multi-location automobile dealership groups, currently operating 32 franchised dealerships in six provinces and has over 1,500 employees. AutoCanada currently sells Chrysler, Dodge, Jeep, Ram, FIAT, Chevrolet, GMC, Buick, Infiniti, Nissan, Hyundai, Subaru, Mitsubishi, Audi and Volkswagen branded vehicles. In 2012, our dealerships sold approximately 30,000 vehicles and processed approximately 309,000 service and collision repair orders in our 333 service bays during that time."
Management's Plan
From their website, "We have grown, and intend to continue to grow, our business through the acquisition of franchised automobile dealerships in key markets, the organic growth of our existing dealerships, the opening of new franchised automobile dealerships, or Open Points, and the management of franchised automobile dealerships."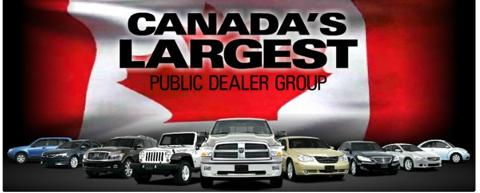 The Investment Premise
What makes AutoCanada a great investment is that it is an industry consolidator in almost virgin territory, at a time when many Baby-Boom generation auto franchise owners are looking to work less and monetize their principle asset. AutoCanada not only provides capital gains with a share price that tracks the expansion, it also has increased their dividend payout to shareholders, each and every quarter for the last 2.5 years. The next quarterly report is due out November 7th and, given the continuing brisk auto sales in Canada, I think the report will please shareholders.
In fact, Canadian Auto sales have been one of the strongest retail sectors in Canada. Some auto manufacturers have been having their best sales since 2006 and others have recently reported their best monthly sales ever. Strong sales are continuing, especially in AutoCanada's largest segment, Chrysler products, presumably because of the low interest rates. The Zero Interest Rate Policy may not be helping the North American economy overall very much, but it is helping the auto makers and dealers. In fact, in Canada, manufacturers have been taking advantage of low interest rates to offer up to 8-year, interest-free financing to boost sales. And now, with the Bank of Canada abandoning its bias of trying to raise rates, the manufacturers will likely be able to afford incentives for quite some time as we have now seen the new bank governor do the northern version of the untaper tango.
You can see that AutoCanada is preparing for the continued strength in the sector and further expansion in their recently revised financing floorplan. The company has increased the size and lowered the interest rate (by 15 basis points) on its syndicated floorplan facility so the interest cost is now only 2.83% (Bankers Acceptance plus 1.15%) . With Canadian rates now more likely to be reduced than raised, AutoCanada should be seeing more cash going to the bottom line.
The Numbers
Historic slow growth is picking up.
DEALERSHIP GROWTH of AUTOCANADA

dealerships

AUTOCANADA year-end

32

now

26

Dec. 31, 2012

24

Dec. 31, 2011

23

Dec. 31, 2010

22

Dec. 31, 2009
AutoCanada converted to corporate form at the end of 2009. Prior to that time, it was a Canadian trust, which made it exempt from paying income taxes if it paid out its profits to trust unit holders, which is what it did. I used the three full years of financial data since the conversion to illustrate the company's growth.
COMPOUND ANNUAL GROWTH of AUTOCANADA to Dec. 31, 2012

3 Yr. CAGR

Metric

8.0%

Revenue

18.3%

Operating profit before other income

18.8%

EBITDA before impairments

-0.8%

interest paid - earned

42.4%

taxes paid

-1.4%

Long-term debt

-0.1%

weighted diluted share count

18.9%

EBITDA/share

72.9%

Dividends paid/share
From the start of 2010 to the end of 2012, AutoCanada added 4 dealerships, for an increase of 18%. During that period, revenue has climbed 26%, an 8% CAGR (Compound Annual Growth Rate). Operating expenses only grew 18% and long-term debt has actually declined by 4.2%. Operating profit (CAGR=18.3%) and EBITDA (CAGR=18.8%) are up over 65%, despite having to pay income taxes after 2009. It seems obvious that business was getting better and the improvement could not be fully accounted for just by the increase in the number of dealers.
The business improvement at existing stores is continuing, as the growth in dealerships accelerate to increase growth even more. Here are the latest available (Q2'13) results as a year-over-year comparison. At the start of Q2, 2012, AutoCanada operated 24 dealerships and at the start of Q2, 2013, they operated 28, for an increase of 16.67%.
Q2 2013 AUTOCANADA RESULTS year over year

improvement

Q2'2013 Improvements over Q2'2012

31.80%

· Revenue

32.20%

· Gross profit

26.20%

· Same-store revenue

25.58%

· Same-store gross profit

61.20%

· EBITDA

65.80%

· Pre-tax earnings

61.20%

· Net earnings

57.40%

· Earnings per share

19.70%

· Same-store new vehicles retailed

4.40%

· Same-store used vehicles retailed

10.40%

· Same-store repair orders completed
AutoCanada's growth has been a model of sustainability. While increasing the numbers of stores, it has also become more profitable, while paying an increasing dividend. It increased dividends at 9 times the rate of the revenue growth without adding to debt. In fact, it paid off debt while it was growing.
Revenue and gross profit increased by twice the dealership expansion rate, while EBITDA and earnings increased almost 4 times the dealership expansion rate. The business improvement seems to be continuing.
Upcoming Q3, 2013 Results
On November 7th, we should see the AutoCanada financial results for the latest Quarter. During the Quarter, the company went from 28 to 31 dealerships, an increase of 10.7%. If the past is an indication of what is likely to happen next, there will be another increase in the dividend announced along with earnings. Year over year, the number of dealerships operated through the full third quarter was the same as that for the second quarter, an increase of 16.67%, from 24 to 28 dealerships. That suggests we will see a similar year-over year improvement in Q3, 2013, to what was reported in Q2, 2013.
The chart above shows a gap-up level change in the stock price the last couple of times the dividend was raised. With the positive fundamental factors at work, I expect the third quarter results will again be accompanied by an increase in the dividend and a sustained increase in the share price. With AutoCanada's growth pace picking up, what I expect will be the 11th consecutive dividend hike will not likely be their last. In the current (fourth) quarter, the company will get the full benefit of the three dealerships added in Q3, as well as the one already added in this Q. Interest rate savings will accrue and there may be more acquisitions before the year is out. With Canadian auto sales continuing to be strong, Q4 could be yet another record with the 12th consecutive dividend hike.
Given the increasing profitability of existing stores, the addition of more dealers and a shareholder-friendly management that increases the dividend as the company expands, AutoCanada is likely to continue to be a very profitable long-term holding.
Disclosure: I am long OTC:AOCIF. I wrote this article myself, and it expresses my own opinions. I am not receiving compensation for it (other than from Seeking Alpha). I have no business relationship with any company whose stock is mentioned in this article.