Over a year ago I wrote an article on Spirit Realty Capital's (NYSE:SRC) IPO and the title of that article was Spirit Spooks Me: No Trick, No Treat, Just a Risky REIT. On September 19, 2012, just over a month before Halloween last year, Spirit became a publicly-traded REIT generating around $500 million from the IPO. Back then Spirit had around $3.6 billion in real-estate investments and loans with 1,183 properties that were 98.2% leased.
Back at the time of the IPO my biggest problem with Spirit was the fact that the largest two tenants - Shopko and 84 Lumber - had questionable business models (small towns and competing with Wal-Mart and Dollar General) and also I was bearish on the REIT's fundamentals, notably the company's higher leverage and a high payout ratio. So I ended up with this "thumbs down" argument:
Spirit spooks me and that is why it is important to compare cost of capital and consider investing in established companies - a proposition that delivers safety in principal and repeatable dividend performance.
It's now almost Halloween again - just days away - and the purpose for this article is to determine whether or not Spirit is a trick or a treat. Charlie Brown was on a similar mission in search of the "Great Pumpkin" and, as you may recall, all he ended up with is a bag filled with rocks.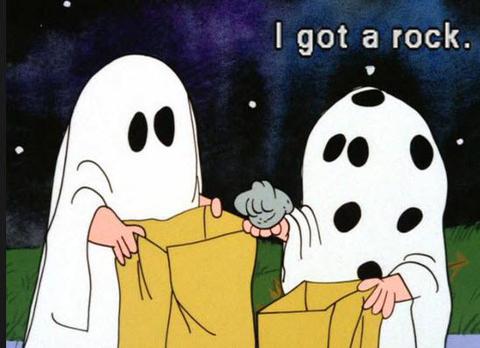 In a recent Barron's article, Avi Salzman explains that "Spirit could rally 30% or more as Wall Street wakes up to its attractions. In the meantime, bargain hunters can pocket a juicy 7% yield". Salzman went on to explain that "Sprit's sunnier prospects stem in large part from its merger in July (2013) with another REIT, Cole Credit Property Trust II (CCPT2)" that "allowed Spirit to double in size, and enabled it to acquire a higher percentage of investment grade clients". He went to on to say that "it also reduced the REIT's reliance on Shopko".
As evidenced by the snapshot below, it's clear to see that Mr. Market has not been spooked by Spirit. In fact, investors in the Phoenix-based have nothing but treats for the Triple Net REIT that has returned over 39% to investors since going public.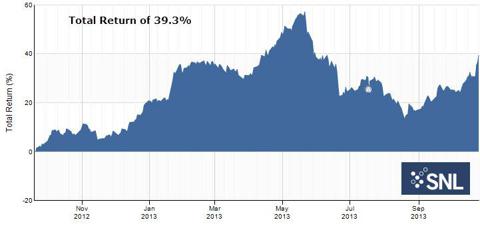 In fact, Spirit has become more like Casper the ghost as Mr. Market has viewed the rookie REIT as a much more friendly addition to REIT-dom. The 13 month report card for Spirit looks exceptionally better than I predicted and although I felt shaky about the IPO, the market was less skeptical.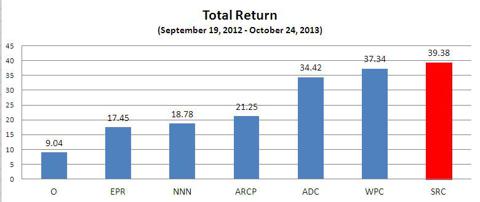 Who You Gonna Call? Ghost Busters
Last week was an extraordinary one for Triple Net REIT sector. American Realty Capital Properties (ARCP) returned to the top of real estate headlines with another merger announcement and unlike the others (over the last few weeks), this latest press release was "transformational." The merger announcement with Cole Real Estate Investments (NYSE:COLE). which listed on the NYSE just four months ago, marks ARCP's second merger announcement with a publicly traded company in 2013. COLE, with a market cap of $6.07 billion as of Oct. 22, brings an expansive U.S. portfolio to the table. The company owns properties in almost every U.S. state, with the highest property counts in Texas and Florida.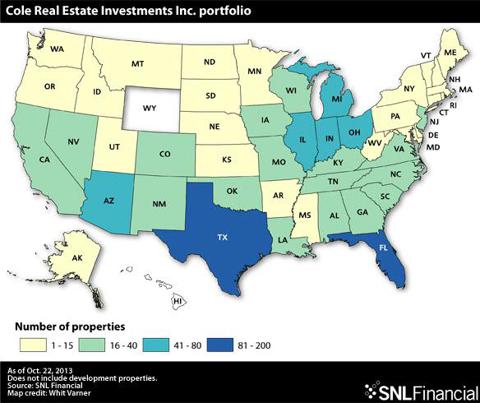 It's no secret that ARCP's CEO Nicholas Schorsch and his team had a strong interest in Cole and its portfolio. However, the recent deal may have come as a surprise to many observers in light of the failed courtship between the two companies during the spring. After making multiple offers to buy the company at what it believed to be a healthy premium, ARCP eventually withdrew its offer for the then-non-traded Cole Credit Property Trust III (CCPT3) in April.
Despite its unsuccessful bid for Cole in the spring, ARCP still had a very busy year of deals. In February, the company closed its merger with non-traded American Realty Capital TRust III (ARCT3) and then in June it completed a $774 million portfolio acquisition from GE Capital. In August, the company announced it had $1.1 billion of acquisitions under agreement lined up for the remainder of 2013.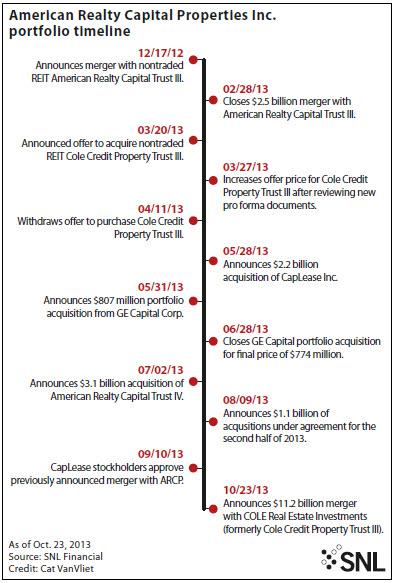 The company has two other mergers currently pending, including a $2.2 billion transaction with CapLease Inc. announced on May 28, as well as a $3.1 billion transaction with non-traded American Realty Capital Trust IV (ARCT4) announced July 2. On the Oct. 23 Cole conference call, Schorsch said his company expected the CapLease deal to close in the next seven to 10 days, and the American Realty Capital Trust IV deal to close soon thereafter.
ARCP ended 2012 with a market cap of $2.37 billion and total enterprise value of $2.64 billion and owned only 147 properties at that time. Based on its recently announced merger and its hefty load of pending mergers and acquisitions, the company expects to leapfrog all of its competitors and become the largest net-lease REIT in the world by mid-2014, with a projected enterprise value of $21.5 billion and a portfolio of 3,732 properties.(I plan to write a detailed article on the pros and cons of the ARCP/COLE proposed merger for my newsletter subscribers that will appear in the November edition. )
Spirit is considered a medium-size Triple Net REIT with a market capitalization of around $3.791 Billion - ranking #5 in my broader peer universe:

Based on total assets Spirit ranks #6 with total assets of around $4.224 Billion:

As mentioned above, ARCP plans to merge with CapLease (assets of $1.822 Billion) and ARCT4 (assets of $1.529 Billion) that will move Spirit down to the #7 position (based on total assets):

In addition, once ARCP gobbles up COLE, Spirit will move into 6th place and ARCP will become a dominating Triple Net REIT with assets in excess of $14 Billion and an Enterprise value in excess of $20 Billion.

But why slow down? ARCP has been like a vacuum gobbling up almost every Triple Net opportunity in its path. In fact, Nick Schorsch, the company's Co-Founder, Chairman, and CEO has been almost possessed at becoming the biggest and baddest REIT in the world. Kind of like the Stay Puft Marshmallow Man.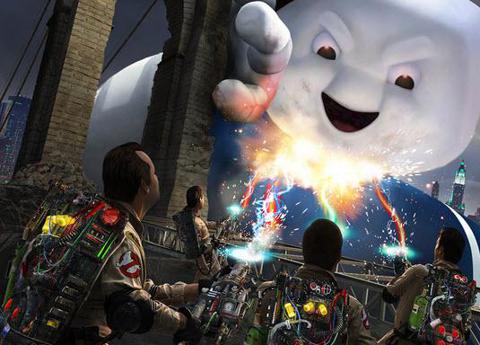 So why not gobble up Spirit? That would certainly move the needle and put a stamp on ARCP's dominance in the once niche-like sector. After all, if Mr. Market loves Spirit that much, certainly ARCP does too? Here's a forward thinking concept:

Here's Why Spirit Looks like Casper the Friendly Ghost
Spirit owns a real estate portfolio consisting of 2,046 properties (99% occupied) with an average remaining lease term of 11 years. The portfolio is diversified by industry (19) with specialty retail (24%), restaurants (17%), department/discount (16%), and drug stores (8%) making up the largest classifications.
Spirit also has a diverse portfolio of tenants (231) and although Shopko and 84 Lumber make up around 19% of the revenue, the concentration levels have been significantly reduced as a result of the CCP2 acquisition. As Avi Salzman explains (in the recent Barron's article):
When Spirit went public last year, Shopko accounted for 30% of its revenue. Now it accounts for a less worrisome 15.6%, and its contribution is expected to keep falling. Post merger, Spirit's top 10 tenants collectively contribute 37% of revenue, down from 50% previously. The more diverse the tenant base, the less likely that one tenant's financial problems could hurt the REIT.
Here is a snapshot of Spirit's Top 15 Tenants: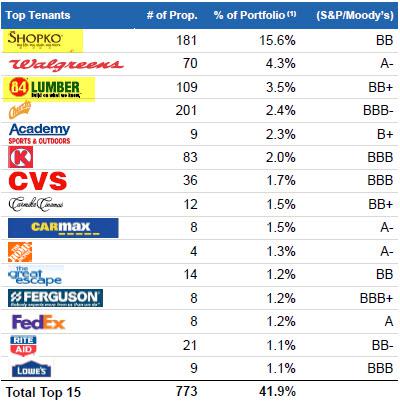 Also as a result of the CCPT2 acquisition, Spirit now has an impressive 49% investment grade tenancy. This represents an overall improvement to the credit profile of the portfolio and that is an encouraging trend (and one that Mr. Market likes). As of June 30, Spirit's Top 10 Tenants accounted for 15% of revenue (less than the previously disclosed 37% prior to the merger).
One important thing to consider about Spirit (and different from ARCP and COLE) is the fact that the company has a track record for acquiring and managing non-investment grade tenants. In other words, Spirit has a demonstrable track record for managing risk of both investment grade and non-investment grade tenants. That could be a significant factor, especially when interest rates do begin to rise. I'm glad to see Spirit demonstrate a commitment to investment grade assets and I'm also encouraged to see some of the non-investment grade tenants perform better, As Thomas H. "Tom" Nolan, Chairman and CEO explained during a recent earnings call:
I think in 84 Lumber in that case we're seeing a substantial difference and 84 Lumber is a company that was a - certainly suffered from the housing challenges in 2008 and 2009 but there also the beneficiary of their housing recovery that you're seeing in there, their performance across the board has been improving very, very significantly. So they have a much healthier credit than they were at the time even at the time when we were preparing the materials for the IPO.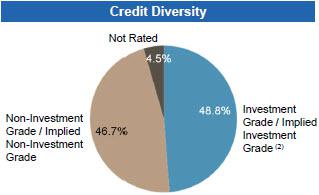 As of July 17, 2013 Spirit's portfolio (after acquiring CCPT2) generated approximately $546 million in annualized rent from 383 tenants across 48 states. Here is a snapshot of the geographic composition: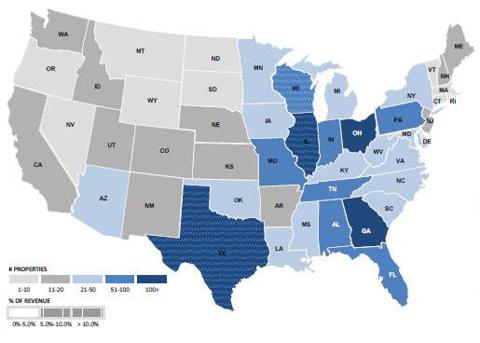 Most of Spirit's assets are retail (86%) and the rest are comprised of industrial (8%), office (3%), distribution (2%), and service (1%).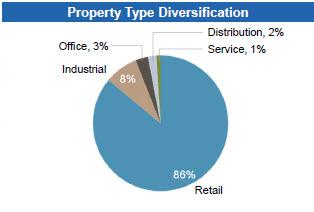 Spirit also has a wide variety of assets based on purchase price. Here is a snapshot that illustrates the company's diverse property value portfolio: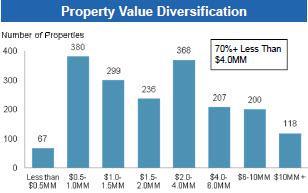 Also, Spirit's Lease Profile offers a broad platform of predictable revenue. The combination of contractual rent bumps, high occupancy, and minimum near term lease expirations are an attractive feature for the growing Triple Net REIT. As illustrated below, Spirit has an appealing portfolio of leases that are mostly CPI-based (46%) or contractually fixed (40%). There is only a modest number (10%) of flat leases: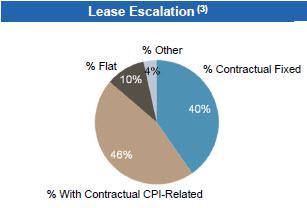 In addition, Spirit has an attractively well-balanced lease expiration schedule:

Most of Spirit's leases are absolute "triple net" meaning that the Tenant is responsible for ALL expenses (taxes, insurance, maintenance) and the company has a smaller number of leases that are "double net" (meaning the landlord is responsible for maintenance or there is a cap on costs).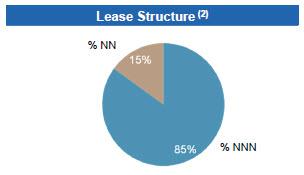 Why Does Mr. Market Like Spirit So Much?
As mentioned above, Spirit was recapitalized through a $500 million IPO with an enterprise value of $3.2 billion. Then in July 2013, the company merged with CCPT2, a $3.7 billion non-traded REIT and crated a $7.1 billion enterprise value REIT. Despite approximately 368 million shares becoming freely tradable over the past 12 months, Spirit shares have outperformed its peers and the market. Here is a snapshot that illustrates the progress that Spirit has made since the IPO: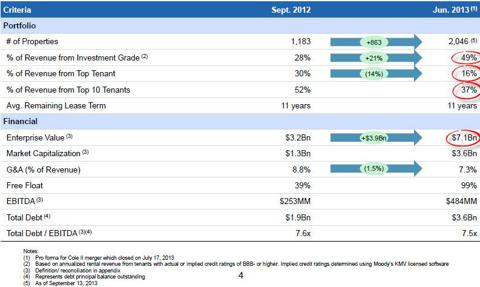 Spirit's strong performance can be best illustrated by the snapshot below. (NYSE:A) SRC prices IPO at $7.87 per share, (NYSE:B) Spirit announces plans to merge with CCPT2, (NYSE:C) TLC unlock expires, (NYSE:D) Spirit announces first quarter results, (NYSE:E) Spirit added to RMZ Index, (NYSE:F) Sponsor equity lockups expire, (NYSE:G) Spirit completes $7.1 Billion merger with CCPT2 and $2 Billion of Non-Traded REIT equity becomes freely tradeable.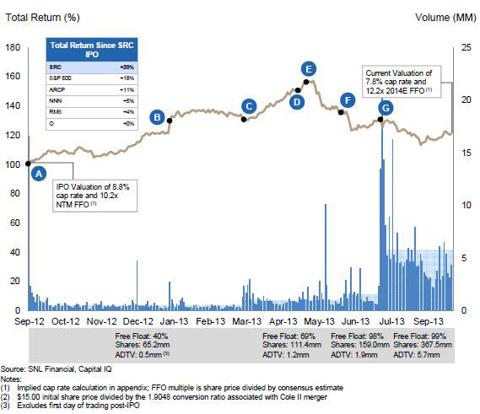 Let's Pull Back the (Balance) Sheet and See what's Under Spirit
As noted above, Spirit has a portfolio with 96% rent escalators and approximately half of the portfolio is under a master lease. That differentiated investment strategy allows Spirit to achieve historically low credit loss (3.6% in total across 10 years) and portfolio occupancy has never been below 95% (and the 10 year average is greater than 99%).
Unlike other peers (notably ARCP and COLE), Spirit acquired over 90% of its portfolio before 2009. That provides more favorable lease structuring and more time tested results.
Spirit's balance sheet consists of $7.1 billion in total assets and $3.6 billion in debt. Only $141 million of debt is short-tem (variable) and most of the debt is laddered, property-level CMBS debt. Unlike most other peers, Sprit has a substantial amount of amortizing debt and that P&I reduction is baked into the payout ratio. While other companies don't utilize amortizing fixed rate or secured debt, Spirit does and that is a way to create value in the consistent reduction of scheduled debt payments.

Spirit has no significant debt maturities until 2016 and the weighted average rate on debt outstanding is around 5.66%. Leverage is 7.5x.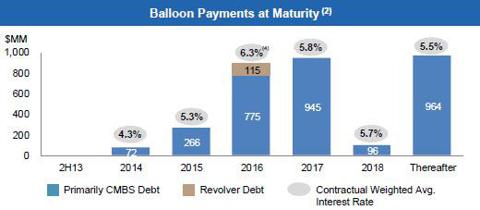 Comparing Spirit's Funds from Operations (or FFO) for the first half of 2013 we see that for FFO was $43.3 million or $0.51 a share and Adjusted Funds from Operations (or AFFO) was $74.5 million or $0.89 per share. These results compared to FFO of $43.4 million or a $1.00 per share and AFFO of $54.6 million or a $1.21 per share for the first six months of 2012.
Post-merger Spirit's annualized revenue is around $546 million and annualized Net Operating Income (or NOI) of $525 million. Spirit's annual dividend equates to $65.625 per share or $16.04 per share per quarter. For reference there is a little over $0.03 higher per year than the rate previously paid by the former CCPT2 to its shareholders. Spirit's dividend yield of 6.41% is one of the highest in the Triple Net sector: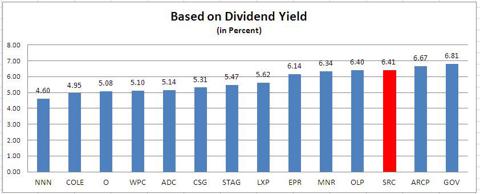 Comparing Sprit with the closest peers we see that the company has one of the lowest AFFO payout ratios (82%) and one of the lowest Price to Adjusted Funds from Operations (or P/AFFO) multiples: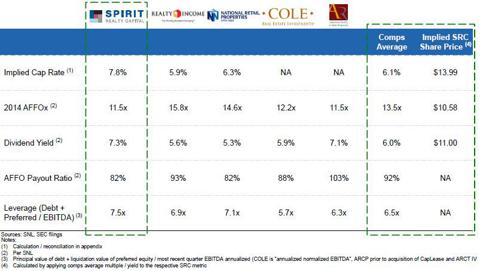 Spirit is trading at $10.23 a share and based upon P/FFO metrics we can see that Spirit is trading at "sound" value. Given the company's implied cap rate (7.8%) we can see that Sprit has begun to close the valuation gap through execution and closing of CCPT2 and the more recent S&P upgrade from B to BB-.

As evidenced by the 1-Year Total Return chart (below), Sprit has become a sector-leading REIT promising strong income and growth: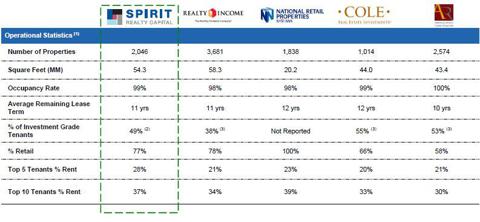 Will Spirit Become the Next Target for Stay Puft Marshmallow Man?
ARCP and its fearless leader (Nick Schorsch) has been on an extraordinary wave of "rolling up" REITs. Last week the "Marshmallow Man" announced an amazing merger that will make the 2-year old company the largest Triple Net REIT in the world. But will he stop there? My gut says No Way!
Why can't ARCP become not only the largest Triple Net REIT but also the largest REIT in the world. It would only take a few more M&A deals for ARCP to become as big as Prologis (NYSE:PLD), with a $30 Billion Total Capitalization, or Simon Property Group (NYSE:SPG), with a Total Capitalization of around $80 Billion. Gobbling up Spirit makes sense.
First off, remember that ARCP is looking for a CEO with public REIT experience. Tom Nolan has considerable experience in the space as he was at General Growth (NYSE:GGP) in 2009 -2010 and he held previous positions with AEW prior to becoming CEO at Spirit.
Also, ARCP will soon have a sizable presence in Phoenix when the company acquires COLE and there would be "in place" synergies for Spirit and COLE to unite the portfolios (and management team). That would give ARCP a sure "lock down" as the biggest REIT and potentially a very accretive portfolio that consists of a growing base of investment grade properties.
We have never seen a REIT like ARCP get as big, as fast; however, the Triple Net sector is more of a financially-engineered model and picking up Spirit Realty would be like Bank of America (NYSE:BAC) buying NationsBank. The latest announcement by ARCP to merge with COLE is perhaps a strong indication that the Triple Net sector is not a niche investment class (anymore). The beneficiary of the growth is also the same value proposition for the boring investment class - sustainable and reliable dividends.
As the latest chapter unfolds in REIT-dom (and this article) the "net, net, net" and conclusive moral to this story is as follows: Triple Net REITs Provide Steady and Growing Dividends. They Aren't Bonds. They Grow Internally and Externally and they are not risk-free. It's important to conduct your own due diligence so you can separate the best from the rest. Don't blink, the Stay Puft Marshmallow Man may be knocking at your door this Halloween - Trick or Treat?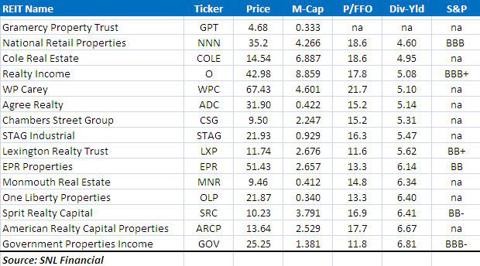 Check out my monthly newsletter, The Intelligent REIT Investor, including a "Nothing But Net" section.
Other REITs mentioned: (NYSE:GPT), (NYSE:NNN), (NYSE:WPC), (NYSE:ADC), (NYSE:CSG), (NYSE:STAG), (NYSE:LXP), (NYSE:EPR), (NYSE:MNR), (NYSE:OLP), and (NYSE:GOV).
Source: SNL Financial, Barron's, and SRC Presentation.
Disclaimer: This article is intended to provide information to interested parties. As I have no knowledge of individual investor circumstances, goals, and/or portfolio concentration or diversification, readers are expected to complete their own due diligence before purchasing any stocks mentioned or recommended.
Disclosure: I am long O, ARCP, GPT, CSG, STAG, UMH, ROIC, HTA, VTR, DLR. I wrote this article myself, and it expresses my own opinions. I am not receiving compensation for it (other than from Seeking Alpha). I have no business relationship with any company whose stock is mentioned in this article.