On May 24 this year I presented a few auto industry stocks I really liked. General Motors (NYSE:GM) was among them. Some of the companies are still very attractive and although GM has run up a little bit, I think there is still 20% of upside left.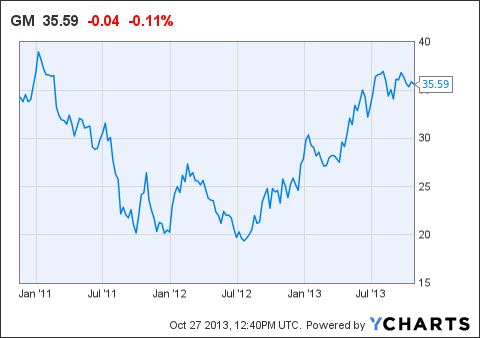 1. Pent Up Demand for Autos
One of the reasons I like GM (and Ford Motor Company (NYSE:F) as well) is that I think the company will look much better when the cyclical auto industry is booming again. To be honest I'm not a huge fan of the auto sector as buy and hold investments. Yet throughout the year my writing has been overweight toward the sector. The story of pent up demand is very compelling.
If economists looking at the housing sector are generally optimistic, those who follow the auto industry are practically brimming with glee. Right now, the average age of cars on the road is the oldest ever recorded, at 11-and-a-half years, which means at some time, people will have to buy newer ones. As NPR's Sonari Glinton reports, that time may be now.
The most beautiful thing about the pent up demand story is that the companies are still relatively cheap. Earnings have been low for a while.
There are also voices that counter the pent up demand story. For example with arguments that people invested in maintaining their cars and that they don't feel the need to own a new or newer car. There is also a valid argument that as the car fleet aged, cars last longer because their lifespans are improved.
Both are valid arguments and there is most likely some truth to them. Still I think the record age of the fleet indicates there are better sales numbers to come. Perhaps not equal to peak demand before the crisis but better then they are currently.
2. GM restructured
After the disaster of the company requiring a bailout by the taxpayer, the company was forced to restructure. The company cut back on brands it's supporting and U.S. labor costs have been decreased by two-thirds according to Morningstar analyst David Whiston. The company now has a total of 11 brands. It's a market leader in the U.S with about a 18% share and the U.S. market is one of the better performing global markets at the moment. With GM's cost structure dramatically streamlined, if the U.S. starts booming for real in 2014-2015, GM is well positioned to share in the wealth.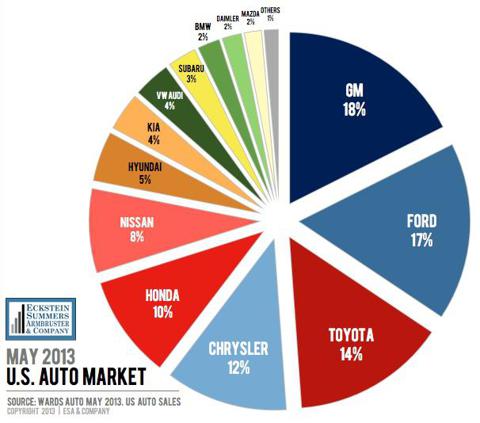 Click to enlarge
Risks
If the U.S. economy tanks again and enters another multi year recessionary environment in which auto sales are terrible GM will start struggling and the share price is sure to decline. It would mean a world where U.S. citizens are driving around in a fleet of vehicles that breaks all age records but it's possible.
By 2018 the company will be required to start contributing more to its currently underfunded pension plan ($25 Billion+) and if interest rates don't move and the economy remains sluggish for many years the struggling company might be squeezed to death.
Currently that's not a widely held outlook and at this time I estimate that risk is quite low. However as an investor in GM you should be aware the likelihood of bankruptcy is low but it exists.
DCF Analysis And Conclusion
After performing a discounted cash flow analysis projecting earnings 5 years forward, while discounting against the S&P 500, my conclusion is that the shares are worth $41 today. As the company has only recently emerged from bankruptcy, to determine a reasonable growth rate, I used growth figures applying to the wider industry as provided by reportlinker. My conclusion is that the shares are about 20% undervalued. Not a whopping amount but a respectable discount given it's a large cap stock.
Financial Figures
| | | | | | |
| --- | --- | --- | --- | --- | --- |
| Company | P/E | Price/Book | Dividend | D.EPS | Price |
| GM | 12.75 | 1.78 | N/A | $ 2.79 | $ 35.59 |
Conclusion
GM is well positioned with its 18% U.S. market share to profit from a full recovery of the U.S. economy or when the pent-up demand for autos materializes.
It has been restructured to be able to withstand headwinds much better and is now a more lean and mean auto manufacturer. However another long recession, with the pension fund still underfunded, could still prove to be too much of a challenge.
Overall the risk/reward profile at $35 is favorable.
Disclosure: I have no positions in any stocks mentioned, and no plans to initiate any positions within the next 72 hours. I wrote this article myself, and it expresses my own opinions. I am not receiving compensation for it (other than from Seeking Alpha). I have no business relationship with any company whose stock is mentioned in this article.