We have had quite a few readers sending us messages as of late, more volume than we are used to in fact, and we are going to try to address the questions as quickly as possible and as the markets allow. One of the questions which caught our attention came from a reader who will remain unnamed but wanted to know our thoughts regarding Apache (NYSE:APA) and what our outlook for the shares is after such a big run-up recently.
As we discuss in the "Chart of the Day" section below, we see some interesting moves in the commodity complex right now which may be highlighting an underlying trend among big money managers and hedge funds as they rotate their capital to position themselves for an end of the year rally.
Stock To Watch:
A move above $25/share could see the shares return 20% for investors, something not out of the realm of possibility is silver prices reignite.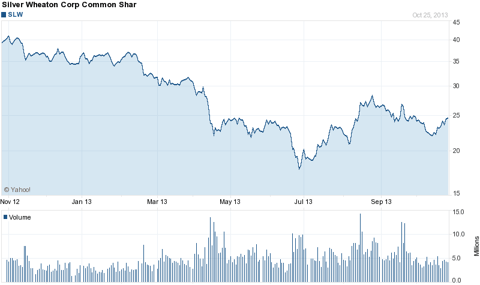 Source: Yahoo Finance
This is a new section today which we hope readers will find valuable moving forward. We want to highlight Silver Wheaton (NYSE:SLW) today as a potential mover in the short to medium term as the stock appears to have set up to test the $25/share level where it has experienced resistance before. We think that investors could see a strong move higher if our thoughts in the "Chart of the Day" turn out to be correct. If one has to simply rely on the fundamentals of silver in a turning economy then the play will take longer, but should still work out for those buying at these levels.
Chart of the Day:
It is not that gold and oil trade in tandem all the time, but we have noticed over the past few sessions that there seems to be a rotation out of oil and into gold, as displayed by the US Oil Fund (NYSEARCA:USO) and SPDR Gold Trust (NYSEARCA:GLD) in the chart below. With gold production not really rising dramatically around the world, but oil being found and brought into production quite quickly due to knew technologies we think that some of the smart money might be exiting their positions in oil and setting up camp in the gold and precious metals complex, an asset class which has been facing strong headwinds since the start of the year. The tail end of this three month chart is hardly evidence that this is happening, but it is something to watch and look for moving forward.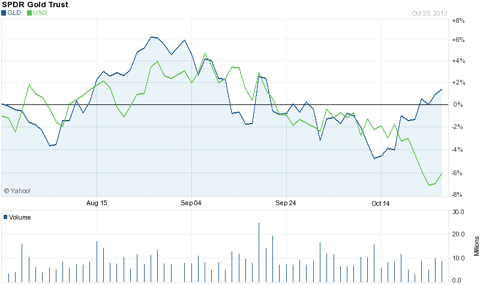 Source: Yahoo Finance
Commodity prices this morning are as follows:
Gold: $1360.00/ounce, up by $7.50/ounce
Silver: $22.65/ounce, up by $0.011/ounce
Oil: $98.51/barrel, up by $0.66/barrel
RBOB Gas: $2.632/gallon, up by $0.0449/gallon
Natural Gas: $3.575/MMbtu, down by $0.132/MMbtu
Copper: $3.272/pound, up by $0.002/pound
Platinum: $1471.20/ounce, up by $15.70/ounce
Oil And Natural Gas
We still view Apache as an attractive play on the oil and natural gas boom taking place, not just domestically in our shale plays but also offshore. The fact that they have risen sharply should not scare investors away because those gains were simply the low hanging fruit which was available for those willing to take the risk that they were unable to monetize their Egyptian assets due to the unrest and political instability in the country. With their deal to sell a stake to the Chinese we saw a huge gain and the perception of the company's "Egyptian Liability" disappear quickly. There is still risk with carrying those assets on the balance sheet, but the fact that the Chinese are present indicates to us that Apache's investment is safe - because the Chinese are not going to let anything happen to their investment and the two are one in the same.
Apache's stock is sitting near 52-week highs, but still has a ways to go to match its 2-year highs. Watch when the shares approach the $95-97/share level as that resistance could either cap the gains or lead to a larger move higher.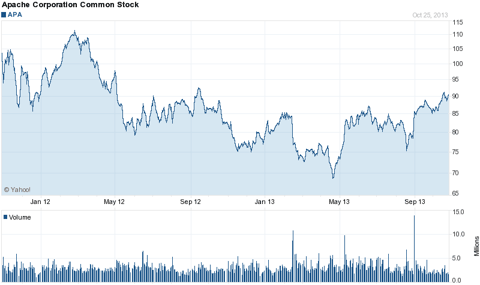 Source: Yahoo Finance
Our view all along has been that Apache would revert to the mean and behave more like its peer Anadarko Petroleum (NYSE:APC), as has been the case historically when one of these two underperforms. For short-term trading the easy money has been had, but long-term investors should continue to enjoy gains in Apache as it redeploys capital into new projects, share buy backs and increased dividends. We remain bullish of the name.
Disclosure: I have no positions in any stocks mentioned, and no plans to initiate any positions within the next 72 hours. I wrote this article myself, and it expresses my own opinions. I am not receiving compensation for it (other than from Seeking Alpha). I have no business relationship with any company whose stock is mentioned in this article.