The Spanish IBEX 35 Index, particularly its banks, has experienced a strong rally since July as recent macro indicators pointed towards a potential recovery of its economy, even if a faint one for the moment. The trend could well continue as long as positive news about the economy keep attracting investors who, for the last years, dumped their Spanish assets indiscriminately as the country went through its worst crisis in 30 years.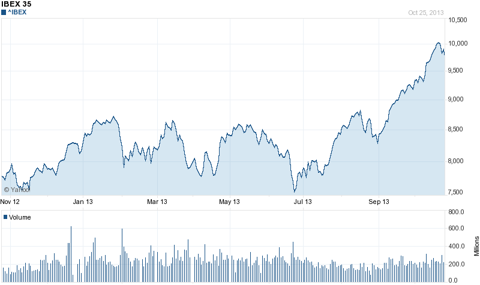 Source: Yahoo finance
Ibex35 sports a 4.5% yield versus 2.3% for the S&P500, so given the potential benefits of a consolidation of the recovery, investors can be naturally tempted to diversify a part of their portfolio into Spanish stocks while benefiting from its currently high dividend yields.
However, from the point of view of dividend investors, high or growing sustainable yields are of the biggest interest, which in my view would still make Spanish banks an unappealing choice for this kind of investor at the moment, given the remaining uncertainties in the industry. For example, the bank of Spain recommended a cap on cash dividends back in June, banks are still building up capital buffers as they get ready for a Europe-wide asset review and the ECB will become their new regulator next year.
Of the major Spanish banks, Santander (NYSE:SAN) and Banco Bilbao Vizcaya (NYSE:BBVA) are well diversified outside Spain and trade in the NYSE. Other Spanish-based major players include Caixabank (OTCPK:CAIXY), Banco de Sabadell (OTCPK:BNDSY) , Banco Popular Espanol (OTCPK:BPESF) and Bankinter (OTCPK:BKNIY). They are accessible at OTC markets.
In a previous article, I discussed the outlook of Santander scrip dividend program and argued that dividend investors should be warned against its dilutive impact as well as its sustainability. Scrip dividend programs have been favored by Spanish banks along the crisis and offer investors the option to receive dividends in cash at the expense of dilution or otherwise be paid in shares with the resulting lower income stream. While a good way to raise capital and a potential good bet if stock prices recover, in my view dividend yields risk suffering a cut once scrip programs are discontinued after the current capitalization cycle reaches an end.
As an example of the size of dilution caused by scrip programs and other measures, the table below compares total number of shares from 2009 to 2013 (in millions).
| | | | |
| --- | --- | --- | --- |
| Bank | 2009 | 2013 | %Increase |
| Banco Santander | 8.228 | 11.092 | 35 |
| BBVA | 3.747 | 5.724 | 53 |
| CaixaBank | 3.362 | 4.890 | 45 |
| Banco Sabadell | 1.200 | 3.998 | 233 |
| Banco Popular | 1.333 | 1.713 | 29 |
| Bankinter | 473 | 877 | 85 |
My earlier doubts have now been unfortunately reinforced by BBVA recent announcement of a 12% dividend cut as it moves away from its scrip program. The bank plans to discontinue scrip payments in 2015 and keep its cash dividend at 35%-40% of its earnings. Despite the reduced yield, this is in my opinion a good move towards providing the stability and predictability to future dividends that income investors seek. Other banks will probably abandon their scrip programs along the next couple of years and this should clarify their cash dividend strategy for the future.
Smaller players already offer yields below 2% which fall below the threshold I would consider suitable for dividend investment. Sabadell is involved in a scrip dividend program, Popular has suspended its dividend to increase capital and Bankinter, while the exception paying its full dividend in cash, could also be affected by regulatory recommendations.
As for Santander, were it to follow suit, it would probably need to roughly half its current dividend yield to come in line with BBVA planned payout for 2015, unless it is able to take EPS well beyond expectations under what still remains a challenging environment. Finally, Caixabank recently announced new payments in shares aimed at following Bank of Spain recommendation about cash distributions and could face similar pressure to keep its current yield, even if to a lower extent.
In conclusion, even if Spanish economy may be turning a corner and its banks will likely benefit from that, Spanish banks do not seem suitable for income investors at the moment. If the Spanish recovery consolidates, banks stocks might produce strong capital gains over the next couple of years for those willing to take the risk, but their dividend prospects seem all too uncertain.
Investors looking for a safe and sustainable income stream in the form of cash dividends probably have better options to invest in Spain.
Disclosure: I have no positions in any stocks mentioned, and no plans to initiate any positions within the next 72 hours. I wrote this article myself, and it expresses my own opinions. I am not receiving compensation for it (other than from Seeking Alpha). I have no business relationship with any company whose stock is mentioned in this article.