Dynavax Technologies Corp. (DVAX) announced recently that it has received approval from the European Union to make part of its hepatitis B vaccine (HBV) Heplisav at a German factory. The EU approval permits Dynavax to commercially produce hepatitis B surface antigen, a key component of Heplisav at the factory in Düsseldorf, in the west central part of Germany.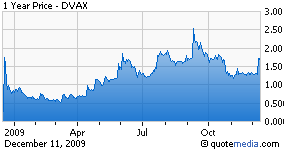 Rhein Biotech, a German unit of Dynavax, has used this facility to manufacture the hepatitis B surface antigen for Heplisav studies since 2006. The factory has been upgraded since then. The current EU nod comes as a result of the upgrade, thereby expanding production capacity. The new license should enable the facility to meet initial commercial production demands for the anticipated launch of the HBV vaccine. Furthermore, the upgraded facility enhances integrated product development and manufacturing services provided by the German subsidiary to third party partners.

Heplisav, Dynavax' lead pipeline candidate, combines hepatitis B surface antigen with a toll-like receptor 9 (TLR9) agonist for enhanced immune response. Heplisav has been developed with the objective of providing increased, rapid protection, utilizing fewer doses than currently licensed vaccines.

The company intends to market the vaccine primarily for people less responsive to other vaccines, including adults over 40 years and those suffering from chronic kidney disease. Heplisav has already completed one late-stage trial, and in Sep this year the company began vaccinating chronic kidney disease patients in another late- stage study. Another study, a phase III lot-to-lot consistency trial in patients aged 40 and above, is expected to begin in early 2010.

HBV affects more than 350 million individuals globally. It is a chronic disease which can lead to cirrhosis of the liver and hepatocellular carcinoma. Currently, the global market for HBV therapeutics is estimated at over $1 billion annually and available therapies have limited efficacy.