Note: This article covers a micro-cap stock. Please be aware of the risks associated with these stocks.
Last earnings season was a strange one for the solar sector, and I don't expect Q3 to be any different. I seem to remember that SunPower reported great results, then plunged 25% in the following twenty days. There's likely to be more such squirrely-ness this time around, and I'm just trying to keep calm and stay focused on the bigger picture.
Here's the list of solar stocks that I will be watching very carefully in the month to come. As usual, I try to dig a little deeper and bring my readers something they won't see every day:
1. SunPower (NASDAQ:SPWR) - reports Wed Oct 30th
This one has been a favorite of mine since May. The company is so well diversified, their technology is the most efficient around, and they've recently stolen the market-cap crown from First Solar. It's hard to imagine anything slowing SunPower down. I'm long and holding.
The interesting storyline here is, how will SunPower expand? Their factories have been at 100% utilization for awhile now. Last quarter the CEO was asked about expansion and he said,
"We're in the process of looking at options which would include expansion of our EU JV, organic expansion and a number of other options. We're not to a solution yet. Perhaps in the time frame, in the next call, we will be."
Interestingly, SunPower has supplied capital to the private firm Solexel. Solexel is developing technologies for extremely thin wafers that use less silicon. They are also (reportedly) looking for factories in Malaysia and signing deals with manufacturers in China and I.P. holders in Texas. "Solexel intends to begin volume manufacturing of solar cells in 2014." I would say there's a decent chance that SunPower hopes to solve its supply constraint with new, less costly Solexel wafers.
2. ReneSola (NYSE:SOL) - reports Nov 25th
I haven't dabbled with Chinese solar manufacturers in the past and I'm leery about starting now. But SOL had a great Q2 report and their PnF chart looks great. It could be an ideal time to buy, as SOL has recently fallen from $6.00 to $4.50 on Friday afternoon. The sharpest options trader I know is bullish (he turned $10k into $1M in the first six months of the year). I'm long SOL, hoping to sell before year's end.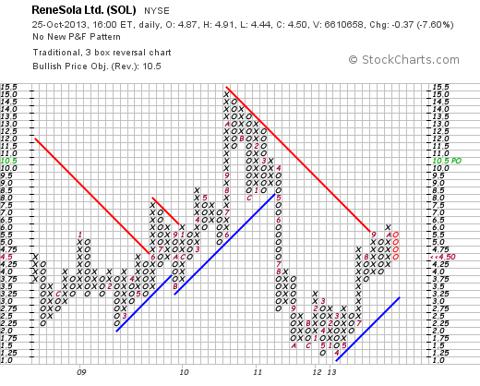 This company is still running a deficit, but they saw solar shipments increase by 28%, average selling prices were up, and US shipments tripled from Q1 to Q2. Clearly the explosion in rooftop solar (lead by SolarCity (NASDAQ:SCTY), Verengo, Sungevity, etc) is making life easier for the Chinese manufacturers. The reason why I hope to sell in the next few months is the emergence of new solar technology (see #4 on this list). SOL just doesn't have the capital to be investing in new tech right now. Sneha Shah has a series of good articles about the stock.
#3 Real Goods Solar (RSOL) - Reports Nov 6th
RSOL has been on a rollercoaster ride this year, which seems to have been started by my article in May. It has skyrocketed over 40% in a day several times this year, then had a precipitous drop the following day. I have no position right now; I may buy back if the stock falls below $2.25.
This stock is highly volatile and that means there is the potential to make a lot of money. RSOL is trying to expand quickly. CEO Kam Mofid has done a good job turning the company around, and they project profitability in Q3 or Q4. The former Massachusetts Secretary of Energy and Environmental Affairs has been nominated for their board. This company is definitely growing and has caught the attention of Wall Street.
On the other hand, RSOL is mostly an installer, and that is a business that will surely be dominated by big fish. For example, SolarCity (SCTY) has been trying to become vertically integrated to save costs; they have acquired a solar mount manufacturer and a firm that specializes in marketing. It is easy to imagine that SolarCity and the other major players might squeeze RSOL out of the picture.
Then again, solar power growth might be so rapid that there is plenty of business to go around. I'm just not sure yet.
RSOL is on track for about $90M in annual revenue. If we add in $35M and $10M from their recent acquisitions (Mercury Solar and Syndicated Solar), that gives total annual revenue of $135M. Assuming things go smoothly and RSOL achieves a net margin of 5%, that would give RSOL a P/E of $3.73/(0.05*$135M/57M outstanding shares)=31.5. The average market P/E is in the 20-25 range. This brief and very rough estimate shows the stock is priced a bit high in my opinion. But it really depends on your personal growth estimate for the company in the future. Watch this one closely and be ready to pounce on the large swings.
#4 Natcore Technology (OTCQB:NTCXF)
Natcore is a very small ($46M market cap) R&D firm. As with any small cap stock, be aware of the risks of investing in such a company. If their technologies never reach the commercialization stage, or a competitor beats them to the punch, or if Natcore runs out of funding, you could lose every cent.
Michael Allison recently brought this company to SA's attention, and I mentioned them in a June article. It is not uncommon to find a small publicly traded firm that focuses on solar R&D. It is unusual, however, to find a solar R&D firm that is developing six technologies simultaneously, hiring 27 employees, paying an average wage of $98,000, and attracting more venture capital than it planned for ($3.15M versus the $2.5M they had planned on). In March, Natcore moved into an old Kodak plant to practice solar production on the old film rolls. They are my best bet for developing next-gen solar tech. I'm long and holding.
Natcore is currently looking at six technologies, as they explain in an Oct 25th progress update. The first three are being pushed towards commercialization ASAP while the remaining three are years in the future.
1. Black Silicon - a porous texture is etched onto the surface of a solar panel, increasing the amount of light it captures. Natcore has replaced the traditional anti-reflective coating with this method, and they "are now quantifying, both internally and through third-party studies, the cost savings that this application would bring to solar cell manufacturing." "Natcore feels that they will be able to begin the marketing phase with the Black Silicon application shortly."
2. "Selective Emitter is a process whereby varying the thickness of doping on a cell will improve the energy output and/or reduce resistance. This application has the potential to increase efficiencies by 3%-5% relative to current standards. Natcore has demonstrated that their Liquid Phase Deposition films can provide a manufacturing-friendly process needed and wanted by the industry. They have also invented technology that allows us to easily pattern these films, a requirement for using them for a selective emitter." It is unclear to me whether the quoted 3-5% improvement is incremental or absolute.
3. "Liquid Phase Deposition Passivation is Natcore's proprietary process that allows surface passivation without utilization of a CVD furnace. This potentially allows the passivation of some high efficiency solar cell designs in a simpler and more cost effective way than can be done currently."
4. Tandem solar cell - Natcore can essentially grow a stack of three solar cells, increasing efficiency to 30%+. This is a very significant, 6% gain (in absolute terms) over the best the market has to offer today. While tandem cells are already grown in the lab, the trick is to produce them cheaply.
5. Flexible solar cell - Flexible solar cells are already in use (see Ascent Solar, for example, which mainly manufactures electronics chargers). Natcore hopes to lower their cost and improve efficiency.
6. Solar Powered Artificial Retina - Natcore acquired a patent for a solar-powered artificial retina on September 17th:
"The need for this artificial retina is substantial. According to the American Society of Retina Specialists (ASRS), an estimated 15 million Americans have age-related macular degeneration (NYSE:AMD). ASRS also says that retinitis pigmentosa, a genetic disease, affects one in 4000 Americans. Natcore believes that both of these disorders could be corrected with its artificial retina."
Natcore is looking to sell, license, or find a joint venture partner for the retina technology since it will require significantly more development. Next-generation technologies like Natcore's are becoming more important as solar manufacturers will need to distinguish themselves in the future. Commercially available module efficiencies currently range from 14% (First Solar) to 24% (SunPower). First Solar, in particular, would benefit from a technological boost, and the old-tech behemoth has plenty of cash to pay for it. It is a long shot, but I hope to see Natcore bring amazing new technology to the solar world before 2014 is over.
Disclosure: I am long SPWR, OTCQB:NTCXF, SOL. I wrote this article myself, and it expresses my own opinions. I am not receiving compensation for it (other than from Seeking Alpha). I have no business relationship with any company whose stock is mentioned in this article.