Caterpillar (NYSE:CAT) recently reported abysmal third quarter earnings. My objective here is not to rehash the quarter, but to review and reassess Caterpillar the company and CAT the stock. Is it worth holding at all?
This reassessment will be broken down into five brief sections:
Balance sheet and returns review - how sound is the company financially?
Cash flow - does the company still generate good cash flow?
Peer Outlooks - do CAT peers also see a dour heavy machinery market?
Valuation - is the company over or under-valued today?
Story line / Conclusions - what's the big picture and how do the pieces fit together?
Caterpillar investors already know the 2013 EPS figures and YE projections are terrible. Since CAT is a cyclical stock, I am more interested in underlying financial strength and cash flows versus near-term quarterly EPS. There has been plenty of ink spilled on the magnitude of near-term earnings weakness and missed forecasts.
Balance Sheet and Returns
When reviewing a company, I like to start with the balance sheet. The primary checks include understanding liquidity, debt management and returns. Amid the earnings wreckage, Caterpillar management has stated that the company has been strengthening the balance sheet. Let's investigate.
Liquidity is good. The current ratio of 1.4 indicates sufficient short-term funds are available to the business. Cash and investments have doubled to $9.75 a share from $4.83 at YE 2011. The recent sales and earnings downturn has not threatened Caterpillar's investment grade credit rating.
Overall management of debt has been acceptable. The following chart lists the debt-to-capital ratio over the past several years.

In mid-2011, the company completed its acquisition of Bucyrus International. The debt-to-capital ratio spiked that year. However, management has subsequently reduced the ratio to approximate pre-merger levels.
A follow-on P/L check of the Interest Coverage Ratio (EBIT / Interest Expense) confirms that current interest expense remains quite manageable. The 9-month operating Interest Coverage Ratio is a strong 11.7x. This figure was calculated excluding Financial Products.
Returns have weakened, but are consistent with peers. The following table provides historical perspective on return-on-equity and return-on-assets.

For stocks within the Industrial sector / Machinery subgroup, the average RoE and RoA is currently 20% and -4%, respectively. CAT is in-line.
Summary: On balance, the balance sheet is sound, arguably improved post-Bucyrus acquisition.
Cash Flows
Especially during times of business stress, I believe cash flow may be more important than earnings. For capital-intensive stocks like Caterpillar, both operating cash flow and free cash flow should be examined.
Throughout the current business downtown, CAT management has broadcast the company has continued to generate large amounts of cash. This is true. However, much of this cash has been a result of a reduction in working capital, specifically inventory reduction.
Here's a table summarizing historical results:

Nine-months of current year cash flow has already exceeded that of either of the previous two full years. However, what happens if we exclude 2013 inventory reductions? At the beginning of the year, Caterpillar inventory stood at $15.3 billion. At the end of the third quarter, it has been whittled down to $13.4 billion. If we eliminate the $1.91 billion inventory reduction, the cash flows per share results remain impressive:
9-month Operating Cash Flow: $8.74
9-month Free Cash Flow: $3.89
With a quarter left to go, cash flow is good even excluding any effect of inventory reduction from the calculation. We can also see that the company's $0.60 per quarter dividend remains well covered by free cash flow.
Summary: Cash flows are excellent, even discounting the effect of rapid reduction in inventory. Earnings and operating cash flow has decoupled.
Peer Outlooks
Caterpillar management has been crying the blues. What have CAT's competitors had to say?
Here's some data points.
Joy Global (NYSE:JOY) is a primary manufacturer of heavy mining equipment. It released the following excerpt remarks by CEO Mike Sutherlin in conjunction with third quarter earnings:
The conditions in our end markets are dominated by supply surplus and reduced demand growth for most commodities, added Sutherlin. This is forcing mines with higher production costs to close to rebalance the market....Even so, customers remain cautious, especially regarding timing. A couple of projects have recently announced delays of six months, and others are experiencing slippage quarter to quarter. Our project tracking list has increased this quarter as our customers continue to set their longer term priorities....project slippage has become common under current market conditions. This is consistent with our view that the market will continue to be more challenging before it starts to improve.
Indeed, both Joy and Caterpillar management share disappointment with the heavy mining equipment market.
Deere & Company (NYSE:DE) has a division that manufactures construction and forestry equipment. Via its third-quarter press release, the company noted the following:
Deere's worldwide sales of construction and forestry equipment are forecast to decrease by about 8 percent for 2013. The decline mostly reflects a cautious outlook for U.S. economic growth.
Through three quarters, Caterpillar's Construction segment revenues have declined about 11%, nearly aligned with Deere. Management indicated that 2014 segment sales should improve.
Cummins Engine (NYSE:CMI), a worldwide manufacturer of large engines, does not report third quarter earnings until next week. However, the second quarter announcement reflected negative statistics within the Engine and Power Generation segments:
CMI Engine Segment

Sales - $2.7 billion, down 7 percent
Lower demand in stationary power, global mining and the heavy-duty truck market in North America were the most significant drivers of the lower revenues

Power Generation

Sales - $814 million, down 10 percent
Weaker demand in most international markets offsetting stronger revenues in North America
Caterpillar management sees flat Power Systems sales into 2014. Sales have dropped by 7% through three quarters in 2013. My expectation is CAT will be shown to be faring better than CMI after Cummins reports its October 29 earnings release.
Summary: The downturn in the machinery business, particularly mining equipment, appears to be affecting other major peers as well as Caterpillar.
Valuation
Valuation exercises for cyclical stocks can be challenging. Let's review several metrics in an attempt to determine if the stock trades at fair value.
Price/Earnings: The trailing twelve-month multiple is 16x, or nearly spot-on the 15-year normalized average P/E ratio. For many cyclical stocks, evaluating the earnings multiple can be counter-intuitive. When times are bad, the P/E goes up. When times are good and earnings are growing, the multiple often drops. If we assume 2013 EPS will be $5.50 (as forecast by Caterpillar management) and place the average 16x P/E ratio on it, we obtain a calculated fair value of $88 a share.
Here's a 15-year FAST graph outlining the relationship between earnings and price.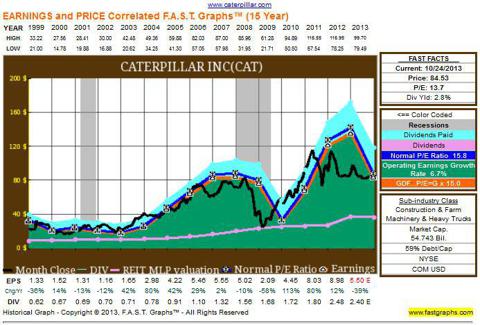 Courtesy of fastgraphs.com
If 2014 earnings simply remain flat, there is little reason to expect shares to reach $90. The 10-year normalized average low multiple is 11.3x. A $62 share price is a calculated low. Frankly, I believe sans a general global recession, this valuation is too dire.
Price/Sales: Historically, Caterpillar stock P/S ratio has generally resided within a fairly narrow band: 0.8x to 1.2x. Assuming year-end sales of $55 billion (as forecast by Caterpillar management), the current $84 share price indicates a projected 1.0 Price/Sales ratio, well within fair value range.
For information, a 15-year FAST graph depicting Price/Sales (the blue line) versus sales is found below:

courtesy of fastgraphs.com
If 2014 sales remain flat, one could reasonably target a share price about 15% above or below the 1.0x midpoint, with a bias towards the downside. That range is between $71 and $95 a share.
Price/Book: CAT stock now trades at 3.0x Price-to-Book. The Machinery industry average is 3.4x. Therefore, the stock appears in fair value territory at its current P/B ratio.
Price/Cash Flow: This is a most interesting valuation metric for Caterpillar stock. The ttm P/CF ratio is only about 6x. The Machinery industry average is 15x: a huge differential. Generally, a Price-to-Cash Flow multiple less than 10x signals an undervalued stock. If Caterpillar continues to generate historic cash flows, shares look cheap on P/CF.
Taking this metric a step further, we can create a 15-year Price-to-FFO chart for Caterpillar stock. FFO (Funds from Operations) is a close cousin of Cash Flow.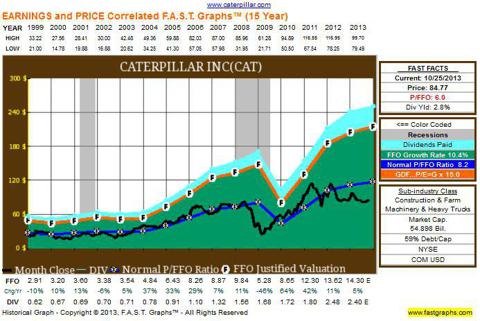 courtesy of fastgraphs.com
Assuming continued maintenance of good cash flows through year-end, Caterpillar stock is below fair value on this measure: price (the black line) is below the historic P/FFO ratio of 8.2 (the blue line).
Summary: Reviewing all the data, one could reasonably assess Caterpillar trades at approximate fair value today: $84 a share.
Readers may note a share price breaking lower than $80 could spell an unusual opportunity. Chart watchers have seen strong price support at $80 a share. This marker has held several times since the company emerged from the 2008-09 recession.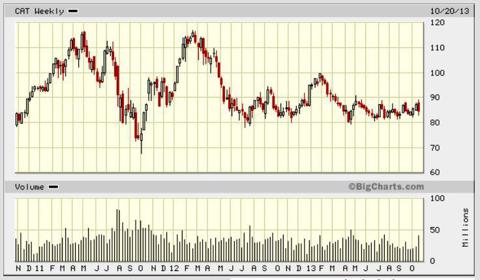 courtesy of bigcharts.marketwatch.com
Story Lines and Conclusions
The numbers tell a story, but they are not THE story. Here's what I see as the big picture:
Unquestionably, Caterpillar is experiencing some rough times.
The company is divided into three primary businesses: construction equipment, mining equipment and heavy industrial engines. Two of the three segments are faring reasonably well with a decent forward outlook: construction equipment and engines. On the other hand, mining equipment sales are abysmal. Neither Caterpillar management nor peers are forecasting better times ahead anytime soon.
Compounding matters, senior management is taking hits after missing sales and EPS for three consecutive quarters. By their own admission, leadership is having a very difficult time prognosticating just 90 days forward. This hurts leadership credibility, and can likewise affect investor sentiment.
By most valuation metrics, the stock trades at about fair value. Given the preliminary 2014 forecast, the stock is not a bargain.
However, investors may take solace in the fact that despite a horrible third quarter report, the stock does not seem to want to go down. I pause to reflect when a stock just doesn't crater when it's supposed to.
The short ratio is still under 5, perhaps offset by the directors increasing the dividend and buying back shares aggressively in the face of poor near-term prospects. The gap between operating earnings and cash flow may also be holding back sellers, too.
I plan to hold my CAT shares. My yield on basis is about 3 percent. Experience says that cyclical names can turn around, and do so quickly. While my expectations for share appreciation are muted for the next few quarters, I contend that Caterpillar the company and the stock are down but not out.
Please do your own careful due diligence before making any investment. Good luck on all your 2013 investments.
Disclosure: I am long CAT. I wrote this article myself, and it expresses my own opinions. I am not receiving compensation for it (other than from Seeking Alpha). I have no business relationship with any company whose stock is mentioned in this article.