Ron Sen, one of my favorite technical analysis bloggers, posted an interesting chart today of microcap Chinese biodiesel company Gushan Environmental Energy (NYSE:GU) (thumbnail below reproduced with permission – click to see Sen's original article).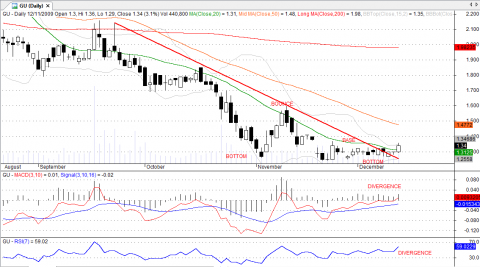 The good doc suggests that Gushan may be bottoming from a technical perspective. He knows far more than I about technical analysis, so I don't have much to add on that front other than that his reasoning makes sense. Instead, I want to focus on the fundamental aspects of the stock. Is there a fundamental basis to support a bottoming thesis?
The short answer is "maybe." Gushan is still a very troubled company, but its problems may already be priced into the shares. Gushan IPO'd in late 2007 at just under 10, climbed into the high teens, then dropped all the way to $1.25. Shares currently languish just above that price.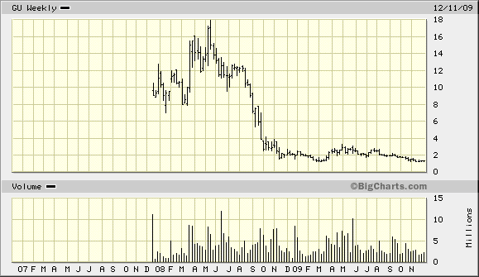 The fundamentals echo the stock's downfall. Revenues dropped 74% year-over-year, and the once-profitable company slid into the red. The main problem appears to be the decline in demand after Fujian tax officials began applying a consumption tax to previously-exempted biodiesel products. According to Gushan, the move came after other companies sold petroleum-based products as biodiesel. Gushan officials say that a petition is pending before the PRC State Administration of Taxation to reinstate the exemption for biodiesel products, like its own, that are completely free of petroleum.
There are three possibilities:
The Fujian petition is granted. This should cause a huge pop in the stock.
Fujian loses the petition. It would likely face a consumption tax in both Fujian and Sichuan, which deferred its own consumtion tax pending the PRC SAT decision. This would be a negative, but downside should be limited somewhat by the $86 million USD in cash on Gushan's balance sheet.
Fujian loses the petition and all of the provinces in which it operates impose a consumption tax. This would be a huge negative, and in my view could jeopardize Gushan's cash hoard and cause a substantial further drop in shares.
If all three were equally weighted probabilities, I would absolutely be interested in Gushan Environmental Energy, because the upside if the appeal is successful could be several times the risk if it is not. But I have no clue how the PRC SAT will rule.
Bottom line: I like the chart, and the potenttial upside. However, I'm hesitant to get involved in a binomial event to be determined by Chinese officials I know nothing about. For now I will either stay away or go long very small amounts that I would expect to lose if Gushan loses its tax appeal.
DISCLOSURE: No position.