For the third year in a row, I will make my prediction of the "stock of the year" for 2014. It should be, at the very least, duly noted that with a bit of good fortune, my stock picks for 2 consecutive years, 2012 and 2013, have had stellar performances.
By no means does that make me a stock picking genius, or a wizard, but it does show that some basic research, a feel for what is going on around us, and a knack for selecting stocks at a decent price, (given the valuations at the time) enables even me to pick a few winners.
Before I get into my pick for 2014, let's take a look back at my picks for 2012, and 2013.
2012: It Was The Year Of AT&T (NYSE:T)
AT&T has had its share of ups and downs over the last 2 years, but at the time I made my selection with this article, the stock was selling for $28.64, with a 6% dividend yield. Since that time, the company has increased the dividends each year, and the current price of AT&T stand at $35.19/share, with a dividend yield of 5.20%.
If an investor would have purchased shares back then, they would be enjoying a total return of roughly 32% including the dividends paid.
While I had been projecting a $40.00/share price, I still believe that T has not only delivered, but has also set the table for continued growth. Not only in the share price, but also with dividend increases as they always seem to do.
The key to future success was outlined in the last earnings report, which beat estimates. To encapsulate:
Nations Fastest and Most Reliable 4G LTE Network* Driving Nearly 1 Million New Subscribers, Record Third-Quarter Smartphone Sales and Stable Churn.....U-verse® Revenues Up 28.1 Percent, Total Subscribers Top 10 Million; U-verse Now $12 Billion Annualized Revenue Stream
These 2 main points should lead the way for continued steady growth into the future. We might not see 30%, but 10-12% a year might be a pretty conservative guess (including the dividends of course).
The company conference call went into more detail with forward-looking comments as well.
The CFO, John Stevens, stated the following:
Our total Wireless subscribers increased by nearly 1 million and our mobile data revenues grew nearly 18%. Revenues from our strategic business services, including VPN, Ethernet, hosting and other advanced IP services posted strong growth of nearly 16%, and the one thing that has been the most excited is the outstanding performance and future potential of U-verse, we reach 10 million total U-verse subscribers this quarter. Thanks to our best TV net gain in nearly five years and a record third quarter broadband sales. That's quite an achievement in this tough economy.
I stated before, quite often in fact, that U-verse was the key to a solid future for AT&T and that is turning out to be accurate. Television and viewer interaction will continue to be the future of TV viewing, and it is not difficult to envision all sorts of unique partnerships with existing companies and the advanced use of all technology available.
2013: Just The Beginning For General Electric (NYSE:GE)
I have been urging investors consider owning shares of General Electric since I first wrote about it 2 years ago, and again with this article. I continued to write about GE throughout 2012 and then I made it my stock pick of the year for 2013, in this article. The adjusted share price as of 9/20/2012 was $21.36.
There are several ways to look at this stock pick; first would be at the $14.80 price Team Alpha paid when it first suggested it, and secondly at the $21.36 price when I picked the stock as my pick for 2013.
Obviously, for the year 2013 thus far, the stock has had a total return of about 23% including dividends. The share price is currently at $25.88 with a dividend yield of 3%, which is likely to be increased once again for 2014. Quite a nice return for a hated stock, however if an investor took the suggestion back in 2011, when I first bought it, the share price stood at $14.80, so the 2-year total return would have been over 90% including dividends paid.
I do recall that I was a bit optimistic in suggesting that the price would double from $21 in 12-18 months originally, but I did change that to 24-36 months later on based, on reader feedback and my taking another look at it. That being said, the performance of General Electric stock, from when I first suggested it, and when I picked it as my 2013 stock of the year, has been very impressive.
Going forward, GE has just about every business component in place to continue making positive strides. As detailed in its last earnings report the most startling announcement was the $229 BILLION in product back orders, waiting to be filled, shipped, and billed!
CEO, Jeff Immelt stated this:
This quarter we delivered on our major strategic goals for investors. We grew Industrial segment profits 11% with good margin expansion. GE Capital is smaller and stronger; it is returning cash to the parent, while maintaining its profitability. And with a record backlog of $229 billion, we are winning in the market and are well positioned for 2014.
No matter what the Immelt "haters" scream about, the man, and the company has delivered thus far. Not only that, but the past reliance on GE Capital has been reduced to where it is becoming less of a factor, and I believe that in 2014, the entire division will be gone, but that is just a guess based on what the company has already done with the division. At the very least, the GE Capital division is pretty clean now anyway.
In the company conference call, Immelt also noted the shareholder value that GE has returned, and will return going forward:
Our capital allocation remains disciplined and balanced. Year-to-date, we have $13.9 billion to investors in dividends and buyback. We have invested $8.6 billion in acquisitions that will improve our long-term growth rate. We are on track to return $18 billion to investors in 2013.
I believe the best is yet to come, maybe as soon as 2014 for General Electric.
My Stock Pick Of 2014 Might Surprise You
Rather than selecting one of the rather "safe" stocks that we all know will have, at the very least, positive results for 2014, I am venturing into the world of IPOs.
My stock pick of the year, for 2014, will be Twitter (NYSE:TWTR), and here are my reasons.
I believe Twitter has learned a valuation lesson from Facebook (NASDAQ:FB), and announced a modest $11 billion valuation last week. Facebook had an initial valuation of over $80 billion by comparison.
With an initial 70 million shares for sale, at a price of between $17 and $20/share, the price is reasonable in my opinion, for investors to WANT to buy shares.
The NYSE has had 3 tests thus far, so they can hope to avoid the FB debacle that NASDAQ had, so I feel that the opening day will go smoothly.
The initial numbers and statistics look very compelling:
| | |
| --- | --- |
| Twitter Company Statistics | Data |
| Total number of active registered Twitter users | 554,750,000 |
| Number of new Twitter users signing up everyday | 135,000 |
| Number of unique Twitter site visitors every month | 190 million |
| Average number of tweets per day | 58 million |
| Number of Twitter search engine queries every day | 2.1 billion |
| Percent of Twitter users who use their phone to tweet | 43 % |
| Percent of tweets that come from third party applicants | 60% |
| Number of people that are employed by Twitter | 2,500 |
| Number of active Twitter users every month | 115 million |
| Percent of Twitters who don't tweet but watch other people tweet | 40% |
| Number of days it takes for 1 billion tweets | 5 days |
| Number of tweets that happen every second | 9,100 |
| Twitter Annual Advertising Revenue | Revenue |
| 2013 (Projected) | $399,500,000 |
| 2012 | $259,000,000 |
| 2011 | $139,000,000 |
| 2010 | $45,000,000 |
Some even say that Twitter is the fastest growing social media platform in the world: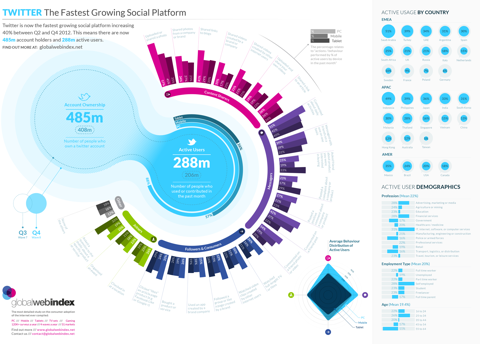 Nothing is guaranteed of course, but Twitter is unique in several ways when compared to Facebook, and even LinkedIn (NYSE:LNKD).
There are no games on Twitter. Folks go to it to let others know what they are up to or what is trending.
Re-tweeting is an area that I believe will enable TWTR to monetize actual usage. Re-tweets are perhaps the most powerful vehicle for something to go viral, aside from YouTube videos. If a popular tweeter, re-tweets YOU, your reach could be astounding, and that is worth mega dollars to advertisers.
The site is not a site to look for, or find a job, like LinkedIn, however it has a similar professional "feel" to it that Facebook does not. That to me means more advertisers would be willing to not only advertise on the twitter pages, but would be willing to try all sorts of various advertising formats with TWTR.
Mobile is king, and TWTR is simple to use, and can be monetized right along with all other devices, especially if TWTR decides to monetize re-tweeting for advertisers.
There is nobody on the planet that can place a real value on any new company, but I believe that given the modest initial valuation, and the many opportunities for TWTR to make money right out of the gate, a share price at the end of 2014 of $50 is NOT out of the question.
Disclaimer: The opinions of the author are not recommendations to either buy or sell any security. Please remember to do your own research prior to making any investment decisions.
Disclosure: I am long GE, T, FB. I wrote this article myself, and it expresses my own opinions. I am not receiving compensation for it (other than from Seeking Alpha). I have no business relationship with any company whose stock is mentioned in this article.