Seeking Alpha readers know that I follow market based signals, rather than government statistics, to tell me how the economy will do in the near future. The former come from millions of investors willing to put skin in the game, The latter come from Washington bureaucrats who are clueless about how our real economy works.
Late last May, with the SPDR S&P500 Trust ETF (NYSEARCA:SPY) at $163, I made a case that "Bulls Have Their Ducks in a Row". Since then, stocks have brushed off concerns over Syria, tapering, NOT tapering, shutdowns, and debt limits. The market is nearly 8% higher: are these same ducks still quacking? Time to revisit some market based signals.
Some basic tenets of Dow Theory and common sense will give us a couple ETFs to look at. In order for the economy and the market to prosper:
Goods and services must be produced and sold. If that is the case portfolios such as SPY should be advancing.
Goods must be shipped to retail outlets. If that is the case the iShares Dow Jones Transportation Index ETF (NYSEARCA:IYT) should be performing well.
Promising growth sectors and future industries must be leading the way. Medical technology certainly is one: how has the iShares Medical Devices ETF (NYSEARCA:IHI) performed lately?
Investors must be shunning Cassandra investments and seeking equity for growth and income. Government bonds are a traditional shelter for nervous investors: how has the iShares 20+ Treasury ETF (NYSEARCA:TLT) been doing?
Finally, a rising tide must lift all boats: breadth must be substantial. What does the advance/decline line look like?
A picture is worth a thousand words: So here we go.
Produced and Sold? SPY has consistently beaten back corrections to advance to new highs. Check!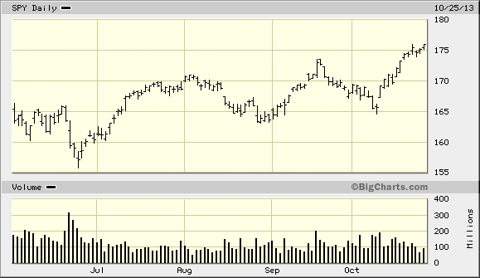 source: bigcharts.com
The story is similar for Powershares QQQ Trust (NASDAQ:QQQ). While the SPDR Dow Jones Industrial Average ETF (NYSEARCA:DIA) has lagged, I explained that short term peculiarity a day or so ago here.
Goods and services are being shipped. Why go cross eyed looking at rail shipment and other data? Why not let the iShares Dow Jones Transportation Average say it loud and clear as it soars to record highs? Check!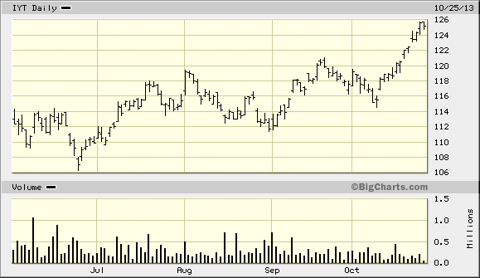 While there are many promising growth sectors out there, few have the potential to transform our economy and our very lives, as medical technology. While fracking and natural gas get all the attention, look under the radar. The real game changer is here, and the iShares Medical Devices ETF shows it bold as brass. Check!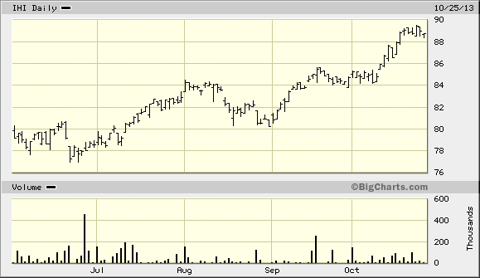 Keep in mind this advance is right in the face of the medical device tax and the disastrous launch of Obama Healthcare Exchanges.
Bulls put their money in stocks. Chickens put their money in US government bonds. Well the chickens have come home to roost. iShares 20+ Year Treasury Bond ETF remains mired near its lows, despite howls of "slower growth" from folks who can't handle Federal Government austerity. Check!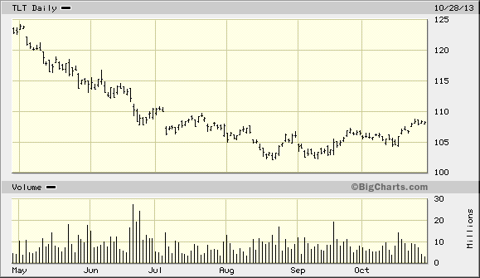 As usual, I will admit a case can be made for Gold and Treasuries given how the FED is trashing the dollar. But even so, at best these fear assets are sending only faint recession signals.
And finally, what about those boats! Is the rising economic tide lifting them all? Gollee, it's enough to make Gomer Pyle join the Navy. This isn't a tide, it's a tsunami. Breadth is outstanding!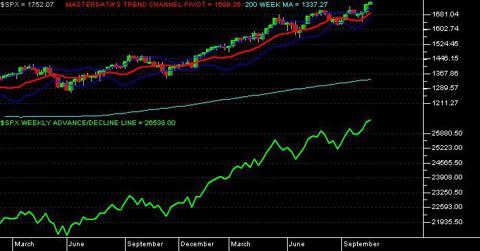 source: Masterdata
Unlike some of the lower part of the Red Sox order, the bullish case for both stocks and the economy is 5 for 5; batting a nice solid thousand. If you are fully invested, don't change your lineup.
Disclosure: I am long SPY, IYT, IHI, INTC. I wrote this article myself, and it expresses my own opinions. I am not receiving compensation for it (other than from Seeking Alpha). I have no business relationship with any company whose stock is mentioned in this article.