In my first article about Chevron (NYSE:CVX) that was published on October 7th, I discussed a few reasons why I was staying long on the stock. In today's article, I not only wanted to revisit my initial reasoning but also highlight the company's solid cash margins, early stage pipeline-based growth opportunities and the recently announced developments that took place at the Duvernay play.
Recent Performance And Trend Status
At the close of Friday's trading session shares of CVX, which currently possess a market cap of $231.70 billion, a P/E ratio of 9.77, a forward P/E ratio of 9.88, and a dividend yield of 3.32% ($4.00), ended the day at a price of $120.59/share.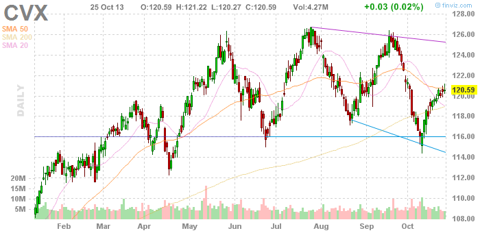 Based on their current price of $120.59/share, shares of CVX are trading 1.18% above their 20-day simple moving average, 0.17% below their 50-day simple moving average, and 1.36% above their 200-day simple moving average. These numbers indicate a short-term uptrend, a slight mid-term downtrend, and a long-term uptrend for the stock, which generally translates into a moderate buying mode for both near-term traders and longer-term investors.
A Note on the Company's Recent Dividend Behavior
Since November 16, 2010, the company has increased its quarterly distribution four times over the last three years and could continue to do so considering the pile of cash ($22.30 billion as of the most recent quarter) the company is currently sitting on. The company's forward yield of 3.32% ($4.00) coupled with its payout ratio of 30%, make this particular oil and gas stock a highly considerable option, especially for those who may be in the market for a dependable stream of quarterly income.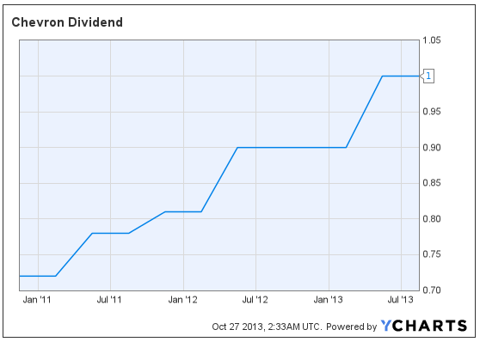 Encouraging Flow Rates at Duvernay
On Friday, October 25th, Chevron said it sees encouraging flow rates after concluding the initial 12-well exploration phase in the Kaybob area of the Duvernay play in Alberta. During the exploration phase five wells that were completed are already tied into production facilities, and an additional four wells are waiting to be completed and upon completion would be subsequently tied-in. It should also be noted that Liquids yield for the completed wells range from 30%-70% with initial production rates up to 7.5M cf/day of natural gas and 1,300 bbl/day of condensate.
A Quick Look at Chevron's Pipeline-Based Growth Opportunities
As of June 30th 2013 Chevron had a considerable number of pipeline-based growth opportunities in both the exploratory and developmental stages. From an exploratory perspective, Chevron has opportunities in the Gulf of Mexico, Suriname, Vaca Muerta, Morocco, Sierra Leone, West Africa, Central Europe, Kurdistan (Iraq), China and Australia. From a developed perspective, Chevron has opportunities in the Pacific Northwest (Kitmat LNG and Duvernay), the Marcellus and Utica Shale formations, the Permian Basin, the Gulf of Mexico (Shelf and Deepwater), Vaca Muerta, West of the Shetlands, the Tengiz Future Growth, Wafra and Australia. If these types of opportunities keep presenting themselves to Chevron, and as a result become key prospects for growth, this particular strategy could continue pay off for years to come.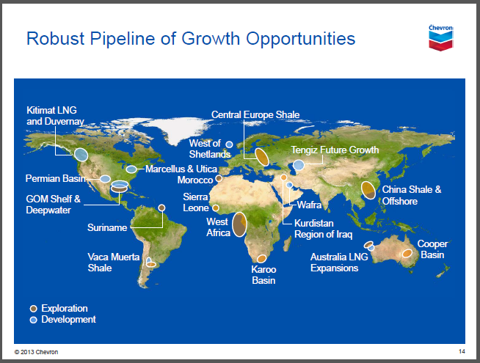 Very Solid Cash Margins
When it comes to Chevron's cash margins it should come as no surprise the company will continue to further differentiate itself from its peers by the year 2020. Why? A strong cash position allows that company to do any number of things that include but are not limited to future investments that may be immediately accretive to cash margins and the enhancement of the company's annual dividend that is paid out each quarter. In the chart below we can see that Chevron is clearly outpacing many of the companies in its peer group.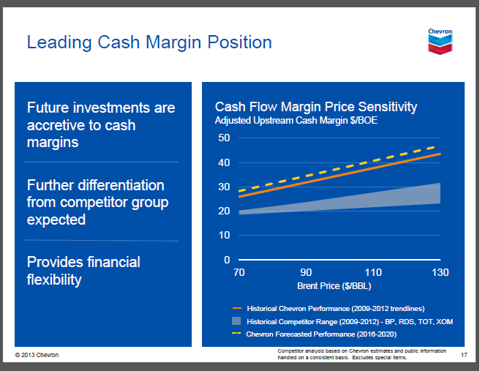 Risk Factors
According to Chevron's most recent 10-K there are a number of risk factors all investors should consider. These factors include but are not limited to various declines in business if the company does not successfully develop resources, operational disruptions that are caused by natural or human factors, and any potential losses that could result in significant financial exposure.
Conclusion
For those of you who may be considering a position in Chevron, I'd keep a watchful eye on a number of catalysts over the next 12-24 months as each could play a role in the company's long-term growth. For example, near-term investors would want to focus on the company's recent performance and trend status, while long-term investors should pay close attention to any changes in the company's cash position and any further developments at not only the Duvernay play but at any of the other plays that are still in the early stages of development.
Disclosure: I am long CVX. I wrote this article myself, and it expresses my own opinions. I am not receiving compensation for it (other than from Seeking Alpha). I have no business relationship with any company whose stock is mentioned in this article.