Last week ConocoPhillips (NYSE:COP) hit an all-time high ($74.10), eclipsing the prior high set back in June of 2008. What makes this impressive is that COP achieved this as an independent E&P company after spinning off its refining, chemicals, and midstream businesses into Phillips66 (NYSE:PSX), which has also been very good to investors. This article will give a short preview of Q3 earnings and explain why investors should simply buy and hold COP for the long term.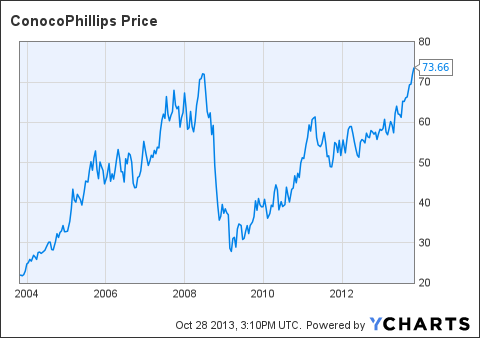 Q3 Earnings Preview
Last year, COP reported third-quarter earnings of $1.8 billion, or $1.46 per share on production of 1.525 million boe/day. Currently, analyst estimates are for Conoco to post Q3 2013 earnings of $1.44/share with a high estimate of $1.76 and a low of $1.20. The company has guided Q3 production to be in the range of 1.46 to 1.49 million boe/day. So while consensus estimates are for relatively flat earnings year-over-year, and while production will be down, most investors are aware that this is due more to discontinued operations and significant turnaround and scheduled maintenance activities as opposed to some operational deficiency by the company.
But of course it's not just production that matters, but also realized prices. In the year ago Q3, Brent averaged in the neighborhood of $106/barrel and WTI ~$91/barrel. In this year's Q3 the average for Brent was close to $110/barrel and for WTI around $106. According to COP's Summer Update presentation, the company's annualized sensitivities are:
Brent/ANS: $75-85 MM change for $1/BBL change
WTI: $30-40 MM change for $1/BBL change
So for the $4 dollar uptick in Brent we should see a quarterly tailwind of ~$80 million and for the $15 rise in WTI about $131 million. So we should see close to a $200 million increase in net income just to the increases in realized prices for Brent and WTI. This should help make up for the predicted ~40,000 boe/day quarterly drop in production year-over-year. Note this analysis neglects the affect of WCS, NGLs, and dry gas prices - all of which have lower price sensitivities for COP. Investors should also note that despite those who want COP to pull in their international operations, COP is still more highly sensitive to Brent prices than it is to WTI. And this is a good thing considering many are predicting a potential fall in WTI prices due to the continuing boom in US mid-continent production.
After its Q2 results, Conoco was so confident about its future prospects that it spit in the eye of skeptics by releasing a couple bullish announcements:
On July 11, 2013 Conoco raised its dividend by 4.5% to $0.69 per quarter.
On the Q2 conference call COP raised guidance for the remainder of the year. Full year production from continuing operations is now expected to be the range of 1,515-1,530 million boe/day. The midpoint of this range is up 20,000 boe/day from previous guidance.
Another pleasant surprise during the Q2 conference call was an update on COP's European operations. The company increased yearly earnings estimates for the segment by $150 million to $750 million. In a June article, ConocoPhillips: Growing Production In the UK and Norway, I pointed out that COP's European operations are a key segment due to its production growth outlook for Brent-based barrels. And this is happening just as COP has planned: today COP announced that Ekofisk South has started up and first oil has been produced. Ekofisk South, along with Eldfisk II and other development projects offshore Norway, will add ~60,000 boe/day of net high-margin production by 2017. Note the full-cycle costs of ~$25/boe: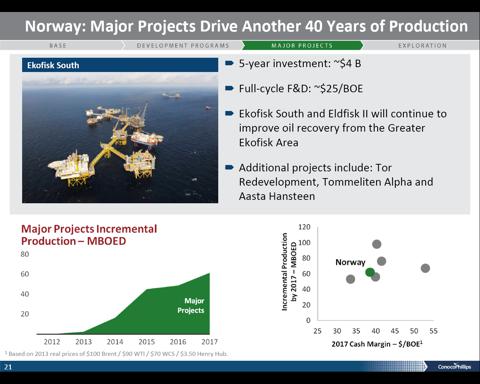 But of course the real story for COP is its long-term production and margin growth plans. As the slide below shows, the company plans to increase net production by 400,000 boe/day by 2017 - much of this growth will come from low-risk exploitation of secure North American resources like the Eagle Ford, Bakken, Permian, and Canadian oil sands. Note to how the majority of production growth will be crude oil, LNG, and international gas as opposed to cheap domestic dry gas: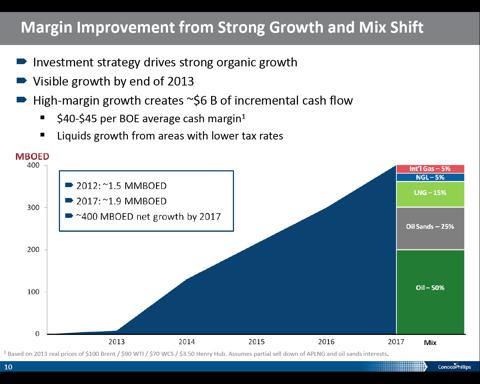 Summary and Conclusion
While COP is hitting all time highs sans it PSX spin-off, now is not the time to take profits. Indeed, the outlook for the company is very bright. It pays the best dividend (3.7%) in the independent E&P peer group with the next highest being Occidental Petroleum (NYSE:OXY) at 2.6%. With the company's strategic asset disposition plan largely completed (except for cashing the checks on previously announced deals), focus will shift exclusively on growing production, margins, and future plans. After the company's performance over the past few years, there is no reason to doubt management's ability to execute on its commitments. There is simply no other E&P company in the world with such a low-risk North American asset base combined with a diversified worldwide production mix and a great dividend to boot. A wild card is the likely settlement in favor of ConocoPhillips' in the $30 billion legal dispute over Venezuela's illegal expropriation of company assets. As I wrote in a previous article, a settlement is estimated to fall in the neighborhood of $5-7 billion, or ~$4/share.
COP is a long-term BUY & HOLD.
NOTE: Q3 Earnings are due out October 31 (this Thursday) before the market opens. You can join the conference call here.
Disclosure: I am long COP, PSX. I wrote this article myself, and it expresses my own opinions. I am not receiving compensation for it (other than from Seeking Alpha). I have no business relationship with any company whose stock is mentioned in this article.
Additional disclosure: I am an engineer, not a CFA. The information and data presented in this article was obtained from company documents and/or sources believed to be reliable, but has not been independently verified. Therefore, the author cannot guarantee its accuracy. Please do your own research and contact a qualified investment advisor. I am not responsible for investment decisions you make. Thanks for reading and good luck!