Shares of Deere & Company (NYSE:DE) are trading at fair value on a cash flow basis but could still be a strong performer in a long-term portfolio. The stock has been dragged down by lower grain prices and the general sell-off in heavy equipment manufacturers. Despite the possibility for weakness into 2014, valuation on a multiple basis is attractive and growth drivers for the company remain firmly intact.
Strong position in Ag and growing international diversification
The stock has underperformed competitors lately for its focus on North America. I came out against the company last year on its lack of geographic diversification and industry weakness. Shares are down 2.2% since then but the outlook has improved and the company could be a strong addition to a long-term portfolio.
Deere still books most (62%) of its revenue from North America but is making a major push into emerging market production. Equipment sales last year from outside the U.S. and Canada were four times their FY2000 level and the company has recently opened seven new factories in BRIC nations, including two in Brazil and three in China. Net sales in Latin America have increased at a compound annual rate of 18% over the five years to 2012. The company operates six factories in Brazil and has doubled its dealer locations since 2007.
Asia and Africa may prove to be one of the most promising stories over the coming decade with sales increasing at an annualized rate of 21% to $2.1 billion in 2012.
The company's financing arm has always been my major worry, potentially leveraging weakness in equipment sales with credit problems if a farm crisis occurs. The financing portfolio has only grown by a compound annual rate of 6% in the seven years to 2012, a fairly conservative rate of growth and the composition of the loan portfolio (shown below) is fairly diversified. Write-offs for bad loans on the company's portfolio have averaged 0.3% over the last eight years and just a fifth of a percent if you exclude charge-offs in 2009 and 2010.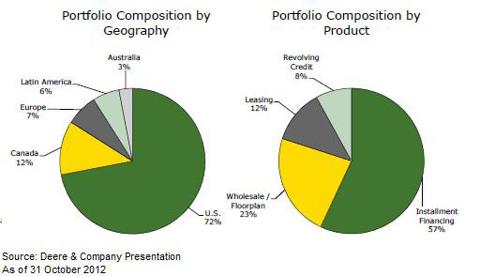 Loans on equipment are generally for five year terms with a 30% down payment. Equipment keeps its resale value well, bottoming around 70% of the original price at five years, so loans could usually be paid with resale under the worst-case scenario.
Despite lower grain prices, farms in the United States continue to see stronger balance sheets with rising equity and falling debt ratios. Cash receipts for 2013 are down marginally from last year's high but should still top $375 billion, up more than $100 million annually over the last ten years.
The company has made a solid commitment to shareholder returns with share repurchases and dividends accounting for 60% of cash flow from operations since 2004. Cash flow from operations declined in 2012 on higher working capital needs but has rebounded over the last year and should easily support shareholder return in the future.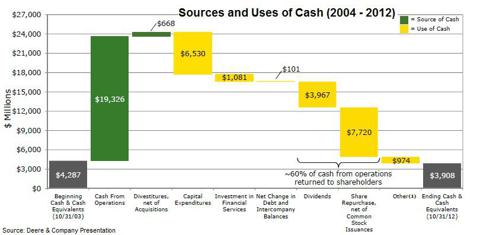 Deere has increased capital expenditures by an annualized 13% over the last five years as it builds out its international operations. Capital spending over the last five years has averaged 5.6% of sales, well above the 2.4% average over the five years to 2006. Over the longer-term, capital expenditures should moderate and cash available to shareholders could improve considerably.
Next year represents bottom of cycle
Revenue is forecast to fall almost 3% next year but should rebound over the longer term on strong global demand for grain commodities. The increased capital spending on emerging market growth hit free cash flows last year but should drive higher revenue growth in the future.
Shares of Deere trade for 9.6 times trailing earnings, well under its five-year average of 15.3 and an 18% discount to the industry's 11.7 times multiple. The AGCO Corporation (NYSE:AGCO) is the company's nearest comparable with 100% of sales from the agricultural segment, though its exposure to the North American market is only 26% of sales compared to 84% for Deere & Company. Shares of AGCO trade for 12 times trailing earnings, a much smaller discount to its five-year average of 13.4 times multiple.
Shares of Deere trade at a much larger discount despite the company's 8.5% annualized growth in revenue over the last five years compared to just 7.8% for AGCO.
On a discounted cash flow valuation, shown below, the shares are trading just under fair value. Within the model, I am assuming the weakness in grain prices persist into 2014 with consensus growth in sales into 2015.
Over the next year, I would expect management to continue buybacks to support sentiment in the shares and possibly lower its guidance on capital expenditures to support free cash flow. The company has decreased shares outstanding by an annualized 2.5% over the last five years and has increased the dividend per share amount by 16.5% over the last decade. I am modeling a moderation to 13.5% over the next three years and a conservative 10% annual dividend growth in years four through ten. I am also assuming a 6% terminal growth rate, which is the rate at which dividends have grown over the last three decades.

These assumptions may be too conservative given recent dividend growth but near-term weakness in the industry puts the risk to overly aggressive assumptions. I think the model argues for a floor on the fair value at its current price.
On a price-earnings multiple of 12 times, at the lower end of the range over the last few years, the stock could be worth as much as $96 assuming consensus 2014 earnings of $8.02 per share. Multiple expansion will mean less to long-term investors but it strengthens the case for investment on stronger upside potential in the future.
Long-term investors have the benefit of banking the dividend and waiting for higher multiples down the road for a significant annualized return.
I see two principal risks to the shares, both primarily short term. Lower crop prices are already weighing on the shares and could continue into 2014. Forecasts for 2014 have already lowered earnings by 9% to $8.02 per share. Longer-term growth in grain demand remains robust, especially in the emerging markets and fertilizer prices have come down significantly which should support farm balance sheets.
The company's high amount of debt, nearly four times the amount of equity, leaves Deere at risk to higher rates on refinancing. While interest rates will most likely rise over the next year, the company's debt carries a A- rating by Standard & Poor's with a stable outlook.
Adding to Retirement and Income Portfolio
Now is an excellent time for long-term investors to take advantage of fear that crop prices will hurt equipment demand. Prices may continue to be weak into next year but the earth has over seven billion hungry mouths to feed. It takes up to 13 pounds of grain to produce one pound of meat, so the trend to higher meat consumption will drive long-term grain demand.
I am adding the shares to my model Retirement and Income Portfolio on the company's commitment to shareholder returns and long-term risk-reward profile. The shares provide a 2.4% cash yield and the company enjoys a strong brand identity in a market with substantial costs to entry. The addition follows HCP Inc. last week on its conservative business model and demographic tailwinds.

Given DCF fair value and weak outlook for next year, you could probably leg into your initial position buying half now and waiting until early next year for another investment. This risks losing out if the shares jump but it also gives you the opportunity to buy in at a lower price if sentiment continues lower. Over a long-term horizon, shares of Deere should provide a stable cash return with attractive total returns from growth plus multiple expansion.
Disclosure: I have no positions in any stocks mentioned, and no plans to initiate any positions within the next 72 hours. I wrote this article myself, and it expresses my own opinions. I am not receiving compensation for it (other than from Seeking Alpha). I have no business relationship with any company whose stock is mentioned in this article.