BlackBerry (NASDAQ:BBRY) accomplished what few thought would be possible before its privatization: it released BBM ("BlackBerry Messenger") for Apple iOS and for Android. Within 24 hours, 10 million downloads were recorded. Demand was so strong that BlackBerry needed to create a virtual line-up for users. CrackBerry estimated downloads on Google Play were between 10M and 50M as at this past weekend (October 26, 2013). With 60M BBM users on BlackBerry, there is now a total of over 100M BBM users in total. For investors, what relevance is BBM's success in a world already crowded market with so many messaging apps? More importantly, does BBM change the $9 price tag for BlackBerry? Investors need to evaluate the importance of BBM for BlackBerry's future.
BBM success draws controversy
Critics noted that numerous duplicate fake 5-star reviews were posted on Google Play, but BlackBerry's director of PR denied any involvement:
"We do not approve of or condone such activities and are committed to working with Google to resolve this. There are also many genuinely great and useful reviews from our new BBM users on Google Play. We would like to encourage our passionate fans and users to continue to provide true assessments of the BBM experience through the proper channels."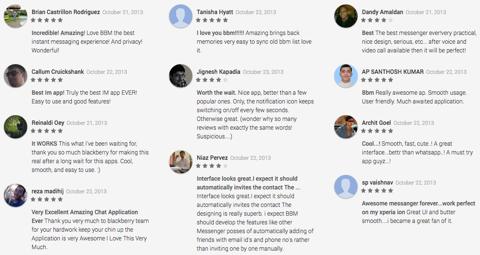 Click to enlarge
BBM received 4 stars out of 5 on 243,825 votes and 285,244 Google +1s: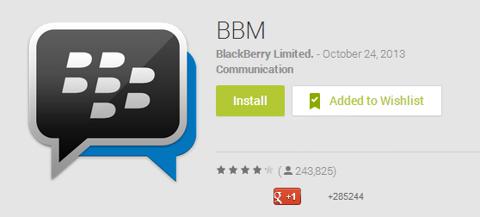 Click to enlarge
On Android forums, cynical users mentioned the download count does not measure usage or future app "uninstallations." To keep users interested in the app, BlackBerry plans to release BBM Voice and Video calling to Android within a few months. BBM Channels, which is like a miniature social engagement within BBM, will also be released to production for BlackBerry users. BBM Channels was in beta for several months for BlackBerry users.
BBM's success clearly reverses the negative sentiment that overshadowed its BB10 launch. It also quickly gives the company relevance again in the mobile messaging market.
The takeaway from this is that the negative sentiment for BlackBerry vanished. The company is now in a better position to advertise BB10 to Android and iPhone users, either through regular ads or within BBM. Investors will recall that BlackBerry budgeted around $1B to market BB10. Given that BB10 sales were weak, it is now accepted that this advertising spend was previously ineffective. Now that BBM restores BlackBerry's brand, future advertising initiatives could be more successful.
BBM as advertising medium
BBM is set to be entirely free, but gives BlackBerry an audience for basic, efficiently placed ads. BlackBerry will not likely place image-based ads or banners in the app as the user base grows. When BBM for the PC desktop is released, the desktop program is also unlikely to have many of these types of ads. By contrast, Skype on the desktop displays large, banner ads: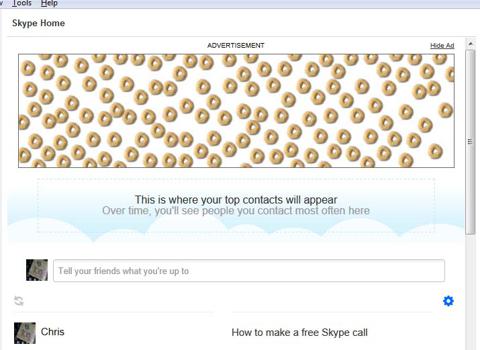 Click to enlarge
By refraining from placing obstructive ads, BBM could win over users from Microsoft's (NASDAQ:MSFT) Skype.
BlackBerry could also place subtle, unobtrusive ads on BBM for Android. A simple text-based ad link in BBM could translate to better BB10 sales. For example:
BlackBerry Z10. New, low price.

Check out BlackBerry Z30.
BlackBerry could even advertise hub or predictive texting functions in BBM.
Understanding BBM users
It is not hard to understand why BBM's release was so successful. BlackBerry set up an invite page on its bbm.com page. Many ex-BlackBerry also users miss the app. Users on BBM for Android and iPhone frequently compared the app to WhatsApp. BBM could be an alternative to WhatsApp, Skype, and Google (NASDAQ:GOOG) Hangouts. Users mentioned that BBM pins let them make a connection without giving up a phone number. WhatsApp requires that a number be known before a connection is made. Google Hangouts, which replaces the GTalk messaging app, works very well for group video chatting, but Hangouts is not very well-known even for Android users. Those who know of Hangouts understand the app requires users to have a Google email account.
BBM valuation and Conclusion
Unfortunately, the true value of BBM depends on who is willing to make a bid for it. Since that would only be a guess, one thing is certain: BBM makes BlackBerry a strong mobile messaging solutions provider again. In the meantime, BlackBerry will need to incentivize users on Apple and Android devices to use BBM first. By creating a cross-platform app, BlackBerry now ensures it is still relevant in the mobile messaging world. Both Skype and WhatsApp will face much stiffer competition.
BBM Channels is like a mini-Facebook (NASDAQ:FB) or Twitter (NYSE:TWTR) platform, but has fewer restrictions. Users may subscribe and unsubscribe freely to different channels. BlackBerry could feature brands or products here. This would give BlackBerry a chance to sell advertising space. With Twitter set to be valued (by market capitalization) at over $10B and Facebook now worth $125B, BlackBerry seems undervalued at a $4.3B valuation.
BlackBerry's time is up as a public company, but the excitement over BBM will at least set the $9 share price on BlackBerry as a floor. At an $8.23 closing price, BlackBerry will return shareholders around 9% on closing.
Disclosure: I am long BBRY. I wrote this article myself, and it expresses my own opinions. I am not receiving compensation for it (other than from Seeking Alpha). I have no business relationship with any company whose stock is mentioned in this article.