Legendary activist investor Carl Icahn has recently taken a large position in Apple (NASDAQ:AAPL), the world's largest company. Icahn's main goal appears to be getting Apple to launch an immediate $150 billion buyback in the form of a tender offer. In late 2012, well before Icahn was involved, I suggested that Apple should launch a $100 billion buyback. Icahn recently wrote a letter to Apple CEO Tim Cook explaining why he believes a $150 billion buyback is a good idea. While Apple may be a good candidate for a large buyback in the form of a tender offer, I believe Cisco Systems (NASDAQ:CSCO) is a better candidate. Furthermore, based on Icahn's logic, CSCO can boost shares 41% by using its cash to initiate a tender offer.
Cisco Cash Compared To Apple
Currently, CSCO has just over $50 billion in cash. Comparably, Apple has just under $150 billion in cash. Apple has 3x as much cash as Cisco. However, Apple has a market cap, $477 billion, that is 3.7x Cisco's market cap of $120 billion. In other words, a $50 billion buyback for CSCO would represent roughly 41% of shares outstanding where as a $150 billion buyback for Apple would represent roughly 33% of the share outstanding.
From Icahn's Letter To Tim Cook
While this would certainly be unprecedented because of its size, it is actually appropriate and manageable relative to the size and financial strength of your company. Apple generates more than enough cash flow to service this amount of debt and has $147 billion of cash in the bank. As we proposed at our dinner, if the company decided to borrow the full $150 billion at a 3% interest rate to commence a tender at $525 per share, the result would be an immediate 33% boost to earnings per share, translating into a 33% increase in the value of the shares, which significantly assumes no multiple expansion.
For CSCO, a $50 billion buyback would reduce the share count by 41% and thus lead to a 41% increase in the value of shares. While the CSCO and Apple comparison is useful, there is one caveat which is that CSCO already has $16 billion in debt which is the same amount Apple has. However, Apple is much larger and thus Apple's current debt burden is significantly less than CSCO. Given this, it might make sense for CSCO to borrow less money and use more of its cash on hand.
Cisco Valuation
As shown by the chart below, CSCO is currently trading at 11.5 times forward earnings. This is close to the low end of the company's historic valuation and is a reason why a massive buyback makes sense. Icahn has stressed Apple's low valuation.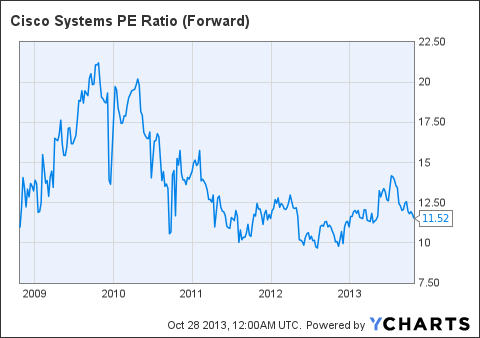 CSCO PE Ratio (Forward) data by YCharts
Cisco's Current Buyback
Like Apple, CSCO has a stock repurchase program in place. Since inception, CSCO has repurchased more than $77 billion worth of stock. The current buyback program has an additional $4.3 billion remaining.
Conclusion
Given the fact that CSCO has already bought back $77 billion of its stock, I think it is fair to say that a good portion of CSCO's $50 billion cash hoard will be used in the future to buyback shares. My view is that, due to the current valuation, CSCO should go ahead and use its $50 billion in cash to launch a tender offer now similar to the one Carl Icahn is proposing for Apple. Based on Icahn's argument, CSCO shares should increase in value by 41% if the company announces a $50 billion tender offer.
Disclosure: I have no positions in any stocks mentioned, and no plans to initiate any positions within the next 72 hours. I wrote this article myself, and it expresses my own opinions. I am not receiving compensation for it (other than from Seeking Alpha). I have no business relationship with any company whose stock is mentioned in this article.