Nautilus, Inc. (NYSE:NLS) is a company that operates primarily in the Sporting and Athletic Goods Manufacturing Industry developing a variety of gym equipment suitable for nationwide fitness center chains and home gyms. The brands that Nautilus sells include but are not limited to Bowflex®, Nautilus®, Schwinn® and CoreBody Reformer®.
NLS has seen some momentum in its share price, seeing it ascend slightly over 9% over the last month. With Q3 Earnings Report scheduled for November 4th, investors may be tempted to take a shot on the sporting goods company. On their Q2 Conference Call, CEO Bruce Cazenave was adamant that the end of the year will be promising for NLS as the latter part of the calendar year is when "the fitness season gathers momentum." The reason for this observed seasonal acceleration in sales can be speculated differently by anyone but one possible explanation is the seasonal weather changes. Summer weather is much more conducive to outdoor activities and exercise. So, naturally, as the cold air and snow (depending on location) files in, people begin to move indoors. This is when companies like Nautilus can take advantage of those determined to continue exercising regularly.
Now an investor whose had their eyebrows raised by this potential opportunity will need to delve further into NLS's current and future prospects to decide if NLS should be made a part of their portfolio.
Quarter 2 Results and Implications
On August 5th, NLS reported earnings of -$0.04 per share with revenue of $36.32M, missing estimates by $0.04 and $4.07M, respectively. Cazenave was quick to point out that NLS's earnings and revenue misses are a result of the fact that Q2 is seasonally the slowest quarter for the company and that NLS's focus was directed towards positioning itself for the back half of the year. He also mentioned repeatedly on the Conference Call that the company had increased its media spend in the second quarter in anticipation of the end of year sales increase as well as advertising their new products.
In terms of overall performance, revenue of $36.2M is an 8.4% decrease y/y but its YTD revenue of $95.5M is a 5.1% increase y/y. Operating income and EPS follow the same trend of y/y decreases for the quarter but y/y increases YTD. Expenses as a percentage of sales rose to 52.6% from 44.9% y/y, which Cazenave attributes to the company's selling and marketing expenses, which rose from 31.7% to 38% y/y.
One major positive note that can be extracted from NLS's performance in Q2 was their gross margin expansion. NLS was able to widen its gross margin by 440 basis points y/y to 47.8% for the quarter and increased its YTD margin by 510 basis points y/y to 50.3%.
New Products
Nautilus's business plan revolves around their focus on new and innovative product releases. On September 10, NLS unveiled several new products at a conference in New York including three from their Bowflex® line. Their most interesting and innovative product from the September unveiling is the Bowflex® Boost. The Boost is a wrist-worn band that allows you to set goals and track your progress through the day. Boost tracks your steps, distance, calories burned and overall activity during the day and also monitors your sleep at night.
Boost works in conjunction with another one of Nautilus's new releases, the Bowflex® SelectTech® mobile app. Once you download the app, Boost can connect to your phone via Bluetooth and then SelectTech® allows users to deeply personalize the app by creating profiles and interacting with other users. SelectTech® also comes with custom Bowflex workouts that award points for completion, further reinforcing the app's user interaction aspect.
If the Boost and SelectTech® app can successfully get users engaged using their apps, workouts and products, Nautilus could have found itself a new customer base. The fitness industry is one that has high levels of loyalty. When someone finds an exercise regimen that satisfies them and is effective, they stick with it for a while. As long as the app's workouts have enough variety and prevent users from becoming bored with repetitive, monotonous routines NLS could realistically have tapped in to a previously unused portion of the market. The Boost has received mediocre reviews, however, including this one. Some complaints are that there isn't an android app and there is no tracking of a person's diet.
More information on each of the new releases can be found here.
Licensing Agreement
Earlier in the year, Nautilus announced a new licensing agreement with Seltzer Licensing Group that the company believes will give it an upper hand in finding partners from across the fitness industry to collaborate on new products and possibly even venture into nutritional foods. NLS held an event in Las Vegas to kick of their new partnership and COO Bill McMahon said that the company was very pleased with the turnout (over 15,000 product and brand licensing professionals attended) and that Nautilus exited the event with many new connections. McMahon doesn't expect these connections to bear any fruit that will be reflected in this year's financial results.
International Expansion
Nautilus's partnership with Seltzer Licensing Group may prove to be very useful for overseas markets. In response to an analyst's question on the conference call McMahon briefly discusses NLS's international sales picture. International sales were up "quite a bit" in Q2 and McMahon believes that all the company needs is good distributors around the world. This is a long-term opportunity for Nautilus that can be very profitable if management can take advantage of it.
Valuation
At first glance shares of NLS seem like a steal given that the company trades at a P/E of 4.57. This indicates that the shares are severely undervalued by the market, especially when Nautilus's historical P/E ratio is taken into consideration. Since, January of 2012 NLS's P/E has been as high as 65 but has been on a relatively steady decline since.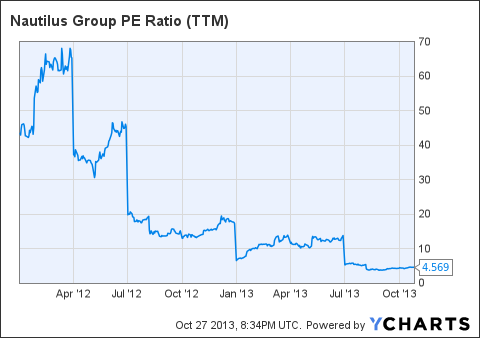 NLS P/E Ratio (TTM) data by YCharts
This implies solid earnings growth that has not yet been priced into shares, but a look at some other valuation metrics cast some doubt over the accuracy of the market's valuation of NLS. According to Yahoo! Finance, Nautilus trades at a forward P/E of 13.31 and arguably more important a PEG ratio of 3.43.
Search For A CFO
On June 13th, Nautilus announced that CFO Linda Pearce resigned from the company effective July 2nd to become CFO of Tillamook County Creamery Association; the company is yet to appoint a replacement. Mr. Cazenave briefly addressed this matter on their Q2 conference call and more information is expected to be released on their upcoming call. His comments are as follows:
"Before I move on to discuss our financial results in more detail, I would like to comment on our chief financial officer's search. We are still early in the process but have already received significant interest from very experienced and talented CFO's from across the country. We will update you on our progress as appropriate."
He mentioned it again in response to an analyst question regarding the timetable for their search:
"We have probably a handful already that we talked to. We are in the initial -- what I would call the initial screening phases. So it will take some time and we will have the help of a national search firm to send out a broad net to make sure it's not just the referrals that we are looking at but actually a proactive search out for people who may not even be aware of the opportunity."
Whoever the company appoints and the perception shareholders have for the new executive will most likely have a large impact on share price. Smaller companies like NLS don't have as much news coverage or big headlines so an announcement of this magnitude will have even more importance. Nautilus has a market cap of just over $240 million.
The fact that Pearce left the company isn't as significant as the company she left in for, IMO. It's not like Nautilus was a stepping stone in her career as she departed for a Fortune 500 company or to be a CEO somewhere. Instead, she left to occupy the same position at a company that is relatively unknown and is not publicly traded. This raises concern in my eyes because it's possible that Pearce isn't expecting great performance in the coming years.
Competitors
Nautilus faces competition in the form of Fitness Quest Inc., and ICON Health & Fitness, Inc. but also from home workout DVDs. Home workouts such as Beachbody.com's Insanity, T25 and P90X are becoming a very popular fitness trend. Beachbody's workout videos boast several advantages including high calorie burn, convenience (all you need is a device capable of playing DVDs or Blu-Ray) and their biggest selling point, a short, time-saving workout. 5 of the 6 DVDs listed on Amazon's best seller list are made by Beachbody. As someone who lives in a house with three different home workout DVD sets, I can attest to their effectiveness and convenience.
Group fitness classes are also becoming rapidly more popular today. Zumba, Yoga and Spin classes are an emerging trend in the world of fitness. They are offered at gyms across the country and on most college campuses. Exercising in groups is preferable to many people as it creates a more casual environment and allows its participants to be more relaxed and exercise at the same time. Conveniently, working out in groups actually has several health benefits over working out alone. Studies have found that working out with a partner will "get you moving, keep you moving and make you work harder."
Earnings Volatility
When weighing the pros and cons, it's also important to take volatility into account. NLS has been incredibly volatile around its recent earnings reports. After announcing a $0.05 earnings miss on August 8th, shares of NLS plummeted 27.14% over the next three trading sessions. In similar fashion, shares shot up 26.18% over the three trading sessions following a $0.06 earnings beat on May 6th. Back in March when NLS reported their Q4 2012 earnings (a $0.01 beat) its share price increased by 23.66% over the next week. Obviously it is normal for a company's share price to be very dependent upon its earnings but these movements in share price are abnormally large and definitely something an investor weighing his/her options should keep in mind with Q3 earnings only a week away.
Future Outlook
Nautilus's emphasis on innovative new product releases bodes well for them in the future. Also, with the fitness season starting Q3 and Q4 should yield strong performance. McMahon described NLS's order book for Q3 as "very positive" and stated the company expects sales to compare favorably to last year. In Q3 2012, NLS posted EPS of $0.04 and revenue of $38.1M.
Q4 should also follow suit with strong sales numbers. A major driver of sales for the end of the year will be the New Year's Resolution crowd. A study completed by the University of Scranton and published in the Journal of Clinical Psychology shows that fitness oriented goals are at the forefront of Americans who make resolutions. Of the statistics gathered as a result of this study, a few stand out that bode well for Nautilus and their upcoming winter sales:
Losing weight is the most common resolution among Americans. Staying fit and healthy is #5
45% of Americans usually make resolutions every year
38% of Americans' resolutions are about weight loss or exercise
Only 8% of people who make resolutions are successful
Based on these statistics, slightly over 150 million Americans make resolutions each year, approximately 57 million of those Americans' resolutions revolve around weight loss/exercise (38%) and only about 4.5 million of those resolutions are actually successful. This cycle of resolution making and failing provides NLS with a revolving door of sales each year at the turn of the year.
These resolution-based exercise purchases should mostly take part in the fourth quarter of the year because most people will be buying them in preparation to begin using their new equipment at the start of 2014. In addition to those sales, Nautilus should receive a boost from holiday purchases as well.
Beyond that, NLS will be heading into its low sales volume portion of the year, which they should use, like they did this year, as an opportunity to further one of their developing interests. This year they increased their focus on advertising in anticipation of their new product releases. If what Mr. McMahon said about NLS increasing their overseas presence materializes soon, this could be a prime chance to direct a lot of attention to it.
Conclusion
Nautilus is a good trade, but not a good long-term investment. Overall, NLS has a lot going on right now and in the near future. It's currently submerged in its busiest part of the year, the company has been operating without a CFO for the better part of four months and are pursuing "aggressive hope" regarding international expansion. I fully expect strong earnings in Q3 and Q4 but there are too many red flags for me to suggest a long-term position. Nautilus's PEG ratio is alarmingly high, the situation with their CFO is unsettling and I believe that the home workout DVD industry will continue to take off and chip away at NLS's sales in the future. NLS definitely has some tailwinds going forward but I'm not convinced that this company should be anything more than an earnings season trade(s).
Disclosure: I have no positions in any stocks mentioned, and no plans to initiate any positions within the next 72 hours. I wrote this article myself, and it expresses my own opinions. I am not receiving compensation for it (other than from Seeking Alpha). I have no business relationship with any company whose stock is mentioned in this article.