On Monday afternoon, technology giant Apple (NASDAQ:AAPL) reported its fiscal fourth quarter results. The company beat on both the top and bottom line, and issued guidance that was decent. Unfortunately, shares had run up well into this report, and were barely moving after this report. Again, this was a perfect case of how Apple is treated unfairly when it comes to large cap technology names.
Apple's Q4 guidance:
When it comes to Q4, here is the guidance that Apple provided when the company reported Q3 results back in July:
Revenues between $34 billion and $37 billion.
Gross margin between 36% and 37%.
Operating expenses between $3.9 billion and $3.95 billion.
Other income of $200 million.
Tax rate of 26.5%
In late September, Apple updated its guidance when the company reported its big opening weekend for the iPhone. Apple stated that both revenues and gross margins would be at the high end of the ranges that were provided originally.
Going into the quarter, analyst estimates called for revenues of $36.84 billion, and a profit of $7.93. To see a full list of analyst estimates, click here. I was a bit more optimistic than the average estimate, and slightly ahead of the top end of Apple's guidance. My own personal estimates in my official Apple preview article called for revenues of $37.03 billion and earnings per share of $8.02.
Q4 results:
The following table shows an overview of Apple's Q4 results against its last two fiscal Q4 periods.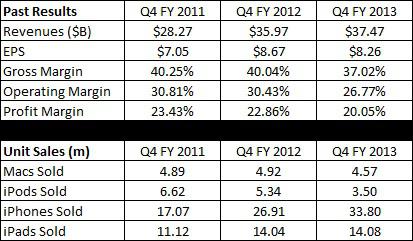 On both the top and bottom lines, Apple beat analyst expectations. The company also came in ahead of my expectations, and I had stated that my forecast was slightly conservative.
Breaking down the product line numbers:
In terms of the iPhone, Apple came in at 33.8 million. That number beat analyst estimates for roughly 33.4 million. It was about two percent below my forecast (34.42 million), but I stated that my iPhone forecast was high and my iPad forecast was low. Additionally, Apple had an average selling price of the iPhone a little above $577. That's down about $4 from Q3 levels, and just ahead of my $575 expectation.
In terms of the iPad, I admitted that my iPad forecast was light, given the fact that there was no refresh in March. However, I did note that because this was a back to school quarter, there was room for a positive surprise. Apple has sold more than 170 million iPads since the product was launched a few years ago. In fiscal Q4, the company came through with 14.08 million, against analyst expectations of 13.9 million. My estimate was 12.35 million. Additionally, the average selling price rose by more than $3 over Q3 levels to more than $439. That's a positive, as selling prices have been coming down since the launch of the cheaper mini.
In terms of the Mac, Apple came in at 4.57 million units. This was ahead of my expectation for 4.52 million, and well ahead of the 4.26 million analysts were looking for. However, there was a negative here, as average selling prices dropped by roughly $74 over Q3 levels. In terms of the iPod, Apple came in at 3.50 million units, slightly ahead of my 3.44 million estimate, but below the 3.95 million analysts were looking for. Average selling prices jumped a little more than $3 to just under $164. Additionally, Apple had $5.58 billion of "other revenues", a bit above my $5.5 billion estimate. These are revenues that come from the iTunes store, accessories, etc.
Overall, this was a solid quarter for Apple. The iPhone is selling well, and the company had a solid iPad quarter ahead of a major refresh of both the iPad and iPad mini. The Mac number was a very nice one, showing Apple's PC business is doing well, and the iPod is declining as usual. In terms of selling prices, the iPad and iPod did well, and the iPhone was very respectable. The only negative is that Mac selling prices dropped, but those have been known to be volatile at times.
Margins and income statement analysis:
The following table shows Apple's three primary margin categories in Q4 against last year's period.

In terms of gross margins, Apple came in at 37.02%, just ahead of my 37.00% expectation. Additionally, total operating expenses were just $3.84 billion, better the $3.9 billion to $3.95 billion estimate. Other income items came in at $113 million, a bit below the $200 million that was expected. Apple's tax rate for the quarter was 25.94%. While that was up from last year's Q4 level of 24.51%, it was less than the 26.5% that Apple guided to.
On the bottom line, Apple produced net income of more than $7.5 billion. The diluted share count for Q4 came in at 909.131 million. That's better than the 917 million I was looking for, which shows that Apple did buy back some stock in the quarter. In Q4 last year, Apple's share count was over 948 million, so for all of those who say Apple needs to return more capital, just look at what it has done in a year.
Balance sheet update:
Everyone knows that Apple has one of the strongest balance sheets around. The following table shows Apple's balance sheet, up against last year's Q4 and this year's Q3. Dollar values in millions.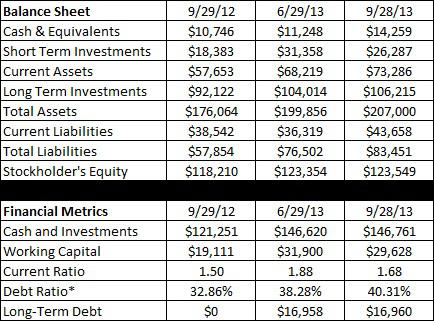 Apple's cash pile was basically flat over Q3 levels, but was still up roughly $25 billion over the year ago period. Apple announced that it returned $7.8 billion to shareholders between dividends and buybacks. That implies a buyback of almost $5 billion in the quarter. Remember, going into Q4, only about $40 billion of Apple's cash was located inside the US. That's the only cash that can be used for dividends and buybacks. Carl Icahn is arguing for a bigger buyback, and to do that, Apple will either need to issue debt or repatriate funds and pay a lot of taxes. I'm not a fan of those right now, especially with the company buying back $5 billion a quarter right now as it is.
Q1 guidance:
Apple issued the following guidance for fiscal Q1, the ever important holiday quarter and highest revenue quarter of the year.
revenue between $55 billion and $58 billion
gross margin between 36.5 percent and 37.5 percent
operating expenses between $4.4 billion and $4.5 billion
other income/(expense) of $200 million
tax rate of 26.25 percent
First, it is important to note that this guidance would imply a record quarter for Apple revenues. Additionally, analysts were looking for $55.65 billion, so the revenue guidance is quite decent. There does seem to be some concerns over gross margin guidance. However, Apple is guiding to a midpoint equal to Q3. That is positive in my opinion, because it includes a huge product refresh cycle with the iPad. Also, Apple's gross margin guidance has been rather conservative in recent quarters, so it leaves room for an upside surprise.
When using the midpoints of this guidance, plus the diluted share count from Q4, I get an EPS figure of $13.51. That's below the $13.86 average analyst estimate, but just remember the following items. First, Apple's guidance is usually a tad bit conservative, even with the company going to "more realistic" guidance lately. Second, this assumes a flat share count in fiscal Q1. If Apple buys back a decent amount of stock, it will improve earnings per share. When Apple reported Q3 a few months ago, I stated that Apple's guidance implied earnings per share of $7.34 based on the Q2 share count. Apple just came in at $8.26, so I would not be surprised if Apple came in above $14.00 for Q1.
Apple mixed in after-hours, treated unfairly?
Apple shares bounced around in the after-hours session. Remember, shares had rallied from $419 to $530 since the last earnings announcement, so this could have been a "buy the rumor, sell the news" event. However, I think this is a reaction to the slightly disappointing guidance, and it misses the big picture, the solid Q4 beat and revenue guidance. Again, this is a case of Apple being treated unfairly.
Why do I say that? Well, a few weeks ago, Google (NASDAQ:GOOG) shares soared to a new all-time high after Google reported a very slight revenue beat. Google also reported a bottom line beat mostly due to a lower tax rate. Google is certainly held to a different standard. Google reported slight beats due to a huge tax rate drop and analyst estimates being greatly reduced. Additionally, Google uses non-GAAP numbers to make its bottom line appear much better than it really is. Apple still produced $7.5 billion in net income during Q4, while Google only did $3 billion in GAAP profits for its quarter. Yet Apple currently trades for about 12 times expected fiscal 2014 earnings. Google trades for 19.5 times its non-GAAP earnings, which makes it about 23 times (or more) its GAAP earnings. While Google has more growth, Apple has a dividend and a huge buyback. For that, Google trades at roughly double what Apple does. That does not make sense.
But let's not stop there. Microsoft (NASDAQ:MSFT) also rocketed higher after earnings. What did Microsoft do? Well, it beat nicely, but that was only due to a huge takedown of earnings estimates. Thanks to Microsoft's terrible previous quarter, analysts took down their numbers by more than a billion on the revenue side and $0.14 in EPS. Microsoft actually missed by a wide margin if you look at the estimates going into Microsoft's prior quarter. Yet, Microsoft trades at a roughly 10% premium on fiscal 2014 earnings, despite Apple having a better growth profile, and a much stronger buyback. Microsoft has a better dividend yield, but shouldn't be trading at such a premium.
Do I seem like I am complaining? If you say yes, I say good! Apple trades at a significant discount to its peers, and yet it performs much better. Did Apple beat due to reduced expectations? Nope. Going into the Q3 report, Apple estimates for Q4 were $37.11 billion and $7.96. It came in well ahead of those numbers. Did Apple beat due to a huge tax break? Nope. Does Apple use non-GAAP numbers to make it look a lot more profitable than it really is? Nope. Does Apple have the largest buyback in corporate history, with the financial flexibility to buy back even more? Yes it does, but apparently, that's means a huge discount to Google and Microsoft. Again, Apple is being treated unfairly.
Final thoughts:
Apple beat nicely on both the top and bottom line, and issued guidance that was very respectable. The iPhone and iPad did very well, and Apple has a very strong lineup of holiday products coming. Unfortunately, shares were mixed on the news, as this company is held to a different standard than its peers. I'd be a buyer of Apple if shares trade below $500, and I'll be back with a more formal recommendation over the next week or so.
Disclosure: I have no positions in any stocks mentioned, but may initiate a long position in AAPL over the next 72 hours. I wrote this article myself, and it expresses my own opinions. I am not receiving compensation for it (other than from Seeking Alpha). I have no business relationship with any company whose stock is mentioned in this article.
Additional disclosure: Investors are always reminded that before making any investment, you should do your own proper due diligence on any name directly or indirectly mentioned in this article. Investors should also consider seeking advice from a broker or financial adviser before making any investment decisions. Any material in this article should be considered general information, and not relied on as a formal investment recommendation.