Facebook (NASDAQ:FB) will report earnings after hours on Wednesday, October 30th. The expectations from the street are revenue of $1.89 billion, and EPS of 0.18 -- an increase of 4.5% in revenue, and a drop in EPS of 5%. To put these expectations in perspective, Facebook has beaten the estimates for the last 4 quarters in a row, so it has a good track record for beating the numbers.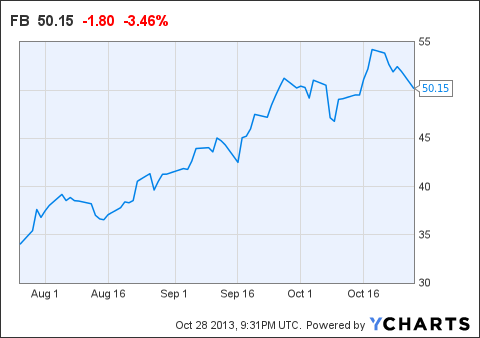 The highlights in Q2 showed continued increases in user numbers and mobile users, something that has been predicted to slow down, but Facebook continues to post impressive numbers, especially in mobile.
Breaking this down further, we can look at these metrics over the past four quarters:
Monthly active users (MAUs)
Daily active users (DAUs)
Mobile MAUS (MMAUS)
Q3 2012

Q4 2012

Q1 2013

Q2 2013

Total increase

MAUS

1.01

1.06

1.11

1.15

14%

DAUS

0.584

0.618

0.665

0.669

15%

MMAUS

0.604

0.68

0.751

0.819

36%

all numbers in billions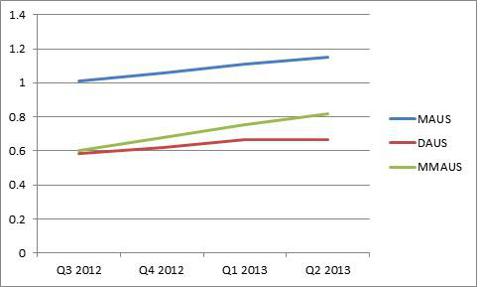 Mobile
Looking at the numbers above it's clear that mobile is the fastest growing segment with 36% growth; this bodes well for Facebook. With slowing PC sales, all the growth is coming from mobile devices made up of: smartphones, phablets, and tablets. Facebook needs to execute strongly in this arena, and so far it has been performing well. During this quarter it has released new tablet apps that provide a better mobile experience and it has just recently launched an app for Windows 8.1, which should fuel additional growth.
Its services are also available lower down the chain; its feature phone app has topped 100 million users. Facebook has only recently started selling ads to these users, and this announcement was made just before Q2, so this will be completely new revenue for this quarter. It is 12% of its daily active mobile users that it was not earning anything for in Q2.
Advertising revenue for Q2 was $1.6 billion and 41%, $640 million, was from mobile. If the feature phone app delivers similar revenue, that will provide an additional $77 million of revenue (12% of $640 million), without taking into account any increases in user numbers.
It is more likely that the advertising revenue from the feature phones will not be as high -- many feature phone users are in emerging markets where the advertising revenue is lower. This can be balanced by larger growth prospects in the feature phone segment. It will be interesting to see if Facebook breaks out the numbers for this segment in its earnings. If the numbers are good, look for strong growth in this segment and guidance for continued growth.
Continued strength in mobile
Smartphone sales continue to go from strength to strength. IDC predicts smartphone shipments will grow 40% this year to 1 billion units, driven in part by steep device subsidies and sub $200 smartphones.
During this quarter, Apple (NASDAQ:AAPL) has released updated iPhones, which should lead to an uptick in sales and an uptick in Facebook users.
The strength in mobile is underlined by Google's (NASDAQ:GOOG) recent earnings, which showed a big jump in mobile ads delivering a 36% increase in earnings. This is despite a decrease in ad prices, which was countered by the increased number of clicks.
Instagram has continued to grow during this quarter. In August, its daily active users were higher than Twitter at 7.3 million per day.
Overall, it looks like Facebook will continue the mobile trend and show the strongest growth in its mobile platform.
Final thoughts
With the overall growth in mobile and the monetization of feature phone users, it looks very likely that Facebook will beat the numbers when its earnings are released on Wednesday. The stock has shown a lot of growth in the last quarter, so Facebook will have to accompany a beat with strong guidance for continued growth to support the current stock price.
Disclosure: I have no positions in any stocks mentioned, and no plans to initiate any positions within the next 72 hours. I wrote this article myself, and it expresses my own opinions. I am not receiving compensation for it (other than from Seeking Alpha). I have no business relationship with any company whose stock is mentioned in this article.