By Stuart McPhee
Earlier last week the Euro enjoyed a strong surge higher to move through to its highest level in nearly two years just above 1.38 before spending several days since including early this week content to consolidate around this level. It has generally moved well over the last couple of weeks after breaking higher from its sideways range. Since the middle of September the Euro has traded within a narrow range between 1.3450 and 1.3650 before the range narrowed down to between 1.35 and 1.36. The former level of 1.35 was strongly tested a couple of weeks ago and stood tall as the Euro fell heavily a couple of times and was able to receive some solid support from 1.35 before rallying a little higher. Several weeks ago the Euro surged higher through the resistance at 1.3550 to its then highest point since February just shy of 1.3650 only to fall back and receive solid support from 1.3550. For several days the 1.3550 level reinforced itself as one of significance as it provided solid support for the Euro and helped it back to resistance at 1.36.
Throughout August the 1.34 level had been causing the Euro headaches however several weeks ago it surged higher and moved through there to its then highest level since February just shy of 1.3570, which was past a couple of weeks ago moving to just shy of 1.3650. About a month ago the Euro fell strongly away from the resistance level at 1.34 back to below the support level at 1.32 and in doing so traded to its lowest level in seven weeks very close to 1.31. Looking at the bigger picture the Euro spent a lot of August and September trading within a range between 1.32 and 1.34 before recently pushing its range to between 1.3450 and 1.3650. Back in early July the Euro was content to maintain the level above 1.31 and settle there, as it received solid support from both 1.30 and 1.31. On a couple of occasions it made an attempt to move within reach of the longer term resistance level at 1.32 and finally it finds itself trading on the other side of this level and being well established there.
Throughout May and most of June the Euro surged higher to a four month high above 1.34. Before that in the first half of May, the Euro fell considerably from near 1.32 down to six week lows near 1.28. Back at the beginning of April the Euro received solid support around 1.28 and this level was called upon to provide additional support. Throughout this year the Euro has moved very strongly in both directions. Throughout February and March the Euro fell sharply from around 1.37 down to its lowest level since the middle of November around 1.2750. Sentiment has completely changed with the Euro over the last few weeks and the last couple of months has seen a rollercoaster ride for the Euro as it continued to move strongly towards 1.34 before falling very sharply to below 1.29 and setting a 6 week low.
A top European Central Bank official says the euro currency union needs U.S.-style centralized banking oversight so that individual countries don't have to deal with busted banks alone. Joerg Asmussen said Friday in the text of a speech in Milan, Italy, that "during the crisis in the U.S., it was federal institutions that stepped into the breach." Asmussen, who sits on the ECB's six-member executive board, cited the role of the Federal Deposit Insurance Corporation, which has overseen the sale or restructuring of hundreds of unviable banks. He also pointed to support from the U.S. Treasury Department for banks to raise capital through the Troubled Asset Relief Program, or TARP. No single U.S. state, he said, could have dealt with such burdens. "Imagine if the state of New York would have had to provide guarantees to Citigroup," he said. "The lesson for the euro area is clear: federal institutions can prevent local crises from becoming systemic."
(Daily chart / 4 hourly chart below)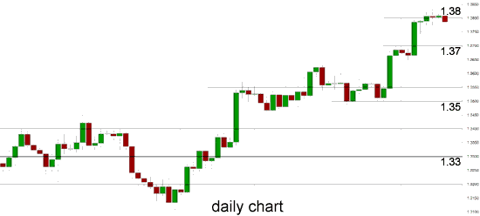 Click to enlarge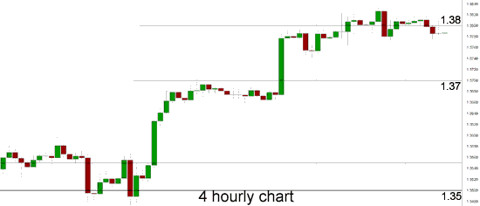 Click to enlarge
EUR/USD October 28 at 21:45 GMT 1.3786 H: 1.3817 L: 1.3775
EUR/USD Technical
| | | | | | |
| --- | --- | --- | --- | --- | --- |
| S3 | S2 | S1 | R1 | R2 | R3 |
| 1.3780 | 1.3650 | 1.3500 | 1.3830 | --- | --- |
During the early hours of the Asian trading session on Tuesday, the Euro is settling on a short term support level at 1.3785. Current range: right around 1.3785.
Further levels in both directions:
• Below: 1.3780, 1.3650 and 1.3500.
• Above: 1.3830.
OANDA's Open Position Ratios

(Shows the ratio of long vs. short positions held for the EUR/USD among all OANDA clients. The left percentage (blue) shows long positions; the right percentage (orange) shows short positions.)
The EUR/USD long position ratio has remained steady as the Euro has remained around 1.3800. The trader sentiment remains strongly in favour of short positions.
Economic Releases
23:30 (Mon) JP Unemployment (Sep)
23:50 (Mon) JP Retail Sales (Sep)
09:30 UK M4 Money Supply (Sep)
09:30 UK BoE - Mortgage Approvals (Sep)
09:30 UK BoE - Net Consumer Credit (Sep)
09:30 UK BoE - Secured Lending (Sep)
12:30 CA Industrial product price index (Sep)
12:30 CA Raw Materials Price Index (Sep)
13:00 US S&P Case-Shiller Home Price (Aug)
14:00 US Consumer Confidence (Oct)
*All release times are GMT
Disclosure: This article is for general information purposes only. It is not investment advice or a solution to buy or sell securities. Opinions are the authors; not necessarily that of OANDA Corporation or any of its affiliates, subsidiaries, officers or directors. Leveraged trading is high risk and not suitable for all. You could lose all of your deposited funds.