Cloud software stocks are so hot that it seems unlikely that any of them can soar much higher. In the case of Demandware (NYSE:DWRE), the stock has jumped to trade at 11x forward revenues. Investors are rightful to question whether it can continue gaining value after a 100% gain since April.
The company enables the world's premier retailers to move faster and grow faster in the constantly changing face of retail. Demandware operates a shared success revenue model based on a floor subscription with incremental fees based on customer growth beyond the floor level. It also focuses on a land-and-expand strategy where a customer initially launches one website and it eventually leads to multiple if not hundreds of sites.
Based on conventional measures, the stock is expensive on a sales multiple basis. Comparing it to other cloud software leaders places it on par or at a lower multiple. The question is whether the stock can demand higher prices?
Earnings Review
The company is reporting fast growth and even faster growth below the surface. Due to customer insolvency, a large amount of revenue from 2012 no longer exists. See the Q213 highlights below:
Subscription revenue for the second quarter was $20.8 million, a 37% year over year increase from $15.2 million in the second quarter of 2012
Total revenue for the second quarter was $23.2 million, a 26% year over year increase from $18.4 million in the second quarter of 2012
162 live customers at June 30, 2013, an increase of 31% from 124 last year
667 live sites at June 30, 2013, an increase of 50% from 445 last year
Excluding the Neckermann GmbH subscription revenue of $1.5 million in Q212, Demandware generated 52% subscription growth. Even more importantly, full year revenue guidance was increased to 46% subscription growth when excluding that customer from the 2012 totals.
Demandware Commerce Product
As a cloud software product, the true benefit to customers is the constant innovation and seamless upgrades the company is able to provide retailers. The goal is to provide a platform that delivers speed, agility, innovation, and security all at a fraction of the cost of developing the application internally. The company describes the product as below:
The only platform that delivers the speed, agility, innovation and superior economics required to master the new retail reality of constant and unpredictable change. With intuitive applications for both business and technical users, retailers are empowered to quickly execute omni-channel merchandising and marketing; manage operations globally; and develop unique capabilities that differentiate their brand experiences across web, mobile, and store. Seamless upgrades deliver a continuous flow of innovation without disrupting business, ensuring that platform functionality is always current. Based on a scalable cloud infrastructure that delivers optimal performance, security and uptime, Demandware Commerce removes the barriers and complexities of traditional licensed software, and allows retailers to focus on the strategic business initiatives that drive growth.
See the below slide from a recent presentation highlighting the benefits of the cloud model: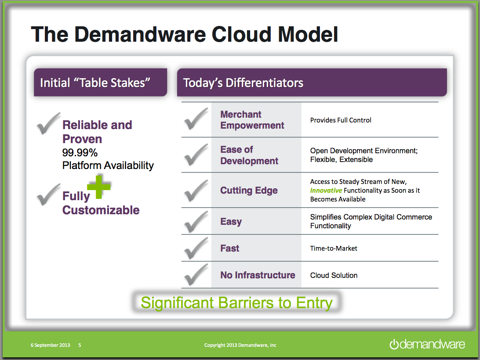 In essence, the goal is to become to ecommerce for retailers what salesforce.com (NYSE:CRM) is to sales departments. While off to a good start, it has a long ways to reach that achievement of a $4 billion revenue base and a $32 billion market cap.
New Large Customers
Demandware is making the move into larger enterprises and has recently signed on a couple of customers with mega-websites to move under Demandware Commerce. An important point is that the typical live customer operates an average of 4.1 sites under the ecommerce product. This number is up from 3.6 sites last year and an important indication of the ability to grow beyond signing up new customers. A couple of recently detailed client additions include L'Oreal (OTCPK:LRLCF) and Wolverine World Wide (NYSE:WWW).
L'Oreal is a leading beauty products company with a portfolio of 28 international brands. The beauty leader originally engaged Demandware in 2010 through the Luxe products division in North America. Over the years, L'Oreal has continued to expand the relationship to include other divisions. Finally, it has decided to deploy a single global, scalable digital platform that allows for developing and managing hundreds of ecommerce sites with support for multiple languages and currencies.
Wolverine World Wide plans to standardize on the Demandware product. The company owns 16 brands including Keds, Stride Rite, Merrell and Saucony. In total, it has 100 global sites to convert.
These two deals signal that Demandware is moving beyond the small business and middle-market retailers to true global organizations that have hundreds of websites to manage. Clearly investors need to focus as much or more on the website growth over the customer numbers. Since the start of 2009, website growth has far outpaced customer growth. See the slide below: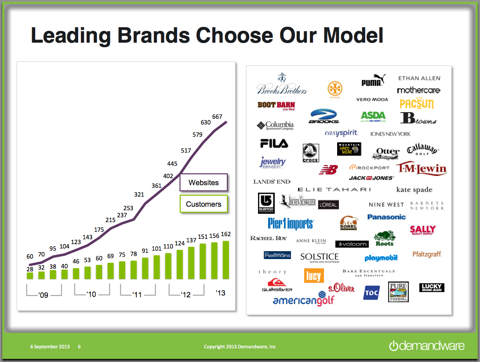 The land-and-expand strategy is leading to initial deals with annual contract value of $400,000 and reaching $700,000 by year three. The ability to expand an existing customer is as important as signing a new customer.
No Dark Clouds Here
Some important investors have recently spoken out against the valuations of cloud stocks. While clearly valuation is a major concern in the sector, Demandware compares favorably against other stocks on a revenue basis. Large cap salesforce.com still trades at a high multiple of forward sales and still generates 30% revenue growth. NetSuite (NYSE:N) recently highlighted Demandware as a partner and increasingly a competitor. The below charts provide comparisons against these two large stocks, but it also compares to the company to WorkDay (NYSE:WDAY) and Marketo (NASDAQ:MKTO) that provide similar cloud software for their respective functions.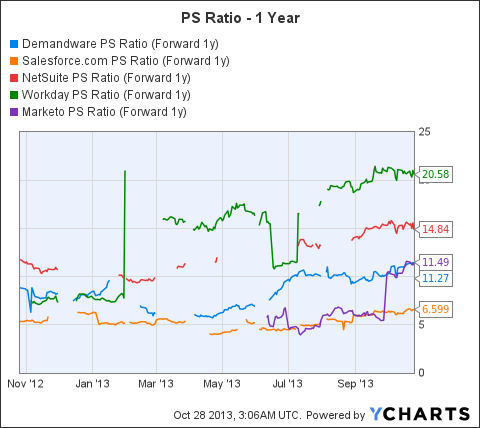 DWRE PS Ratio (Forward 1y) data by YCharts
On a forward revenue basis, Demandware trades very reasonably to the cloud software sector. The discount from the high multiples of NetSuite and Workday probably exists due to the perception of slow revenue growth. Another interesting metric is the gross margins. According to the chart below, Demandware compares favorably to the group with only salesforce.com commanding a higher margin.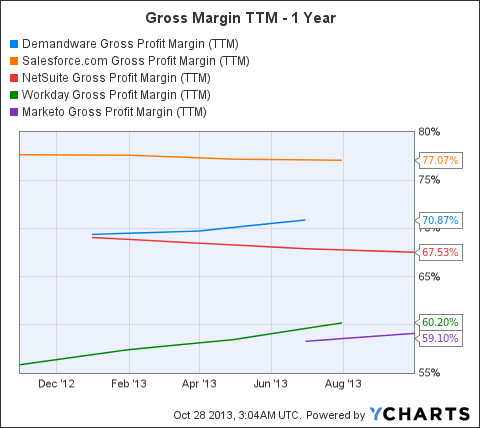 DWRE Gross Profit Margin (TTM) data by YCharts
Conclusion
All in all, Demandware compares very favorably to the other cloud software stock leaders. Excluding the 10% customer base that dissolved last October, it has substantial growth prospects. The stock appears expensive until one compares it to the vast valuations of NetSuite and Workday or even Marketo. Demandware might trade at what appears to be expensive valuations, but once the stock starts printing 40% growth, it could be trading much higher.
Disclosure: I have no positions in any stocks mentioned, and no plans to initiate any positions within the next 72 hours. I wrote this article myself, and it expresses my own opinions. I am not receiving compensation for it (other than from Seeking Alpha). I have no business relationship with any company whose stock is mentioned in this article.
Additional disclosure: The information contained herein is for informational purposes only. Nothing in this article should be taken as a solicitation to purchase or sell securities. Before buying or selling any stock you should do your own research and reach your own conclusion or consult a financial advisor. Investing includes risks, including loss of principal.