In my earlier article on the possible investment themes for the next Technology wave, I had mentioned that I would come up with a list of hardware stocks that seemed attractive from a long-term investment perspective.

For this analysis, I have taken Hardware to consist of all PC, PC components, gadgets, electronic instruments and network equipment manufacturers. It also includes contract manufacturers and distributors as their fortunes are largely tied to hardware manufacturers.When I was looking at what parameters to use to filter the >150 hardware stocks in the Gridstone universe (~ All US-listed stocks), I tried to keep it simple and straight:
The companies should have managed to grow revenue/profits in the boom years (2005-08) and also managed to sustain profits in the downturn - 2009. This way, growing businesses which also had a sustainable profit base would come up trumps.
I also wanted to filter out companies which had a high Debt to EBITDA ratio. These companies might face growth challenges as their leveraged growth model might not be sustainable in the medium-term.
I also limited the focus to companies with a market cap of at least $500 M to make sure that they were liquid stocks.
The final condition that I used in the Gridstone Screener was to pick stocks where the stock prices since Sep08 (post Lehman (OTC:LEHMQ) fiasco) to Sep09 have not declined by more than 20%. While we can use multiple factors to zero-down on attractive stocks in terms of future prospects, I felt that going by the market's collective wisdom would be the best approach. Therefore, price appreciation or limited price decline in the last year (till Sep09 end) has been taken as a proxy for investor expectations of future prospects. However, to avoid over-valued stocks, the max P/E was kept at 50.
To summarize the filter conditions as used in the Gridstone screener, here's the filter screen:
(Click to enlarge image)




Source: Gridstone Research

The count and cumulative count in the Gridstone Screener also provide some interesting insights. Of the ~150 hardware stocks in the Gridstone universe, only 21 have managed to either grow operating profits or limit their profit declines to less than 5%. Over the three years from 2005-08, ~43 companies had managed to grow profits at at least 10% per annum.

Here's the final output (total of 11 stocks) after using these screening criterion:
(Click to enlarge image)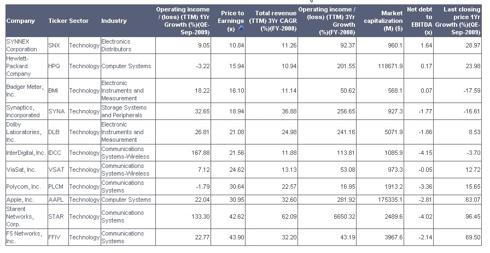 Source: Gridstone Research

They have been ordered by lowest to highest P/E multiples (as of Dec 10, '09) for convenience. Some observations on the final eleven:
Besides the usual suspects like HP (NYSE:HPQ) and Apple (NASDAQ:AAPL), there are some less-visible names like Dolby (NYSE:DLB), Synaptics (NASDAQ:SYNA) and some complete unknowns (relatively) like Synnex (NYSE:SNX) and Badger Meter (NYSE:BMI).
Companies like Badger Meter might seem like 'boring' businesses (it makes water meters and such similar stuff) and it's exactly these kinds of businesses where we can look for value in such times.
Dolby has a strong presence in the 'entertainment space' and depends more on its intellectual property rather than box sales.
Synaptics and InterDigital (NASDAQ:IDCC) have benefited and will continue to benefit from the growth in wireless. While Synaptics makes touch screens for smart phones, InterDigital has a bouquet of patented technologies for wireless networks and devices.
F5 Networks (NASDAQ:FFIV), Viasat (NASDAQ:VSAT) and Starent Networks (STAR-OLD) operate in niche areas in the communications space: Application delivery networks, defense communications and multimedia content delivery respectively. They are not run-of-the-mill LAN/WAN box providers and so future growth prospects will be better
Polycom (NASDAQ:PLCM) has surprisingly made the list as its faces intense competition from the likes of Cisco (NASDAQ:CSCO). However it does target a growing market which I would term as 'Enterprise Multimedia Communications'. It would be interesting to see if Polycom is able to ward off competition and grow as an independent entity. Or else it would be an attractive acquisition target for the likes of HP/Dell (NASDAQ:DELL) etc.
Summary
In summary, the list is more about 'sustainable and resilient' business models rather than glamorous products. In fact, as the differentiation factor among hardware competitors fades over time, companies with niche products and effective management could outperform their peers.

Disclosure: No Positions