Harry Winston Diamond Corp. (HWD) recently reported fiscal third-quarter results. The company posted a net loss of $214,000, or break-even per share, compared to a net profit of $71.9 million, or $1.17 per share in the year-ago quarter. However, the result came in ahead of the Zacks Consensus Estimate for an 18 cents per share loss.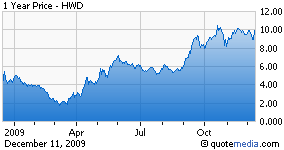 Toronto-based Harry Winston is a specialist diamond enterprise with assets in the mining and retail segments of the diamond industry. The company supplies rough diamonds globally from production received from its 40% stake in the Diavik diamond mine in Lac de Gras, Canada, which is operated by mining major Rio Tinto, Plc (RTP). Harry Winston also retails fine jewelry and watches through its wholly-owned subsidiary, Harry Winston Inc. with outlets in the U.S., Europe and Asia.
Quarterly sales slipped 49.7% year over year to $74.8 million, primarily due to the planned temporary closure of the Diavik mine. The mining segment's sales plunged 77.1% to $20.8 million due to a 75% decline in volume of carats sold, coupled with a 9% decline in rough diamond prices. Sales from the retail segment reduced 6.6% year over year to $54.1 million as sales in Asia, the U.S. and Europe fell by 53%, 40% and 10% respectively.
Harry Winston's gross margin slipped to 39.6%, from 51.8% in the year-ago period mainly due to increased costs associated with mining, sorting retail sales. Selling, General and Administrative expenses increased 1.6% to $34.5 million due to higher stock-based compensation. Accordingly, Harry Winston posted an operating loss of $4.9 million, compared to operating profit of $42.9 million in the year-ago quarter.
During the quarter, the company recorded a use of cash from operations of $16.3 million, compared to $48.3 million of cash generation in the year-ago period primarily due to the substantial decline in earnings performance. The company deployed $7.6 million towards capital expenditures in the quarter.
Moving forward, the company expects approximately 5.5 million carats to be mined during calendar year 2009. On the retail segment, Harry Winston remains cautiously optimistic about the holiday season and expects sales to benefit from the recently introduced New York Collection of jewelry and timepieces.
The Zacks Consensus Estimate for the fiscal year ending January 2010 currently stands at a loss of $1.25 per share, which has improved by 23 cents over the past week. However, analysts on average expect the company to post a profit of 11 cents per share in the next fiscal year, which has remained constant over the past 2 months.