The Jardine Matheson Group is an Asian conglomerate with operations across a wide range of sectors and countries, and a history stretching back nearly 200 years. The Group has two listed holding companies: Jardine Matheson Holdings (JMH) (OTCPK:JARLF, ADR OTCPK:JMHLY) and Jardine Strategic Holdings (JSH) (OTCPK:JDSHF, ADR OTCPK:JSHLY). Both are good values, trading at substantial discounts to their underlying value, although in my view JMH is the one to buy.
Corporate structure
The Group has a complicated corporate structure with numerous listed entities. JMH is the main holding company. Below JMH is a second listed holding company, JSH, in which JMH has a shareholding of around 83%, with a free float of 17%. Both JMH and JSH are incorporated in Bermuda, but remain headquartered in Hong Kong. The companies are listed in Singapore (J36.SI for JMH, J37.SI for JSH), where the majority of trading occurs. The ADRs and ordinary shares and are traded on an OTC basis in the US; the ADRs appear to be much more liquid.
The majority of the Group's assets are held through JSH, including the main, listed subsidiaries: Dairy Farm, Hongkong Land (HKL), Jardine Cycle & Carriage (JC&C) and Mandarin Oriental. JMH holds various businesses directly: Jardine Pacific and Jardine Motors, both wholly owned, and Jardine Lloyd Thompson (JLT), a listed associate. The main complication is that JSH has a controlling cross-shareholding in JMH of 56%.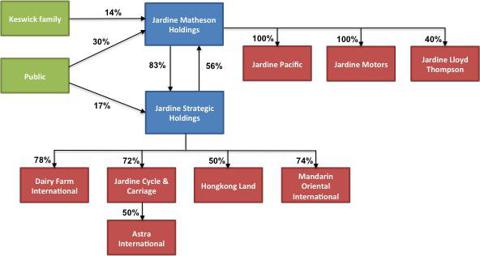 Click to enlarge
The structure dates back to the 1980s, when Jardine Matheson and Hongkong Land bought shareholdings in each other as protection from hostile acquirers (in particular Li Ka-shing's Cheung Kong). It subsequently evolved into the current structure, with JSH created as an intermediate holding company. The Keswick family (descendants of one of the founders) together control around 14% of the shares in JMH, or 33% of the free float, through various beneficial interests and trusts, but own virtually no shares in JSH. The family also effectively controls the boards and management of JMH and JSH.
The cross-shareholdings have increased over time, through a combination of scrip dividends, share purchases and buybacks: 15 years ago, the shareholdings were only 62% and 39%. The main effect of this has been a convergence of the two companies' interests, so that economically an investment in one is very similar to an investment in the other.
Business overview
The Group offers a broad exposure to a wide range of sectors and markets. While Hong Kong and China still contribute a substantial proportion of profits, the majority of its income now comes from south-east Asia, in particular Indonesia, through the Group's shareholding in Astra International. Short-term concerns regarding these markets have weighed on the share price recently. However, the long-term growth prospects for these markets remain very good; and the Group is well positioned to benefit from growth in consumer spending.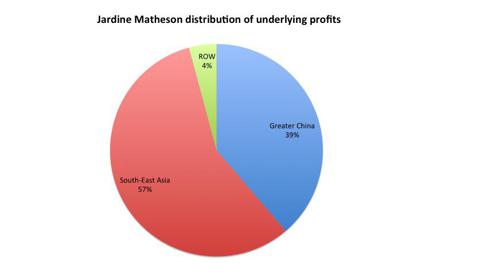 Click to enlarge
Dairy Farm is a leading pan-Asian retail group, although Hong Kong remains its biggest market. It owns the Wellcome supermarket chain (the market leader in a duopoly with Hutchison Whampoa's ParknShop) and the Mannings health and beauty chain (also a duopoly, with HWL's Watsons chain). Other Hong Kong operations include: the 7-Eleven convenience store chain; IKEA furniture stores; and a 50% interest in the restaurant group, Maxim's, which operates the Starbucks (NASDAQ:SBUX) franchise in Hong Kong. Dairy Farm has expanded rapidly elsewhere in Asia, partly through acquisitions, primarily in food retailing and health and beauty. It now has sizeable operations in Singapore, mainland China, Taiwan, Malaysia and Indonesia. Whilst the Hong Kong businesses are relatively mature, these newer markets offer substantial growth potential.
Hongkong Land is one of Asia's largest property companies. It is primarily a property investment company. It owns large amounts of prime commercial property in the heart of Central Hong Kong, where its buildings form an interlinked network of offices and retail space. Most of its income is from office rentals, although retail space is also a significant contributor. Retail rents have grown strongly in recent years, in contrast to office rents, which have grown at a much slower rate, due to weak demand from the finance sector. HKL has diversified into other Asian markets, in particular Singapore, and is involved in residential property development projects. HKL has a conservative balance sheet and appears good value at a P/B ratio of less than 0.6x.
Jardine Cycle & Carriage is a Singapore-listed holding company. Its main asset is a 50.1% shareholding in the separately listed Astra International, a large Indonesian conglomerate, which accounts for nearly all of JC&C's profits. Astra has a broad range of businesses; the largest of which is its automotive division, which includes manufacturing and distribution of cars and motorcycles. Its other businesses are involved in financial services, heavy equipment, mining, agriculture and infrastructure. Astra is now the Group's largest single profit contributor: its share of Astra's profits accounts for around 40% of underlying profits. JC&C is currently trading at a discount of nearly 20% to the market value of its shareholding in Astra.
Mandarin Oriental is the owner and manager of luxury hotels. It currently owns or has substantial interests in 15 hotels worldwide, including its flagship hotels in Hong Kong and Bangkok, and manages a number of other hotels owned by third parties.
Jardine Pacific is a holding company for JMH's non-listed Asian businesses. These cover a wide range of industries and include a number of associates and joint ventures.
Jardine Motors operates car dealerships in Hong Kong, Macau, China and the UK.
Jardine Lloyd Thompson is a London-listed insurance broker and employee benefits adviser.
Additional information can be found on the Group's website. Table 1 shows the companies' effective shareholdings in the different operating businesses.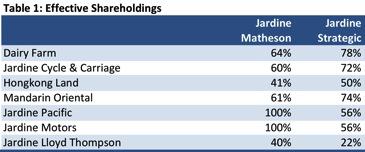 The Group's strategy has been to gradually increase the shareholdings in its existing businesses, rather than make large acquisitions. For example, JSH bought an initial shareholding in Cycle & Carriage in 1992; increased its interest to over 50% in 2002 and has gradually raised it to 72%. Since 2000, it has also increased its shareholding in Hongkong Land from 37% to just over 50%; and in Dairy Farm from 60% to 78%.
Valuation
As most of the Group's businesses are separately listed, I think the best way to value JMH and JSH is on a sum-of-the-parts basis, using the market values of their interests to calculate a net asset value. I have estimated values for the businesses that are not listed (Jardine Pacific and Jardine Motors) and deducted the estimated value of corporate costs in JSH. I have included the market value of JC&C rather than the value of its interest in Astra.
To calculate a per share value, the indirect interests, which both JMH and JSH have in their own shares as a result of the cross-shareholdings, need to be excluded. JMH has a 46% interest in its shares (i.e. 83% of JSH's 56% shareholding); similarly, JSH has a 46% interest in its shares (i.e. 56% of JMH's 83% shareholding). These indirectly held shares are deducted from the total shares in issue to arrive at an adjusted share count, which is used to calculate the market NAV per share. Furthermore, because these are "look through" valuations, they are not dependent on the share prices of either JMH or JSH. Table 2 summarizes the valuations based on current market prices.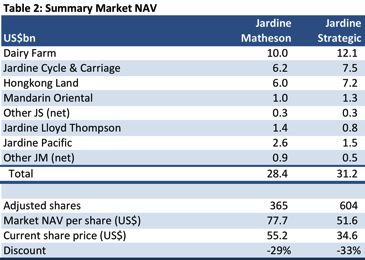 Both JMH and JSH are attractively priced, trading at discounts to their market NAVs of 29% and 33% respectively. JMH generally trades at a lower discount than JSH; according to research by Credit Suisse, in recent years, JMH's discount has typically been between 5% and 15% lower. The current difference at only 4% suggests that, on a relative basis, JMH is better value. It is also worth noting that, in terms of underlying economic interests, as the chart below illustrates, JMH and JSH represent almost identical investments.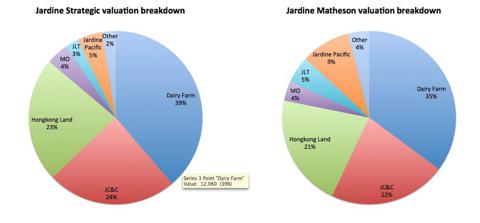 Click to enlarge
On more conventional valuation metrics, both companies are trading on modest historic P/E multiples of around 13x, based on underlying profits, which excludes asset revaluations. One significant difference between the two is that JMH has a substantially higher dividend yield: around 2.6% for the current year, compared with 0.7% for JSH. There has clearly been a deliberate policy to boost JMH's payout: its dividend per share has increased by 16% per year on average over the last 10 years, compared with only 5% annually for JSH.
How might investors benefit from the discount?
While JMH and JSH are good values, their discounts are currently within the range in which they have historically traded. Therefore, it could be argued that the discounts are just as likely to increase as decrease. In the short term at least, I would agree with this; and generally, I only buy shares when they are trading at a wider than usual discount. However, I think there are several reasons why JMH, in particular, is worth buying now.
Share buybacks: JSH has occasionally bought back shares, but not on a regular basis. The most recent occasion was in 2010, when it made a tender offer for just over 1% of its outstanding shares (7% of the free float), at around 10% above the market price. The shares immediately jumped above the offer price, so almost no shares were actually tendered. JMH has also bought shares in JSH, from time-to-time, most recently in May this year. However, the scope to buy shares in JSH is currently limited, since JSH is required to maintain a minimum free float of 15%, although there are ways around this. JMH has not bought back any of its own shares in recent years, nor has JSH bought shares in JMH.
Excluding listed subsidiaries, JSH has net cash of US$1bn and JMH has only a small amount of debt. In my view, a major acquisition is unlikely. Therefore, unless they increase the amount of cash returned to shareholders, both companies will accumulate substantial additional cash over the next few years. Buying back shares would have the benefit of boosting their NAV, increasing demand for them and signaling management's belief in their value. I think at some point in the near future, one or both of the companies will initiate some form of buyback, which would benefit both share prices.
Takeover of JSH: In many respects, an unwinding of the cross-shareholdings makes a lot of sense, certainly for outside shareholders: it would simplify the corporate structure and almost certainly result in a higher valuation. The likelihood of such a move is the subject of continual speculation. In 2001, Brandes, which owned 11% of JMH, unsuccessfully tried to force the company to buy out the minority shareholders in JSH. For a number of reasons, I think there is a good chance that such a buyout will actually happen in the next few years. First, JMH is now financially in a much better position to buy out all the minority shareholders in JSH. It has less debt than in 2001 and the size of the free float is around 25% smaller. The cost would still be around US$8.5bn, assuming a 25% premium to the current share price (which is nonetheless a significant discount to the market NAV). However, JSH's net cash would reduce this by around US1bn, whereas in 2001 it had a significant amount of net debt. Secondly, after canceling the shares owned by JSH, the Keswick family would retain effective control over JMH, by controlling around 33% of the remaining shares. Finally, there are limited alternative uses for the Group's cash.
JSH's shareholders might object to any offer much below NAV, but would almost certainly accept a 25% premium. An offer at this level would result in an uplift of around 7% in JMH's NAV. Furthermore, it would almost certainly lead to a large reduction in the shares' discount to NAV; a fall in the discount to 15%, implies an overall share price increase of 28%.
The shares of both companies have performed extremely well over the last 10 years (after a poor performance over the previous decade). Therefore, there is little immediate pressure for a buyout. However, this could easily change if there is an extended period of share price weakness: JMH has declined 20% from its recent peak and has moved sideways for most of the last three years. The Group's recent interim results were weak, with profits falling at Dairy Farm and Astra. The Group indicated that full-year profits would be similar to last year. The primary aim of the Keswick family may be to retain control of the Group, but they will also want to maximise the long-term value of their shares.
Dividend uplift: the discount provides a significant uplift to JMH's dividend, in particular; boosting it by 0.8%, or more than 40%, to around 2.6%. The dividend is effectively a return of value at NAV. An extra 0.8% per year might not sound like much, but from the perspective of an income investor, a 40% increase in their dividends would make a big difference.
Conclusions
The Group provides exposure to growth in Asia through a portfolio of high-quality assets. Both companies are good value at their current share price. However, my preference is for JMH, given its higher dividend yield, larger relative discount and the closer alignment of interests with those of the controlling family. This is a long-term investment: for investors whose holding period is "forever", I think it is an ideal stock to own. It should also appeal to those income investors, for whom income growth is also important. The downside risk is limited by the Group's strong balance sheet, which gives it the financial flexibility to boost the companies' share prices by buying back shares, or ultimately buying out JSH's minority shareholders. I think there is a good chance this will happen at some point in the next few years. Such an event potentially offers 25-30% upside for patient investors. Meanwhile, they will own a company with good long-term growth prospects and an enhanced dividend yield.
Disclosure: I am long OTCPK:JARLF, OTCPK:JDSHF. I wrote this article myself, and it expresses my own opinions. I am not receiving compensation for it (other than from Seeking Alpha). I have no business relationship with any company whose stock is mentioned in this article.