Two of the US' most important financial institutions reported third-quarter results recently. The stories were slightly different, but equally fascinating. Let's take a look at how these banks performed after passing their self-administered stress tests.
JPMorgan
JPMorgan's (NYSE:JPM) third quarter results (pdf) were relatively solid in spite of a laundry list of legal problems. Book value declined slightly sequentially to $52.01 per share, though that number is an increase of 4% year-over-year. Earnings per share, adjusted for litigation expenses and reserve releases, were roughly flat year-over-year at $1.40 per share. Year-to-date, the firm has achieved a return on equity of 11% -- above our estimate of its cost of capital.
Capital Ratios
The Basel I Tier 1 common ratio of JPMorgan sits at 10.5%, up 10 basis points both year-over-year and sequentially. The Basel III Tier 1 common ratio currently sits at 9.3%, which is flat sequentially.
Consumer Banking Dragged Down By Mortgage Originations
With interest rates moving higher through much of the third quarter, mortgage demand fell off a cliff. Non-interest mortgage income declined 65% year-over-year to $877 million driven by an 80% year-over-year decline in production revenue. We suspect much of this decline was driven by lower refinancing activity, so we do not believe investors should extrapolate this news to mean that the housing market recovery is over. Still, total origination volume declined 14% year-over-year on 45% lower mortgage applications. We believe rising rates have at least modestly impacted the housing market.
Aside from some mortgage-related weakness, 'Consumer Banking' was a relative bright spot. Client investment assets grew 16% year-over-year while average total deposits jumped 11% year-over-year to $438.1 billion. Given the firm's incredible branch and ATM footprint, we think JPMorgan will be able to increase market share going forward.
Litigation Reserves Mounting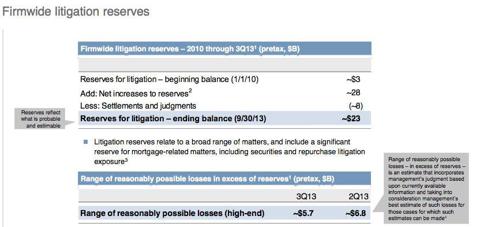 Image Source: JPM
JPMorgan, once thought of as a favorite of President Obama and regulators, has been hit with a number of legal issues as of late, mostly stemming from the London Whale scandal revealing that the firm's internal oversight may not be sufficient. Going forward, it appears the firm will have to pay out billions of dollars in fines and mortgage relief that could amount to $20 billion.
CEO Jamie Dimon has hammered home the point that JPMorgan continues to focus on its deficiencies. The firm has recently added 5,000 oversight employees and continues to divest businesses such as private equity firm One Equity Partners in order to simplify the company's operating structure.
Though we applaud Dimon's transparency with respect to the mountain of legal issues, some legal trouble may simply be unavoidable within banking operations this day and age. For example, despite Dimon's best efforts, he simply cannot possibly know the day-to-day operations of the thousands of individual working at JPMorgan. The opaqueness of banking operations is among our primary concerns with regards to investing in too big to fail banks.
Solid Investment Banking Share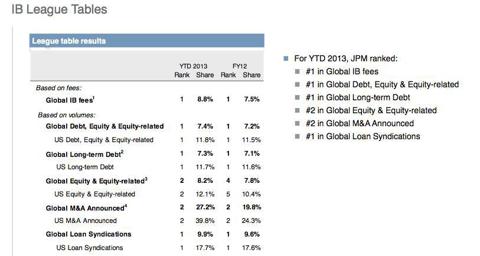 Image Source: JPM
On the positive side, JPMorgan is gaining global investment banking market share. The company is ranked first globally in investment banking fees with approximately 8.8% of the market.
Wells Fargo
Wells Fargo (NYSE:WFC) reported much cleaner third quarter results than JPMorgan. Book value per share increased 3% sequentially and 7% year-over-year to $28.98. Revenue declined 4% year-over-year to $20.5 billion, a touch below consensus estimates. Earnings per share increased 13% year-over-year to $0.99, a few pennies above consensus expectations. Return on equity for the quarter was 14.07%, up 69 basis points year-over-year.
Capital Ratios
Wells Fargo's Basel I Tier 1 capital ratio sits at 10.64%, down slightly on a sequential basis but still relatively robust, in our view. The firm's Basel III Tier 1 common ratio currently stands at 9.54%, slightly better than JPMorgan's.
Mortgage Originations Shift Toward Purchase Activity

Image Source: WFC
Mortgage applications fell 54% year-over-year during the third quarter, while originations declined 42% year-over-year to $80 billion. As with JPMorgan, we think the rise in interest rates is mostly responsible for the decline. Interestingly, Wells Fargo experienced a shift toward purchasing activity rather than refinancing. As we can see from the chart above, the sequential shift was enormous, reversing the long-term leadership of refinancing activity (over purchase %).
We love the insight that Wells Fargo's numbers provide. Based on the mortgage mix from the third quarter of 2013, we estimate the firm originated $47.2 billion of purchasing mortgages. This is down $2 billion quarter-over-quarter, but it is substantially higher than the $33.8 billion in purchasing originations made during the first quarter. Purchasing originations totaled approximately $52.8 billion during the third quarter last year, so mortgages originated for home purchasing declined just 11% year-over-year -- not bad given rising interest rates.
Net Interest Margins Remain Under Pressure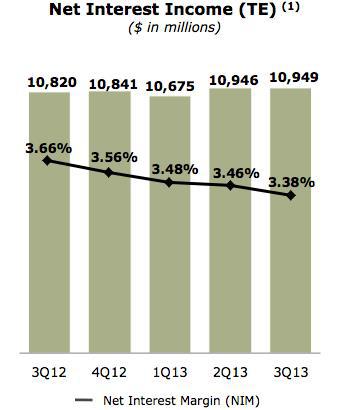 Image Source: WFC
The bank's net interest margin declined 8 basis points sequentially during the third quarter to 3.38% (shown above). Management doesn't seem very concerned about the slight decline, particularly because most of the fall is attributable to a larger deposit base and liquidity-related activities. We're not baking in much additional spread compression in our valuation model going forward.
Diverse Fee Income Will Offset Origination Declines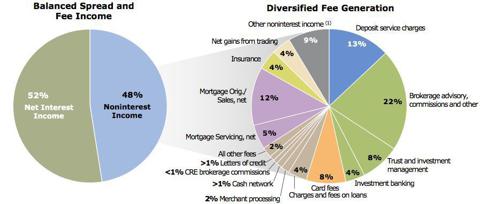 Image Source: WFC
One thing that we're sure Warren Buffett loves about Wells Fargo is its diverse fee-income stream. The majority of the bank's fee income is derived from the incredibly sticky brokerage advisory business (wealth management) with deposit service charges and mortgage originations coming in a distant second and third, respectively.
Therefore, even if the mortgage origination business experiences further declines in the fourth quarter of 2013 and into 2014, Wells Fargo's bottom line probably won't feel too much pain.
Valuentum's Take
During the past few years, we have been very clear about our stance on investing in complicated, opaque, and far-reaching banking entities. JPMorgan's recent legal troubles highlight how even the most respected CEOs can be in the dark about what is going on at certain parts of their bank.
That said, Wells Fargo and JPMorgan have strong capital ratios and diverse income streams that add to earnings resiliency. We continue to think financials will perform well against a backdrop of economic growth; thus, we have diversified banking exposure in the form of the Financial Select SPDR ETF (NYSEARCA:XLF) and the SPDR S&P Bank ETF (NYSEARCA:KBE) in our Best Ideas Newsletter portfolio.
Disclosure: I have no positions in any stocks mentioned, and no plans to initiate any positions within the next 72 hours. I wrote this article myself, and it expresses my own opinions. I am not receiving compensation for it (other than from Seeking Alpha). I have no business relationship with any company whose stock is mentioned in this article.
Additional disclosure: XLF and KBE are included in the portfolio of our Best Ideas Newsletter.