On October 22, 2013 Nokia (NYSE:NOK) fired a shot across the bow of mobile competitors that went partially unnoticed. Mainly due to Apple (NASDAQ:AAPL) unveiling their newest iPad and Mac updates the tech discussions have been centered around 64-bit mobile architecture and thin tablet form factors. Make no mistake, Nokia's announcements at Nokia World 2013 were significant and timely. Nokia continues to deliver innovation in key areas for Microsoft's (NASDAQ:MSFT) mobile platforms. Instead of focusing on what wasn't delivered, I will change the narrative and choose to refocus on three significant innovative features that the consumer market will enjoy and value as part of their daily user experience.
Innovation 1: Refocus
Lost among the talk of megapixels, 1080P full HD screens and Windows RT tablets is another innovation that will make Windows Phone in 2014 a force to be reckoned with. Nokia delivers Refocus, a camera feature that allows the user to take a picture and change the focus point after the fact. This frees the user up to snap away and worry about what they want to focus on later. In short, Nokia has delivered a way for the non-tech user to enjoy the benefits that users of Nokia's Pro Cam software has when using the manual control dials. As this feature makes its way to more devices via the upcoming Lumia Black update to Windows Phone, Nokia will have strengthened their stake as the smartphone camera king. Social sharing is impressive as the user can share photos to Facebook and friends can interact with the photo and change the focus while on Facebook.
This feature will help budget models like the Lumia 520, 625 and 1320 stand out from competing budget models.
Innovation 2: Surround Sound Audio Recording
Nokia showcased the Lumia 1520 phablet's rich audio recording capabilities during the Nokia World keynote. Including 4 rich recording microphones has allowed Nokia to provide an audio capturing experience unmatched by any other smartphone on the market. It is the next progression in delivering first-class video audio capture that is built into the Lumia 1020. Future flagship devices will get the benefit of this technology to help stand out from the crowd. (1520 Surround Sound Audio) Nokia has delivered features that add to the premium experience of their Lumia device family.
Innovation 3: Nokia Beamer
Android has bump technology, Apple recently introduced AirDrop and now Nokia steps up to show off their innovation for sharing screen and content with others. If you're familiar with the Screen Share feature that BlackBerry (NASDAQ:BBRY) championed for their BB10 devices this is similar to that, but can be used cross platform and that is a big bonus.
Microsoft has delivered valuable additions with their GDR3 update that has enhanced the user experience. Features like lock screen rotation, driving mode, improved ease of access capabilities, and others are helping users enjoy their Windows Phones today. These three innovations will be pillars that Microsoft will lean up to support its devices once the Nokia acquisition is complete.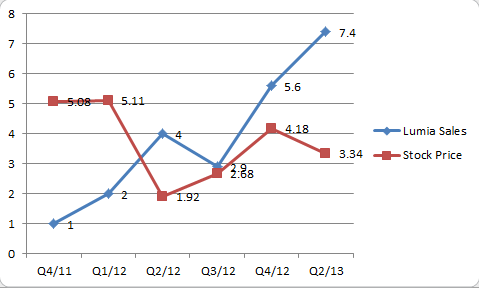 Nokia's stock is currently $6.75 as of the close on Monday, October 28, 2013. Clearly Nokia's ongoing financial difficulties overshadowed the growth in sales of the Lumia device family. Microsoft's strong financials will allow the success of the Lumia device family to be properly appreciated. The continued software innovation shows that Microsoft will be adding a much more valuable addition to the devices division besides the hardware expertise Nokia has become known for.
There are reportedly at least 8 million more Lumia phones in the hands of consumers who will enjoy these innovations and stand a good chance of upgrading to Lumia devices in the future. That will help Microsoft's hardware division sell units and increase revenue throughout 2014. Nokia has added significant consumer facing features that will delight users and improve Microsoft's Windows Phone image helping to drive mobile phone sell in a price range that Apple is unwilling to compete and Android OEMs unwilling to invest in valuable features.
Disclosure: I have no positions in any stocks mentioned, and no plans to initiate any positions within the next 72 hours. I wrote this article myself, and it expresses my own opinions. I am not receiving compensation for it (other than from Seeking Alpha). I have no business relationship with any company whose stock is mentioned in this article.
Additional disclosure: This article includes forward looking statements referencing Microsoft's pending acquisition of Nokia's hardware and Imaging divisions.