American Capital Agency Corporation (NASDAQ:AGNC) reported Q3 2013 results yesterday which made me increase my existing Short position in this mREIT. Results were disappointing to say the least and shares are down 4% in after hours trading:
In Q3 2013 AGNC achieved a net loss of $1.80 per common share versus a gain of $4.61 in the second quarter. Only other comprehensive income of $2.25 per share ($6.98 other comprehensive loss in the second quarter) lifted comprehensive income to $0.45 per common share and into positive territory (compared to a comprehensive loss of $2.37 in Q2 2013). Though AGNC's comprehensive income per share has bounced back from a material loss in Q2 2013, the figure is down a staggering 89% from $3.98 per share in the third quarter of 2012. The variability of comprehensive EPS ($3.98 in Q3 2012 to minus $2.37 in Q2 2013) shows that the underlying business model of AGNC is of very high risk. Investors should not jump into AGNC solely because of its distribution yield.
In my previous articles about mREITs I have pointed out that margin compression is going to be a real risk for mREITs in the coming quarters: In Q3 2013 AGNC's net spread stood at $0.58 per common share which compares to $1.15 in the previous quarter (a minus of 50%).
AGNC earned $0.29 in estimated taxable income per common share in the third quarter which compares to $1.04 in Q2 2013 (a minus of 72% q-o-q). Estimated taxable income is down 79% from $1.36 per share in Q3 2012.
Estimated undistributed taxable income per common share came in at $0.57 in Q3 2013 vs. $1.07 in Q2 2013 (a substantial quarterly decline of 47%).
AGNC's dividend was adjusted to $0.80 per share to reflect the underlying shareholder wealth destruction in Q2 but still hugely exceeds both comprehensive and estimated taxable EPS. I think the dividend is very shaky and will be adjusted downward in the next quarters as well.
AGNC's book value per share marginally eroded from $25.51 in Q2 2013 to $25.27 in Q3 2013: A minus of 1%. However, AGNC's book value per share declined 22% y-o-y and the trend of decreasing book values is consistent over the last five consecutive quarters.
AGNC's underlying asset yield has contracted from 2.92% in Q2 2013 to 2.59% in Q3 2012. Cost of funds have only marginally decreased from 1.43% to 1.39% thereby reducing AGNC's net spread from 1.49% in Q2 to 1.20% in Q3. I think increasing funding costs in the future will be a major threat to AGNC's net spread development and overall profitability.
(Source: AGNC Q3 Investor presentation)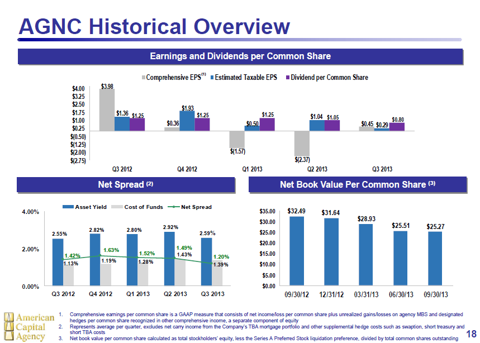 I am also highly skeptical of any business model that utilizes large amounts of borrowed money to make 'spread business'. High leverage substantially increases risk for shareholders and could work out badly as we all have witnessed during the financial crisis. AGNC, like other mREITs, relies on cheap financing in order to juice up its net spreads. Higher funding costs in the future (which are likely once the Federal Reserve withdraws its artificial rate support) pose a meaningful threat to excessive leverage and the yields derived from them. Though AGNC has reduced its leverage over the last quarters it remains high nonetheless: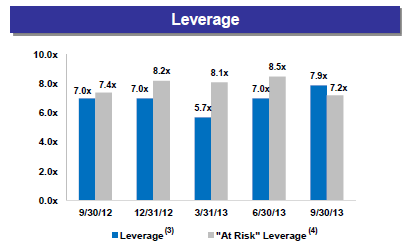 A healthy net loss per common share, massive decreases in estimated taxable income and estimated undistributed taxable income per common share and continuing declines in AGNC's book value (if only marginally) support my Short thesis. Q3 results are a manifestation of a broader trend that already stretches on for several quarters. Other reasons to remain Short AGNC (or other mREITs for that matter) include high leverage paired with reliance on short-term funding and extreme variability of quarterly comprehensive and estimated taxable income per share. Additional risks for shareholders come from future dividend cuts and regulatory risk.
Purchasing long-term mortgages with short-term funding poses existential risks to the financial system. A freeze-up of money markets has caused great distress in 2008 in the wake of Lehman Brothers' failure. High leverage, reliance on short-term funding and large portfolios of mortgage backed securities make a toxic mix that the Federal Reserve of NY is concerned about. Reuters reported on October 27, 2013:
Regulators with the Fed have been probing the proliferation of mortgage real estate investment trusts, or MReits, where long-term mortgages are financed with short-term loans from dealer banks, known as a repo.

The concern is that a rise in interest rates could prompt a selloff.

"In the spring, they came into a lot of the banks and kind of did a deep dive in that topic," one person familiar with the discussions told the FT.

After inquiries from the Fed, MReits curbed the purchases of securities and short-term borrowings because of talk of higher interest rates, the FT said.

A spokesman for the New York Fed declined to comment.

The FT said that MReits have had the attention of Fed regulators since February because of the possibility of an "overheating in the credit markets."
A large Sell-off could have really negative consequences for the value of mortgage securities and shares of mREITs.
Share performance
AGNC managed to bounce back slightly after the sector meltdown in May and June 2013 drove the share price down to $20.76. AGNC currently trades at $23.87: A 6% discount to book value. Over the last year AGNC has lost a staggering 27.12% in value.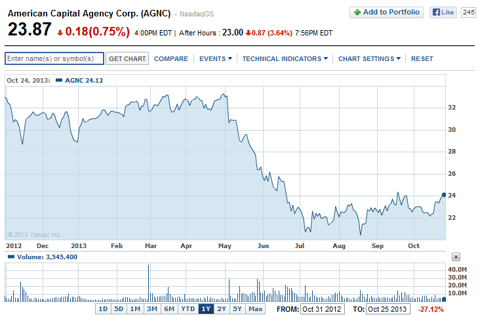 Other mREIT players haven't performed better than AGNC as the market re-adjusted its pricing of mREITs over the last five month. Annaly (NYSE:NLY) is down 25%, Armour Residential (NYSE:ARR) is down 38%, American Capital Mortgage Corp. (NASDAQ:MTGE) declined 17% and Hatteras (NYSE:HTS) 28%.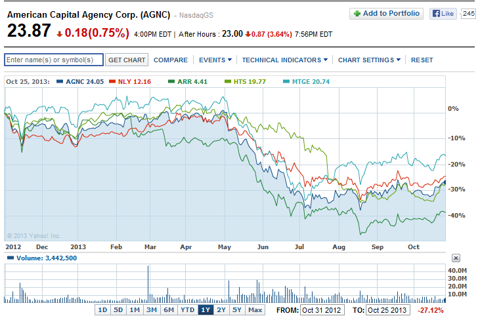 Conclusion
AGNC's Q3 results were clearly not encouraging. The presented results for EPS figures, book value and net spread reflect an ongoing downward trend for key valuation metrics. Higher interest rate volatility and higher funding costs pose serious challenges to AGNC's business with compressed net margins having an immediate effect on AGNC's profitability. High leverage coupled with a reliance on short-term funding make any mREIT a high-risk investment that investors need to understand. AGNC's 13.4% yield is shareholder remuneration for the acceptance of very high business risk.
I expect that higher interest rate volatility and rising rates will affect AGNC's business negatively in the future and further book value declines and dividend revisions will be ahead. A long investment in AGNC is of high risk and further dividend adjustments are likely to shake out more income investors which could put further pressure on the shares. The risk/reward ratio on the short side is much better in my opinion. In light of AGNC's dismal Q3 results I am strongly reaffirming my Short position in AGNC with a price target of $10 by 2015.
Disclosure: I am short AGNC, NLY, ARR. I wrote this article myself, and it expresses my own opinions. I am not receiving compensation for it (other than from Seeking Alpha). I have no business relationship with any company whose stock is mentioned in this article.