Finally Advanced Micro Devices (AMD) bulls had a reason to cheer, as the company reported positive bottom line in the third quarter of 2013. All the restructuring initiatives and boost in the gaming console chips resulted in the first net profit since the third quarter 2012. AMD is one of leading manufacturers of microprocessors, and due to over dependence on the PC market for revenue, the company has been facing headwinds from the decline in PC sales.
Declining PC shipments adversely affected the company's financials, thus resulting in the negative bottom line in the previous quarters. Though the situation hasn't changed much in the PC market, AMD is developing its non-PC product line and targeting growth markets like gaming consoles that can boost its revenue. The company has set the base for its turnaround strategy with the current quarterly result and with boom in gaming consoles; therefore, AMD is on track for achieving its set goals.
Good third quarter result but share price falls.
On October 17, AMD reported its third quarter result with revenue increasing 26% quarter-over-quarter and 15% year-over-year. The company reported net profit of $48 million as compared to loss of $150 million a year earlier. Regardless of the company's positive result, the share prices have reduced 23% to date after the announcement. This was because the company's computer solution division's revenue was down 6% quarter-over-quarter due to weaker worldwide PC demand and concerns over Intel (INTC) and Nvidia (NVDA) eating the market share in processors and graphics business respectively.
AMD, being the second largest player in the PC microprocessor market, has been expanding its addressable market due to the decline in PC sales. The company introduced its new Kabini chips targeting low priced entry level notebooks and desktop and its Temash chip targets the fast growing tablet market. AMD has been enjoying low competition in the low-priced notebook segment of the market, but the launch of Intel's new Bay Trail (Atom) processor will change this situation.
Intel's new Bay Trail was chosen for the recently announced Dell Venue 8 pro, Lenovo Miix 2, and Acer Iconia W4. As per news reports, there are up to 10 tablets and hybrids launching this year with the Bay Trail processor. Intel derives 80% of its revenue from PCs, and due to its market leadership, it posted 3.5% quarter-over-quarter growth in the third quarter from PC processor sales as compared to AMD's decline of 6% quarter-over-quarter.
Intel was slow to adopt to low power mobile gadgets like smartphones and tablets, but with launch of its Bay Trail mobile chip, the company is on track to grow in the low priced device market. This new chip will give better performance than its predecessor, the Clover Trail design chip. Clover Trail was based on 32 nanometer, or nm, transistor, while Bay Trail is a 22 nm design, which means better performance and low power consumption.
Future growth driver
AMD has offset headwind from its PC processor business with its semi-custom System on Chip, or SoC, for gaming consoles. Growth in the sales of these chips led to rise in the graphics and visual solutions segment revenue by 110% quarter-over-quarter and 96% year-over-year. The company is featuring its chips in the upcoming Microsoft Xbox One and Sony PS4, and as the launch date of these consoles draws near, both manufacturers have started building inventory of their gaming consoles, resulting in a rise in AMD's chip sales. As mentioned in our previous article, AMD has an opportunity to earn $4.6 billion in revenue by 2018 from Xbox One and PS4 sales. Judging from the good response in pre order demand, this sales figure might exceed our forecast. The company has generated 30% of its revenue from its semi-custom and embedded business, which is above the company's fourth quarter 2013 target of 20%.
Apart from the PC processor, its discrete Graphical Processor Business, or GPU, business was another area of concern with fall in graphic business revenue. Nvidia, followed by AMD, dominates the PC GPU market, and due to this stiff competition and fall in the PC market, AMD has been also struggling in the GPU business.
Nvidia, which has been giving stiff competition to AMD in the GPU business, has been rising in the tablet and smartphone chip segment. Nvidia started shipping its new Tegra 4 processor, with the first major smartphone Xiaomi Mi3. In addition to this, Tegra 4 has been included in the recently launched Microsoft Surface 2, Nvidia's Shield gaming device, and Tegra Note Tablet.
The company is working on two big projects, Tegra 5 chip codenamed Logan and Tegra 6 codenamed Parker. Tegra 5 features Nvidia's latest Kepler GPU architecture, and is expected to provide better performance with less power consumption, while Tegra 6 is a custom built 64-bit ARM chipset. Apple was the first company to launch a 64 bit architecture chip, featured in its new iPhone 5S. Since then, every chipset manufacturer has started developing its 64 bit chip. A 64 bit CPU gives better performance than a 32 bit chip, and this chip is the future of mobile processors. Thus, Nvidia's new Parker project will set the stage for the company to enter this new chip segment.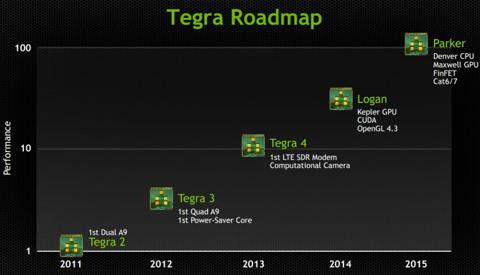 Source: gizchina.com
We believe that AMD's graphics business is expected to increase from the upcoming R-7 and R-9 series graphics chips, which were announced last month. These chips have advanced graphics features compared to previous GPUs. With the launch of these chips, AMD is expected to gain some of its lost market share. Growth from the professional graphics business is expected to offset some of the negative impact of the fall in PC business.
Focused towards growing markets
Last year, AMD announced its three step turnaround plan to restructure the company's operations and revive its fortunes. During the recent quarter, AMD completed its first phase of this plan with the completion of restructuring initiatives aimed at bringing the third quarter operating expense below $450 million. AMD has achieved this target, and with a positive bottom line, the company will focus on expanding its product line for targeting market growth. This will help offset the negative PC chip business, which is expected to fall 10% year-over-year in 2013, as per company estimates.
AMD is aiming to generate 50% of its total revenue from growth areas like semi-custom ultra-low power client, embedded, dense server, and the professional graphics markets in next two years. The target might be questionable due to its strong dependence on PC, but AMD has a strong product pipeline for these areas, which should expand its footprint in these markets. We believe the company is on track for attaining this target with growth in the gaming console chip and processor for dense server market business.
The company is also expanding its embedded product portfolio, with the launch of two x86 accelerated processing units, or APUs, and central processing units, or CPUs, and its first high-performance ARM SoC expected to launch in 2014. AMD is set to become the first company to offer both ARM and x86 architecture based solutions for embedded compute designs. This will position the company in the growing embedded systems market, which will grow from 330 million units in 2013 to 450 million units by 2016. The combination of x86 and ARM architecture is estimated to account for 82% of the total addressable market. Therefore, this extended product offering in the embedded solution market will act as a catalyst for the company's top line growth, helping expand its market footprint.
Conclusion:
AMD's third quarter result looks positive and mirrors the company's growth plans. We believe that by featuring its chips in two big upcoming gaming consoles, the company can benefit from the initial demand growth of these products. Although the demand growth for these gaming consoles will eventually level off after the initial enthusiasm, its strong product pipeline for the dense server and GPU market will help it sustain the growth in the long run.
Competitors like Intel and Nvidia will affect AMD's growth plans, therefore it is important for the company to reduce the dependence on the PC market and achieve its target from growing markets for achieving its three step turnaround plan. A P/E comparison for this stock isn't conclusive since the company has a negative trailing twelve month EPS, but looking at the turnaround plans and growth markets strategy, the company has potential to provide value to investors through its better financial performance in the future.
Disclosure: I have no positions in any stocks mentioned, and no plans to initiate any positions within the next 72 hours. I wrote this article myself, and it expresses my own opinions. I am not receiving compensation for it (other than from Seeking Alpha). I have no business relationship with any company whose stock is mentioned in this article.
Additional disclosure: Fusion Research is a team of equity analysts. This article was written by Rohit Gupta, one of our research analysts. We did not receive compensation for this article (other than from Seeking Alpha), and we have no business relationship with any company whose stock is mentioned in this article.