"National Oilwell Varco (NYSE:NOV) is a worldwide leader in providing major mechanical components for land and offshore drilling rigs, complete land drilling and well servicing rigs, tubular inspection and internal tubular coatings, drill string equipment, extensive lifting and handling equipment, and a broad offering of downhole drilling motors, bits and tools. It also provides supply chain services through its network of distribution centers located near major drilling and production activity worldwide."
The table below gives a good picture of the company's and its major segments' (Rig Technology, Petroleum Services & Supplies, and Distribution & Transmission) recent operating profit performance.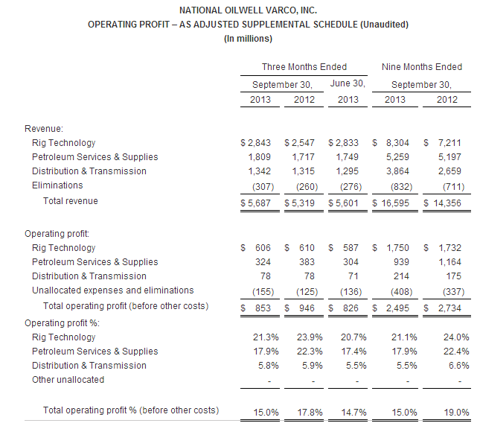 Investors can see that each of NOV's three segments have grown operating profit significantly both sequentially and year over year. In addition to the above, the backlog for the Rig Technology segment got new orders of $3.31B in Q3 2013. This brought the backlog to a record $15.15B as of September 30, 2013. Q3 operating profit increased 3%. This resulted in operating profit flow-through (change in operating profit divided by the change in revenue) of 31%, excluding transaction charges and the settlement of an outstanding legal claim. Overall net income was $636 million (or $1.49 per fully diluted share). Excluding one time items net income was $573 million (or $1.34 per fully diluted share). The company's revenues for Q3 2013 were $5.69B.
A good part of the growth was probably due to the acquisition of Robbins & Myers Inc. (NYSE:RBN), which completed February 20, 2013. This allowed NOV to expand its offerings of products and services with the high quality offerings of Robbins & Myers. These are equipment and systems in the industrial markets, including energy and chemicals. More specifically Robbins & Myers makes some of the most advanced technology Ultra Deepwater equipment such as the Premium Model HPT 15K Choke & Kill Manifold. This includes the T3 Model HEC Custom Designed Control System with local and remote control via a PLC/Graphical interface. Such products should help NOV get and keep ultra deepwater customers, which is the new lucrative area in the deepwater drilling business. A picture of this manifold is below.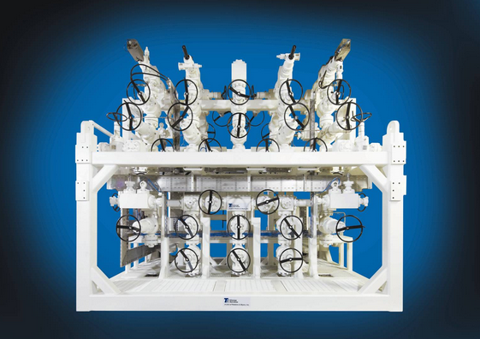 Another factor in the rosy outlook for NOV has been the Rig Census and the future outlook for rig use. The combination of increasing demand and decreasing supply in 2012 has led to bullish pricing in 2013.The total number of available units fell by about 2% to 3,006 units. In 2012 US rig utilization rose to 75% from the 67% in 2011. Global Offshore mobile activity was up 12% in 2012, with active rigs at 626 units. Utilization of the global offshore mobile fleet was 76% in 2012. This was up from 70% in 2011. Most international regions showed increases in land utilization, which averaged 95% utilization in 2012. These factors mean more business for NOV, and they make the acquisition of Robbins & Myers look that much better. NOV's management team has been performing well.
NOV reports that Q4 2013 is off to a strong start. It still expects offshore rig orders to be cyclical, but it expects deepwater orders to remain good more years than not for the next several years. It cites that the ultra deepwater business is still very new; and there are many new fields to discover and develop.
A second new trend should help. NOV management thinks the preferred method of producing from the above mentioned new ultra deepwater oil fields will be floating production systems. NOV has invested in the many unique products needed for this task over the last several years. It believes it is ideally positioned to benefit financially from the production from the new ultra deepwater oil fields.
A third trend is the recent move to upgrade or replace jack-up fleets. 54% of the marketed jack-up fleet worldwide is more than 30 years old. As many areas around the world such as Saudi Arabia and Mexico start to see onshore declines in production, they are buying new jack-up rigs for shallow water drilling to help to replace the onshore declines. In Q3 2013 NOV sold 13 jack-up packages. This brought NOV's total to 42 jack-ups for 2013 thus far.
A fourth trend is the proliferation of technologies enabling unconventional oil and gas field exploration and production (shale technologies). The purchases in this area are a positive for virtually every part of NOV's business. US unconventional exploration and production are growing rapidly; but internationally unconventional E & P is in its infancy. As this technology grows in other parts of the globe, it should provide a growing income stream for NOV for a generation.
Due to the above factors, NOV has a next five years average analysts' EPS growth per annum estimate of 10.70%. It is expected to grow at 17.80% in 2014. It has a quite reasonable PE of 15.21 and an FPE of 13.16. It pays a modest, but non-negligible dividend of about 1.3% per year. It has a good cash reserve of $2.7B ($6.41 per share). It has relatively low debt of $3.75B. It has a price/book ratio (mrq) of 1.64; and an average analysts' recommendation of 2.0 (a buy).
If all this weren't enough, NOV is also planning to spin off its distribution business into a separate publicly traded company. As a separate company this company will represent approximately 85% of NOV's Distribution and Transmission Segment's revenues. It would have over 415 locations and operations in 26 countries. It will be a leading provider of maintenance, repair, and operating supplies to the global energy and industrial markets. It is expected to be completed in 1H 2014. It does not require shareholder approval. Most expect this spinoff to unlock significant value for stockholders, who will get shares in the new company as part of the spinoff.
The division of NOV into two different businesses is also expected to benefit both businesses. Management will be more directed. Hence each company is expected to perform better. In addition the spinoff will probably do a lot to solve one of NOV's recent problems. A few people probably know that China often requires foreign companies to manufacture in China in order for them to sell there. Ford (NYSE:F), GM, and Caterpillar (NYSE:CAT) are three prime examples. Many other emerging market countries have been trying to emulate China. This has been an increasing problem for NOV. It has a very diverse business. With the distribution business separated, it will be able to buy easily from its former distribution segment; but it will likely not be faced with the demand that the distribution segment manufacture all its products in the country contracting for NOV's services. Since deepwater and ultra deepwater fleets are often given a pass on the above demand, this probably will go a long way toward solving NOV's negotiation problems with the many emerging market countries that are trying to copy China's success.
In sum NOV is a buy. It management team has been making solid moves. Its industry is on the upswing. Its technology is among the best, if not the best.
The two year chart of NOV provides some technical direction for this trade.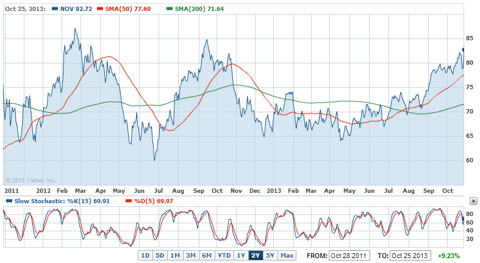 The slow stochastic sub chart shows that NOV is neither overbought nor oversold. The main chart shows that it has been in an uptrend for the last six months. The Q3 results seem only likely to allow this market trend to continue, especially since it is reasonably priced. The spinoff of the distribution business should help too. NOV is a buy. It has an average analysts' recommendation of 2.0 (a buy).
A lot of the other leading combination onshore and offshore international oil service companies are seeing the benefits of the same trends that NOV is. Schlumberger Limited (NYSE:SLB) is one example. It has a PE of 19.31 and an FPE of 15.84. It has an analysts' next five years EPS growth estimate of 18.51% per annum. This makes it relatively cheap in today's market. Halliburton company (NYSE:HAL) is another international oil services company expected to grow quickly. It has a PE of 23.93 and an FPE of 12.39. It has an analysts' next five years EPS growth estimate of 22.03% per annum. HAL is very proud of its "clean fracking technology", which may prove to be an even bigger boon as time goes on. Again HAL is relatively cheap in today's market. Both HAL and SLB pay 1%+ dividends. Both of the companies have average analysts' recommendations of 1.8 (a storngish buy). They are both worth looking strongly at.
NOTE: Some of the above fundamental financial information is from Yahoo Finance.
Good Luck Trading.
Disclosure: I have no positions in any stocks mentioned, but may initiate a long position in NOV, HAL, SLB over the next 72 hours. I wrote this article myself, and it expresses my own opinions. I am not receiving compensation for it (other than from Seeking Alpha). I have no business relationship with any company whose stock is mentioned in this article.