Bill Ackman already gave in with his J.C. Penney (NYSE:JCP) investment which was running massively against him and his fund performance. Ackman is now around half a billion dollars or so in negative territory as a result of an ill-conceived, outsized short bet that alleges Herbalife (NYSE:HLF) to be a pyramid scheme.
In my post about the incentives that led Ackman to give up on J.C. Penney I have argued that his hedge fund was likely exposed to too much opposition from investors and that his ability to orchestrate change was greatly diminished. George Soros, Carl Icahn and Daniel Loeb, all investors with great street credibility, took long positions since Ackman's Short bet was made public and they hit the ball out the park. Herbalife is up 160% since its low of $26.06 per share in December 2012 after Ackman's Herbalife presentation. Herbalife shares are up 106% YTD. At the beginning of October news broke that Ackman changed his exposure to his Herbalife short (from the NY Post):
The investor titan converted 40 percent of his $1 billion equity short on Herbalife to less-risky long-term put options, according to a letter his Pershing Square hedge fund sent late Wednesday to investors, The Post has learned.

"The restructuring of the position preserves our opportunity for profit," wrote Ackman in the letter, a copy of which was obtained by The Post.

"If [Herbalife] fails within a reasonable time frame we will make a similar amount of profit as if we had maintained the entire initial short position - while mitigating the risk of further substantial mark-to-market losses because our exposure on the put options is limited to the total premium paid."
Even though Ackman did a diligent effort in researching Herbalife, I consider it somewhat naive to put 16% of your portfolio or $1 billion in a Short position (Short= limited gains, unlimited losses) expecting a regulator to shut the company down. I think the underlying psychology of this investment speaks to Ackman's personality and clearly displays overconfidence bias. There was an interesting article about Ackman in Vanity Fair in February which should give investors insight into his mindset. The article also allows investors to draw conclusions as to how Ackman makes investment decisions. Pride and arrogance come before a fall. Also, running extremely concentrated positions (remember the Target (NYSE:TGT) investment), didn't work out too well for Ackman. His MBIA (MBIA) short, which he hold onto for several years, only worked out because of the financial crisis and a collapse of all stocks in the marketplace.
Herbalife keeps performing
It is doubtful that a hedge fund manager (who has a personal, economic interest in the failure of a company) will alert a regulator to an overlooked foul-play and induce the authority to shut the company down for massive personal profit. The 'legal roadmap' Ackman provided is a biased one in my opinion and anybody working in the legal field knows that legal opinions from one side are fiercely contested by the other. Also, let's all be real here: Herbalife was brought to the attention of regulators back in December 2012. Regulators now have had a little short of a full year to examine the case and haven't decided to take action. And regulatory agencies consist of experienced people with extensive backgrounds in evaluating MLM companies so they clearly wouldn't be starting from scratch in their investigation.
In the meantime, Herbalife keeps performing. Q3 and YTD results show that the company is highly profitable and a true cash cow. In the last nine months Herbalife has come a long way and presented growth in a variety of metrics:
Worldwide net sales increased to $3.6 billion YTD compared to $3 billion in the same period last year (up 18%)
Gross profit also rose 18% from $2.4 billion for the first nine month in 2012 to $2.8 billion in 2013
Operating income increased 10% to $553 million compared to $502 million in 2012
Net income rose 15% from $352 million last year to $404 million in the first nine month of 2013
Diluted EPS jumped 27% from $2.95 in 2012 to $3.75 in 2013
Operating cash flow came in at $577 million vs. $400 million last year (an increase of 44%)
Free cash flow also increased by 44% to $485 million vs. $337 million in 2012.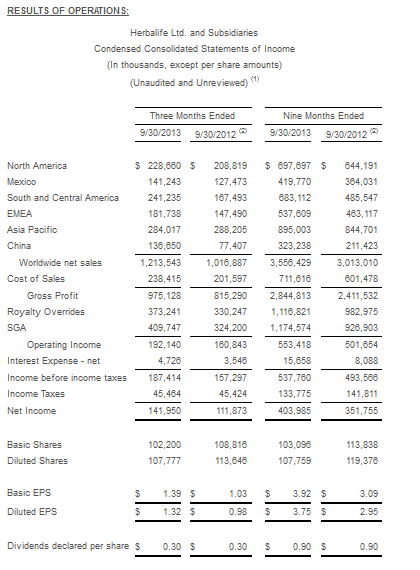 Herbalife also released and increased its Q4 and full year 2013 guidance (below). Herbalife continues to expect high volume point and net sales growth for the remainder of the year. Adjusted diluted EPS is expected to come in between $5.19 and $5.23. Herbalife estimates that 2014 adjusted EPS falls in a range of $5.45-5.65 (up 4-9% y-o-y).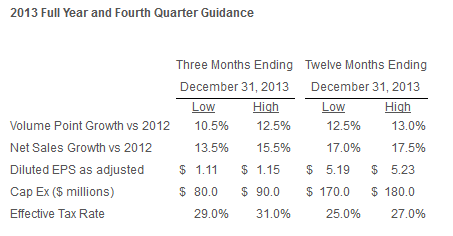 Conclusion
I stand by my assertion that a regulatory shutdown of Herbalife is a low probability event. Herbalife's Q3 and YTD numbers suggest that the company is a highly profitable enterprise whose profits consist of cash rather than imaginary accounting profits. In fact, it is Ackman who is trying to avoid mark-to-market losses with his Herbalife bet by switching his economic exposure to put options. Investors are paying way too much attention to Ackman who does not possess a convincing track record on the short side. The notion that the regulator responsible for taking action against MLM schemes hasn't acted in over a year, despite being presented with an elaborate legal roadmap, indicates that the probability of Herbalife being shut down as a fraud is very low indeed. KPMG's resignation as Herbalife's auditor also should not be overemphasized since its withdrawal was attributable to the misdeeds of its lead audit partner. PwC is another top tier firm in the accounting space that has taken over KPMG's audit mandate and is currently re-auditing Herbalife's results.
Herbalife remains a Buy candidate based on strong volume- and earnings growth and a low market valuation of 12x forward earnings that underestimates Herbalife's cash flow strength .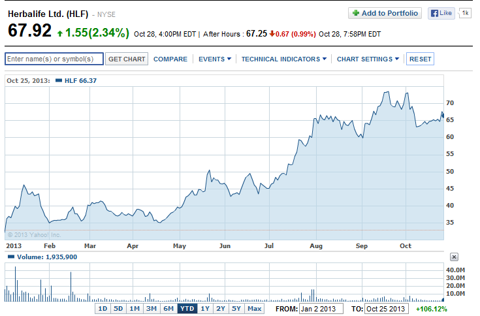 Disclosure: I am long JCP, HLF. I wrote this article myself, and it expresses my own opinions. I am not receiving compensation for it (other than from Seeking Alpha). I have no business relationship with any company whose stock is mentioned in this article.