In a recent article, SA contributor Tim McAleenan mentioned Visa (NYSE:V) could be one of the best dividend stocks of the next decade. This might surprise a few investors as Visa's current yield is less than 1% and the stock trades at a not-so-cheap multiple of 35.
This article presents a few points that support the theory that Visa could be a terrific stock for investors with a long-time horizon by offering both income and capital appreciation. Let us get into the details.
Dividend History: Visa recently announced its 5th consecutive annual dividend increase, since initiating dividends in 2008. Five is a significant number because a lot of dividend investors only look at companies that have at least a 5-year streak when it comes to increasing dividends.
(Visa Dividend History: click to enlarge)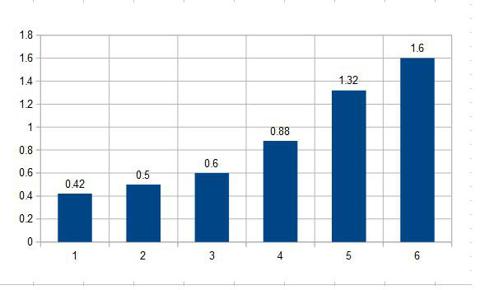 Click to enlarge
Payout Ratio: The annual dividend of $1.60 per share is tiny compared to Visa's earnings per share of $5.80, which gives it a payout ratio of about 28%. This obviously leaves a lot of room for dividend growth in the coming years.
Dividend Growth Rate [DGR]: In the five years since 2008, Visa's dividend has almost quadrupled from 42 cents a share/yr to $1.60 a share/yr in 2013. The average 5-year DGR now stands at a monstrous 31%. Though it would be impossible to maintain this high percentage going forward, there is no doubt that Visa has made a great start. The management's willingness to increase dividends each year shows their inclination to reward shareholders.
Buybacks: Visa also rewards shareholders through buybacks and the chart below is a confirmation of that. As Tim mentioned in his article, the shares are retired directly by using Visa's profits and the company has not taken on debt to finance buybacks like most companies do. Is it an irony that a company in the credit services industry does not borrow money? Perhaps not.

Click to enlarge
(Source: YCharts.com)
Extrapolation: The table below assumes an annual DGR of 12% for the first five years and an 8% increase for the 5 years thereafter. This is relatively conservative given Visa's history so far and the earnings potential. The yield on cost more than doubles even if someone buys at the current highs. However, the income potential is only the sideshow for most Visa investors as shown in the next section below.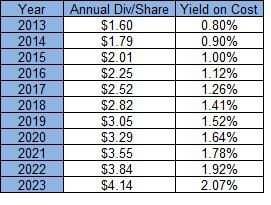 Earnings Potential: It is hard to believe that Visa has been in business for 55 years but is still considered a growth stock. Having traveled to a lot of developing countries, it won't be a stretch to say that credit card payment is still in its infancy in more countries than you can imagine.
Taken with a pinch of salt, analyst earnings estimates can be a helpful metric. According to Yahoo Finance, Visa is expected to grow at close to 19% per year for the next 5 years, which is 50% higher than the industry's expected growth rate.

Click to enlarge
(Source: Finance.Yahoo.Com)
Conclusion: With a rock solid balance sheet, a dividend that is low but is increasing rapidly, buybacks, wide moat, and growth, Visa seems to be one of the very few stocks that have it all. Even though the stock does not currently meet the minimum yield requirement of most investors, the points presented above make Visa a very good stock for those looking at total returns. It is no surprise that this company is in the top 10 list of most valuable brands in the world.
Disclosure: I have no positions in any stocks mentioned, and no plans to initiate any positions within the next 72 hours. I wrote this article myself, and it expresses my own opinions. I am not receiving compensation for it (other than from Seeking Alpha). I have no business relationship with any company whose stock is mentioned in this article.