Introduction
Before Apple (NASDAQ:AAPL) announced earnings for Fiscal Q4, I was very optimistic on the company over the next year. Today, I am changing my outlook from "slightly bullish" to "hold."
While earnings came in as expected, Apple guided gross margin for Q1 in the 36.5% and 37.5% range. That was quite a bit below my prediction of 40%.
Since everyone outside Apple suffer from limited knowledge of Apple's cost structure, we become more knowledgeable for each earnings report. For instance, lower than expected gross margin implies that Apple's products aren't nearly as profitable as most of us thought they were.
So the low guidance for this quarter doesn't just impact earnings for the December-quarter, it also forces me to down revisit my estimations for the entire next year.
As I believe that one of the best way to improve as an investor is to learn from your mistakes, I will spend some time in this article analyzing where I went wrong . Afterwards, I will assess what the earnings report means for the future profitability of Apple's hardware products.
Why I previously was bullish on Apple
Let's go a bit back in time. Prior to the earnings report, I expected an increase in margins due to higher earnings on both the iPhone and the iPad. I saw 2 reasons for iPad gross margin to increase;
1) A higher profitability on iPad Mini due to the Retina-Mini being priced $75 higher than its predecessor.
2) iPad 2 was maintained in the lineup as the cheap tablet. Since production costs of this tablet have come down over the years, this tablet should have a decent gross margin when priced at $400.
Yes, the iPad Mini 2 is a bit overpriced and the iPad 2 is severely overpriced, but most consumers aren't aware of that. If they want the best iPad Mini, they will purchase it regardless of whether it costs $400 or $325. In my opinion, this price strategy is quite a brilliant move by Tim Cook.
Combining the effect of these two changes, my model predicted that the iPad gross margin would increase from 22% to 26%. As you can see in the below diagram, it would have had a significant effect on gross profit - especially when you combined it with my expectations of an increase in unit sales.
Source: My own estimations
While I previously was a bit skeptical of the iPhone 5C, I eventually began to love the idea. Last year, Apple had a problem where consumers too often would purchase one of its older models that are offered at a discount. That means that it earns a relatively low profit each time those models are sold, which has caused its gross margin to decline from 40%+ to 35-38% over the last 1-2 years. According to most analysts and "tech-experts," Apple can't do anything about that, and instead it should just focus on gaining market share.
However, Tim Cook chose a different path: Increase gross margins on its mid-end phone by selling a new model with relatively lower costs. According to my estimations, the iPhone 5C has a similar gross margin as the 5S (around 52%). Apple's low-end phone, the 4S has a gross margin of around 40%. So as long as Apple can get consumers to buy the 5S or 5C instead of the 4S, gross margins should increase (below diagram).
Source: My own estimations
Obviously there were a few unknowns related to the free software and lower Mac prices, but in the end, I felt pretty confident about my 40% gross margin estimate for Apple.
So where did I go wrong?
First of all, the gross margin guidance also implied $700M in deferred revenue and some forex tailwind, which I did not take into account. That explains roughly 1.5% of the 2.5%-3.5% disparity between my estimated gross margin and Apple's guidance.
For the remaining 1-2.5%, the explanation therefore needs to be found in my iPhone and iPad estimates. In the table below I outlined 3 different approaches that management could have used in its guidance.
The 1st possibility is that management is bullish on the iPad but bearish on the iPhone. The 2nd possibility assumes that management is bullish on iPhone but bearish on iPad. The 3rd is a combination.
So which one is management using? In the earnings call, CFO Peter Oppenheimer helped us a bit with that question as he explained that the new iPad models (iPad Mini and iPad Air) are more expensive to produce than their predecessors.
Prior to the quarter, I had to some extent take that into account, but apparently they were even costlier to produce than I had expected. Further, it also seems that neither the iPhone 5C nor the 5S are as profitable as I had hoped/expected.
By reworking the model a bit, I can get iPad gross margin down to around 24%. In order to replicate the "Possibility 2" gross margin of 21%, I would need to use some really unlikely assumptions (e.g. that iPad Mini 1 will sell a lot better than iPad Mini Retina and/or that the iPad 2 will match sales of the iPad Air).
Therefore, it seems likely that Apple's management is using "the combo"-approach in its guidance for next quarter.
Breaking down earnings
In the below table, you can see how the "combo"-approach impacts revenue and earnings. With a revenue of $57B and a gross margin of 37%, it is inside Apple's guidance range.
iPhone is by far the largest contributor to both revenue and gross profit. Mac profit will likely come down a bit due to lower pricing. "Other" includes income from accessories, iTunes, forex impact and deferred revenue of $700M.
In the end, I expect EPS of $13.3, which is a bit below the EPS of $14.3 from last year.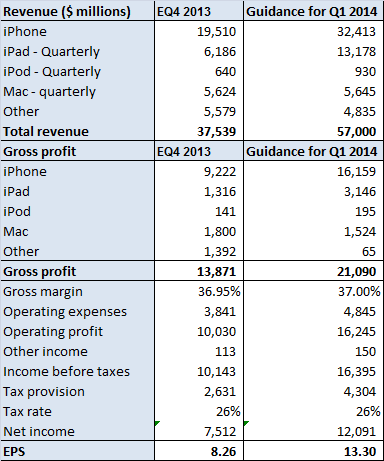 Final remarks
So let me sum up the key takeaways from this article;
iPhone gross margin will remain constant over the next year instead of increasing (as I had hoped)
iPad gross margin will increase a bit, but not as much as the ASP due to higher cost structure.
iPhone sales will likely come in a bit lower (around 53M) than most analysts expect. This could be due to supply constraints.
On the other hand, it seems that Apple is very confident in its iPad lineup.
Overall, I believe the earnings report wasn't good for Apple. It seems that Apple isn't as efficient in producing iPads and iPhones as it previously was. This means that the new price strategy of the iPhones/iPads, which were intended to lift margins, merely maintain them.
Obviously Apple isn't in trouble by any means. It still has lots of cash in the bank and it is priced relatively cheaply, so I don't think that an Apple investment is a bad idea.
But looking isolated at the earnings report, I believe the stock price should decline a bit on the news. In the after-hours, however, the stock is actually up a bit. But I believe that investors just need some more time to evaluate the longer-term impact of the earnings report. A couple of days from now on, I expect a 1-2% decline in the stock price.
Disclosure: I have no positions in any stocks mentioned, and no plans to initiate any positions within the next 72 hours. I wrote this article myself, and it expresses my own opinions. I am not receiving compensation for it (other than from Seeking Alpha). I have no business relationship with any company whose stock is mentioned in this article.