Goldman Sachs delivered its 2010 outlook for the software sector on a conference call Monday and it boils down like this: PC and servers will see a big upgrade cycle; mergers and acquisitions will be used by big companies looking to boost cash reserves; and there's a continued march toward cloud computing.
Overall, Goldman sees IT spending in 2010 to rebound 5 percent in 2010 from a decline of 8 percent in 2009.
From an investment perspective, Goldman reported that fourth quarter estimates for technology companies are likely to be low. Pent up demand is there for storage, PCs and servers in that order.
Among the key points:
Red Hat (NYSE:RHT) and VMware (NYSE:VMW) are likely to gain the most from a PC and server upgrade cycle.
Microsoft (NASDAQ:MSFT) will roll with small and mid-sized business growth. Here's the landscape: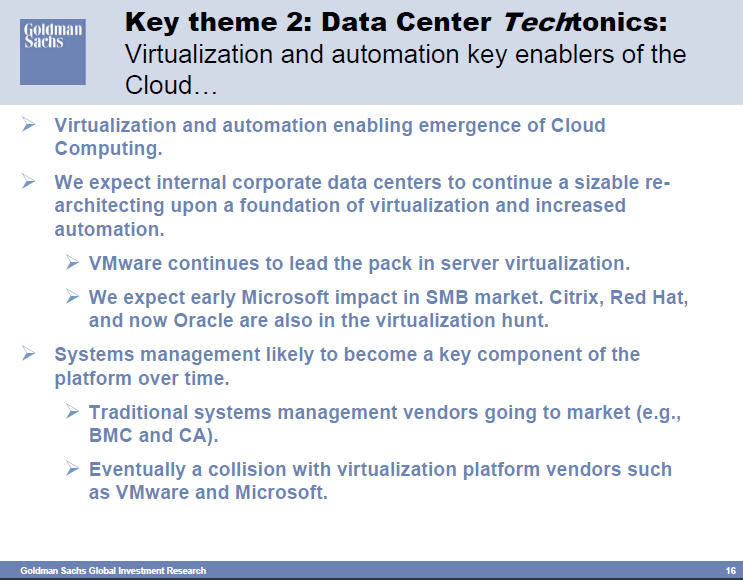 The cloud will take shape. By 2013, IT cloud services application revenue will represent the largest portion of a $44.2 billion revenue pie, but face slowing growth. Storage cloud services will be the fastest growing market. In 2009, IT cloud revenue will be $17.4 billion, according to Goldman, which also had a handy graphic on the cloud layers.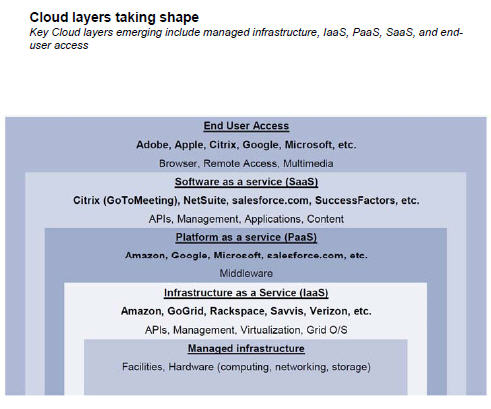 2010 will begin the rise of the virtual desktop. Goldman sees Citrix (NASDAQ:CTXS) being the lead dog to this virtual desktop move with VMware being a major player. Goldman sees virtualized desktops being a $1.3 billion to $2 billion market by 2013 with Citrix and VMware owning 90 percent of the market. The caveat here: We've heard this before and companies seem skeptical about virtualized desktops.
Merger and acquisitions in the software industry will be the norm. BMC Software (NASDAQ:BMC), Citrix, McAfee (MFE), Nuance (NASDAQ:NUAN), Red Hat, Salesforce.com (NYSE:CRM), Symantec (NASDAQ:SYMC) and VMware are among the companies expected to benefit from consolidation. The big consolidators are expected to be the usual suspects: IBM (NYSE:IBM), HP (NYSE:HPQ), Cisco (NASDAQ:CSCO), Oracle (NASDAQ:ORCL) and EMC (EMC). Here's the breakdown:
IBM is shopping for middleware (think Tibco (NASDAQ:TIBX), Red Hat), datacenter automation (BMC), virtualization (Citrix) and project lifecycle management (Parametric (PMTC)).
Cisco is shopping for datacenter automation and virtualization.
HP wants to buy middleware, security, storage management and virtualization companies.
Oracle is shopping for applications, middleware and data center automation companies.
EMC and Symantec are also eyeing data center automation companies.
The common thread here is that you may want to buy shares of BMC Software, which could be the belle of the merger ball.
Wild cards for 2010 include SMBs, which may not recover until 2011. Emerging market demand is also unknown.