The S&P 500 is up 23% year-to-date. The NASDAQ is up over 30%. There's no doubt that 2013 has been a great year for investors but there are a number of factors that suggest that this market is becoming overvalued.
Consider the following…
The current P/E ratio of the S&P 500 is in the 19-20 range versus the long-term average of about 16.
There hasn't been a 10% correction in the S&P 500 in over two years.
The latest AAII Investor Sentiment Survey states that the percentage of investors surveyed that consider themselves bullish is 49.2% - far above the long-term average of 39.0%. Also, the same survey says that the percentage of investors that consider themselves bearish is 17.6% - well below the long-term average of 30.5%.
As the market continues its march higher, it's becoming increasingly difficult to find good values. One of those is a company that's spent the better part of the last two years falling out of favor with investors but now finds itself poised to take advantage of a rebound. That company is Cliffs Natural Resources (NYSE:CLF).
Cliffs' well being is tied largely to iron ore prices. In 2011, it took advantage of a perfect storm of market conditions - sharply rising iron ore prices coupled with rapid growth in steel demand in China. The good times quickly ended as China's growth cooled and iron ore prices started dropping. As a result, the stock, which peaked at $100 in July 2011, saw its price drop all the way to a recent low of around $15.
But the clouds may finally be lifting for Cliffs. A return to $100 share prices seems unlikely but here is a list of economic conditions that may be setting up for a return to better times for both the company and for shareholders.
Steadying iron ore prices
The vast majority of Cliffs' revenue comes from iron ore production. As we've seen in the past, as iron ore prices go so goes the fortunes of the Cliffs. Analysts thought that ore prices were headed down but so far they've been hanging tough.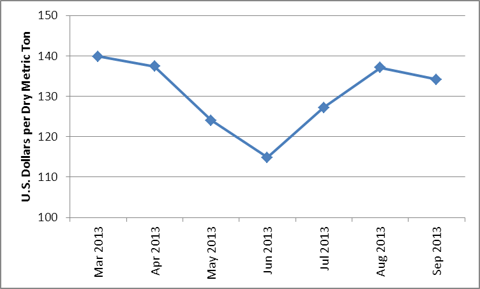 Click to enlarge
(Click to enlarge)
Prices dipped down to the 110s earlier this year but have since bounced back to the 130s. If they can stay in the triple digits, Cliffs ought to be able to maintain growth.
Strong 3rd quarter results
Revenues and net income didn't grow substantially from the year ago period but operating income and cash flows increased significantly. The improved cash flow is especially encouraging since this would indicate the company is better positioned to fund ongoing operations without digging into reserves.
Raising equity and cutting the dividend
Investors didn't like either move but the additional stock offering coupled with the reduced dividend went a long way to improve Cliffs' financial position. Cliffs is now better positioned to deal with fluctuating iron ore prices and has additional resources for new capital expenditures as well.
The stock prices finally crossed above the 200-day moving average
Look at the chart below and you'll see that the stock price has been hovering below its 200-day moving average for well over a year. Every time it pushed against the average it wasn't able to break through and ended up heading back down. That is until recently.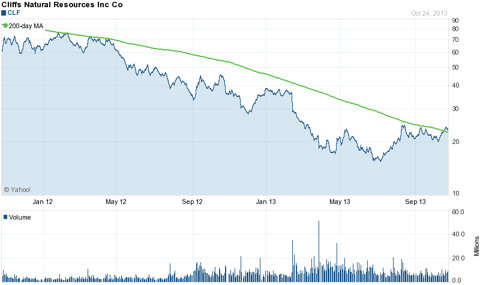 Click to enlarge
(Click to enlarge)
This is traditionally a bullish sign for shareholders. Earnings helped push the stock price above $25 and combined these two factors could signal a longer-term up trend.
Improved fundamentals
With the stock price decline it's probably not surprising that the company looks undervalued based on fundamentals. As the market responded positively to Q3 earnings, the fundamentals now demonstrate a compelling value play.
The stock currently sports a price/book ratio of 0.6 and a price/sales ratio of 0.63. Even after the recent dividend cut, the stock still maintains a 2.4% dividend yield, which helps cushion the downside.
Conclusion
The risk is that iron ore prices continue falling and further squeezes margins. If prices dropped, Cliffs isn't going to look like much of a value any more. But the stock currently has as much upside as it's had at any point in the last couple of years. There is still some uncertainty surrounding the company but at current levels, it could be worth the gamble.
Disclosure: I have no positions in any stocks mentioned, but may initiate a long position in CLF over the next 72 hours. I wrote this article myself, and it expresses my own opinions. I am not receiving compensation for it (other than from Seeking Alpha). I have no business relationship with any company whose stock is mentioned in this article.