Prospect Capital (NASDAQ:PSEC) will report financial results early next week and this article is a follow up to "Prospect Capital: Time To Buy?" and will discuss my expectations and the things I will be looking for. Earnings and dividend sustainability will be essential as well as indications of portfolio credit quality. Net asset value ("NAV") per share is always important including any significant changes to the fair value of its portfolio investments or increases in non-accruals especially with its larger investments. I will also be looking at changes in investment mix including the amount of collateralized loan ("CLO") type investments and senior vs. subordinated debt as well as overall portfolio yield direction. Other items such use of cash and leverage will be less important because PSEC is a rapidly expanding company and the timing of capital deployments can change these ratios throughout the quarter due to continued equity and debt offerings.
Portfolio Growth and Dividend Sustainability
Obviously most investors are attracted to PSEC because of its high yielding dividends currently at 11.5%. Contributors such as Scott Kennedy have gone to great lengths to assess the sustainability of these dividends. Last quarter PSEC grew its portfolio by $465 million fueled by issuing 9.2 million shares and almost $300 million in debt. By August 21, PSEC had already issued another 11.8 million shares and could potentially raise $200 million in equity for the quarter, and using the same leverage ratios an additional $125 million in debt growing the portfolio to almost $4.5 billion or around 8% over the previous quarter. Using similar portfolio yields from the previous quarter of 13.6% and depending on loan prepayments, refinancings, or sales, as well as timing of capital deployments during the quarter I would estimate interest income of around $145 million compared to $131 million in the previous quarter. This would account for most of the recurring income used to pay dividends but during the last quarter PSEC also had $36 million in dividend and other income that is usually lumpy.
Here is a rough 'back of the envelope' estimate for PSEC's dividend coverage from net investment income ("NII") but does not take into account normalizing for one-time expenses from the previous quarter or projected for this quarter. Total investment income of $155 million and expenses of almost $80 million including $20 million for income incentive fee = NII of $75 million. Dividends paid will be $0.33 times the amount of applicable shares which I estimate to be around 257 million = $85 million. However I only assumed $10 million in other income and higher operating expenses both of which are conservative and could easily change NII to cover dividends. Again, the timing of deployments and net origination for the quarter could drastically change these assumptions as well.
Portfolio Credit Quality and NAV Per Share
PSEC is a BDC that I do not depend on for NAV per share growth and consider the high yield from its dividends to be most of its total return. This means that much of the gains to investors are taxed at higher levels. But its NAV stability is important and an indicator of portfolio credit quality and management underwriting standards. As discussed in many of my articles CLOs are riskier types of investments but usually pay much higher yields to support higher dividends. PSEC has kept the amount of these investments to around 16% of the portfolio. The overall portfolio mix is average compared to most BDCs with 53% in senior type loans and around 43% in subordinated or CLO investments as shown in the chart below.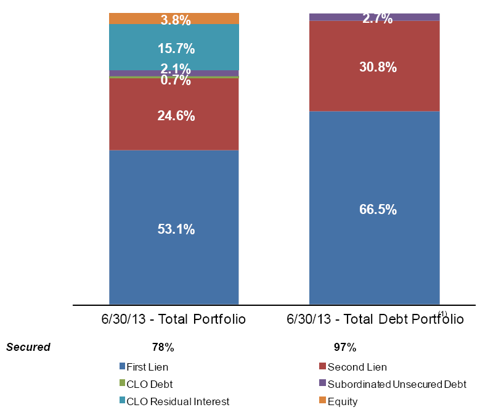 During the most recent quarter PSEC grew the amount of senior loans as a percentage of the portfolio and reduced its weighted average yield on investments. I believe this is a sign of maintaining underwriting standards due to yield compression in the market from increased competition. I would like to see PSEC continue to focus on senior loans and maintain quality standards with the new originations. As of June 30, 2013, eight loan investments were on non-accrual status accounting for $13.8 million in fair value and recently some of the portfolio companies were valued at a significant discount to amortized cost, due to significant decreases in operating results including ICON Health & Fitness, Inc., Gulf Coast Machine & Supply Company, Stryker Energy, LLC and Wind River Resources Corp. and Wind River II Corp. I would continue to watch for developments such as these in case there is a trend toward declining portfolio quality.
Summary
In previous articles I have discussed that one of the key risks associated with investing in PSEC is its rapid pace of growth and the potential of diluting earnings and making riskier investments. The primary things to watch for are dividend coverage, NAV per share stability or growth, and signs of declining portfolio quality. Other things that I will be looking for are leverage levels, share dilution, changes in undistributed net investment income, and portfolio yield and investment mix. After the financial results are reported next week I will revisit the pricing and risk profile for PSEC as discussed in "Prospect Capital: Time To Buy?".
Investors should only use this information as a starting point for due diligence. See the following for more information:
Disclosure: I am long PSEC. I wrote this article myself, and it expresses my own opinions. I am not receiving compensation for it (other than from Seeking Alpha). I have no business relationship with any company whose stock is mentioned in this article.