Small-Cap technology solutions provider, Cadence Design Systems (NASDAQ:CDNS), recently experienced an approximate 12% dip in price as a result of a $0.43 million miss in third quarter revenue. The dip in stock price was also attributed to the company's revenue outlook for Q4 of $370 million to $380 million, which was disappointingly lower than the average consensus of $379 million. Despite the revenue expectations miss, earnings came in right on target at $0.21 per share with revenue up 8% year-over-year. Cadence does experience sharp movements in its stock price, so I think that the recent dip presents a good buying opportunity for the short term and long term. The stock tends to recover just as quickly as it drops. The long-term outlook should be positive for the stock due to the above average earnings expectations for the company.
Cadence develops solutions that allow customers to design complex integrated circuits (ICS) and electronic devices. The company helps its customers reduce design and development costs, while simultaneously reducing the time to bring ICs and electronic devices to market. Cadence provides maintenance for its product offerings and engineering services for design solutions. The majority of the company's business is generated from semiconductor and electronics systems manufacturers & designers.
The following products should help the company in its growth efforts:
Palladium

- Palladium has 70% of the top semiconductor companies

- Q3 saw 25 major expansions & 9 new customers

- 40% of this business is with system companies & is growing

- Palladium XP II system delivers 2x the verification productivity, higher gate density, and lower power consumption

IP Business

- Over 200 customers use Tensilica for baseband IP for 4G LTE modems and audio and imaging IP for mobile, home and automotive application processors

- Cadence provides complete IP solutions for digital, mixed-signal, and analog

- New line-up of high-speed analog and digital data-converter IP

- Received TSMC Partner of the Year award for analog and mixed-signal IP based on the company's quality of results delivered

Virtuoso

- Leading tool for developing FinFET technology (breakthrough 3D transistor that reduces power and increases performance

- Used on nearly every design at 14 and 16 nanometers

- Received TSMC Partner of the Year award for the 16-nanometer FinFET infrastructure

Spectre XPS

- Next generation fastSPICE simulator, which delivers up to 10x faster throughput than computing simulators using 2 to 3x less system memory

- About 1000 customers are using Spectre XPS
Cadence has developed these new products for significant performance and productivity improvements over computing solutions. The company continues to integrate its IP acquisitions and is gaining new business among its customers. These products should experience solid revenue gains as customers look to benefit from the performance and productivity improvements.
Valued Lower than Competitors
Cadence looks attractive as compared to its competitors. Not only does Cadence have a lower valuation than Synopsys (NASDAQ:SNPS) and Mentor Graphics (NASDAQ:MENT), but the company is also expected to grow earnings at a much higher rate. Here's a valuation comparison on these three companies:
| | | | |
| --- | --- | --- | --- |
| | Cadence | Synopsys | Mentor Graphics |
| Trailing P/E | 8.5 | 26 | 23.7 |
| Forward P/E | 13.2 | 14.4 | 12.9 |
| PEG Ratio | 0.99 | 2.2 | 1.42 |
| Price to Book | 3.3 | 2.04 | 2.4 |
| EV/EBITDA | 11.04 | 13.3 | 12.9 |
| 5-Yr. Expected Annual Earnings Growth | 15% | 7% | 10% |
One of the key valuation metrics with regard to these companies is the PEG ratio. With Cadence's PEG near one, the company is priced more attractively for its future earnings growth than Synopsys and Mentor Graphics. If Cadence can achieve its earnings growth over time, the stock has the likely potential to outperform its competitors and the overall market.
Cadence's valuation became attractively lower when the stock dipped as a result of the Q3 revenue miss and due to management's cautious outlook for the business. I think that the management team is being conservative in its outlook. Cadence does have 70% of the top semiconductor companies using Palladium and 40% of revenues are derived from the system companies. Therefore, Cadence is positioned well in the industry. The established relationships that it has are likely to continue as Cadence improves its current offerings. Its customers are likely to upgrade to newer products if the cost/benefit makes sense. With performance and productivity improvements built into the new products, customers are likely to upgrade.
The Risks
The current business environment is challenging which is why management has issued caution for its Q4 outlook. Although some customers are doing well, others are experiencing softer demand. If enough customers reduce spending, Cadence could take another hit on its Q4 earnings.
Cadence must also keep pace with the rapid changes in technology. The company must remain on the cutting edge to maintain and grow its market share over its competitors.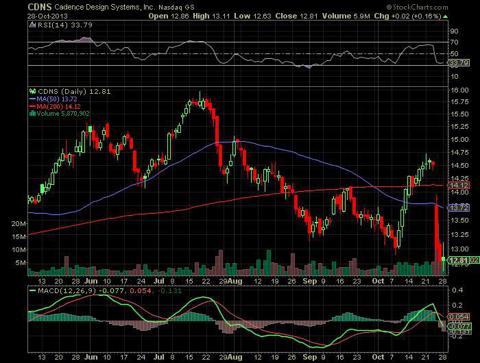 Click to enlarge
Conclusion
Cadence has good long-term growth prospects despite any short-term disappointments. Despite the uncertainties in the industry, the company has significant market share, which speaks to Cadence's respected reputation in the industry. The current valuation makes for an attractive long-term investment. I like the company's five-year expected annual earnings growth rate of 15%, which has the potential to allow the stock to outperform the market.
Disclosure: I have no positions in any stocks mentioned, and no plans to initiate any positions within the next 72 hours. I wrote this article myself, and it expresses my own opinions. I am not receiving compensation for it (other than from Seeking Alpha). I have no business relationship with any company whose stock is mentioned in this article.