It seems the expression that when it rains it pours rings true for NQ Mobile (NYSE:NQ). The stock has been decimated over 66% since being accused of fraud by Muddy Waters. Now just recently it appears that the games from their mobile gaming division, FL Mobile (also known as Feiliu), had been all removed from Apple's (NASDAQ:AAPL) App Store for some undisclosed reason.
FL Mobile is apparently, or at least according to NQ Mobile, the top or one of the top gaming publishers for iOS in China. Its net revenue was $7.5 million in Q2 of 2013 according to NQ. The news that their games are no longer available on the Apple App Store has been making its way through the Chinese media, such as from this article on Sina's (NASDAQ:SINA) news website. The article is in Chinese but again non-Chinese readers can use websites such as Google Translate to get a general sense of what the article saying.
Some key take ways from the article is that a lot of the functions for the games they are publishing seem to be not working correctly. FL Mobile response is that they will communicate and disclose compensation for their partners. However as of now they still failed to communicate.
Almost all of FL Mobile's games are only available in China. However on September 17, 2013, the company had a press release announcing the launch of their first game in North America, called "Gods and Dragons". As of the time this article was submitted, the link for "Gods and Dragons" on iOS says the app is not available. Below is an image of what the page for "Gods and Dragons" would have looked like on iTunes.com when it was still working.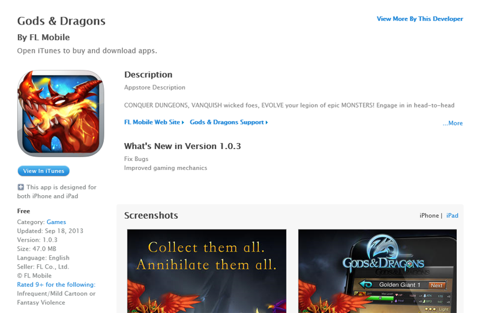 Previously I have touched upon the somewhat curious relationship between NQ Mobile and FL Mobile/Feiliu in my initial article on the company back on October 1, 2013. As a quick reminder, CCTV (a state-owned TV network in China) ran an expose and accused NQ and Feiliu of secretly infecting users with viruses and then asking to pay to have the virus removed back in March of 2011. At that time NQ was already a part owner of Feiliu. Later in November of 2012, NQ acquired the rest of Feiliu it did not own. Muddy Waters claims that this acquisition of Feiliu by NQ was a fraudulent transaction.
A lesson here perhaps is that investors in the US who do not read Chinese or have regular access to someone who can read Chinese should stay cautious about or avoid mid or small cap Chinese stocks. Often news, good or bad, about the company that is available from the Chinese news media never makes its way to the US. So mom and pop investors are left out in the dark. We try to keep readers updated if more interesting developments regarding NQ Mobile occur.
Disclosure: I am short NQ. I wrote this article myself, and it expresses my own opinions. I am not receiving compensation for it (other than from Seeking Alpha). I have no business relationship with any company whose stock is mentioned in this article.