There are startling similarities between Facebook (NASDAQ:FB) today and Google (NASDAQ:GOOG) in 2005. Both saw their stocks double in value to over $100 billion. Both had high P/S and P/E ratios. In the previous year to 2005 Google's earnings had quadrupled. Now Facebook's earnings are forecast to quadruple next year too.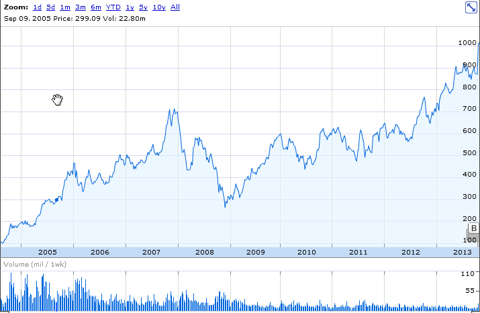 Google has returned a solid 12% a year since late 2005. This is twice what the S&P (NYSEARCA:SPY) has returned. Though given the risks and uncertainty that buying Google in 2005 represented, a 12% return is likely the minimum return most investors would have required. Facebook now is in a similar situation: that is, to generate equivalent returns it will need over the next eight years to reach the market cap that Google now sports - over $300 billion. Since Facebook in the long run is likely to generate the same margins as Google does, that means Facebook needs to achieve the same revenue run rate that Google has now (excluding Motorola) or $50 billion a year.
The question is, is that realistic? My investment thesis is that it's not.
In the rest of the article I'm going to present a long term view for why Facebook is overvalued, as well as look at some of the short-term headwinds that Facebook will experience in achieving its revenue targets for the next year.
Long-term view
Facebook derives the majority of its revenue from advertising, only 12% comes from other sources.
The non-advertising revenue comes from fees that companies like Zynga (NASDAQ:ZNGA) pay Facebook to access its users for their own services. This revenue segment plays to Facebook's unique strengths as a social platform but is now all but tapped out, with revenue only growing by 11% last quarter.
It is in advertising that the future of Facebook's growth lays. The question is can Facebook's advertising revenues go from $5 billion to $50 billion? Can Facebook come up with something rivaling Adwords and Adsense?
Google's fantastic advertising success has come about because Google's ads provide real utility to the people who view the ads. This quite unlike how most ads work either offline or online. Do Facebook's ads prove as useful to people or not?
Facebook has a whole suite of advertising products that companies can use. There are simple display ads that companies use for branding purposes - these still constitute a large fraction of Facebook's ad inventory. The ads that investors have got excited about however are social interest based ads. Some of these ads are geared around brand promotion, others are geared toward specific actions such as app downloads, or purchases.
Generally speaking social interest ads are generated when someone who is on Facebook's social graph triggers some action such as "liking" a company's product page on Facebook for instance, or "liking" a product after buying it on Amazon (NASDAQ:AMZN). One can think of social interest advertising as similar to endorsement, except of instead of using celebrities Facebook uses peoples' Facebook "friends."
In principle there is some merit behind the idea: who after all do you trust more than your friends, family and colleagues?
On the other hand there is something quite random about say, a message appearing in your newsfeed announcing that a "friend" has liked The Hobbit DVD on Amazon. And unlike Google ads which only appear on the side of the search page you are looking at, Facebook's sponsored messages will be right there in your feed. On mobile they will in fact take up your whole screen forcing you to scroll down to move past them. This combination of randomness and intrusiveness is reminiscent of pop up ads.
Now at the moment Facebook's social interest ads are doing well, with high click through rates - useful for branding campaigns - and good return on investment. But advertising is a faddish industry and new products will often do well initially just due to novelty. The first banner ad appeared on a site called Hotwired in 1994 - it had a staggeringly high 44% click thru rate, whereas now you'd be lucky to get 0.1%.
This brings me to the biggest contrast between Google's innovation and Facebook's. By creating and developing Adwords and Adsense Google had fairly rapidly stumbled upon a successful monetization strategy. Its subsequent innovations: Gmail, Maps, Chrome, YouTube and Android etc. have been about giving these killer advertising products more ad inventory to use. Facebook on the other hand has always had a vast (potential) ad inventory, it just lacked a way of unlocking it.
One sign that Facebook hasn't managed to stumble on any magic formula is that there are so many different advertising products Facebook offers to companies. At one point there were 26 different options, which have since been cut down to half that. Compare that to Google, which really offers only a few options: Adwords and Adsense, and within Adsense a handful of different variations: cost per click, cost per impression and cost per action, plus video rolls for YouTube.
Facebook's revenue growth slower compared to Google at same scale
Here are Google's financials from when Google's revenue was similar to what Facebook's is now.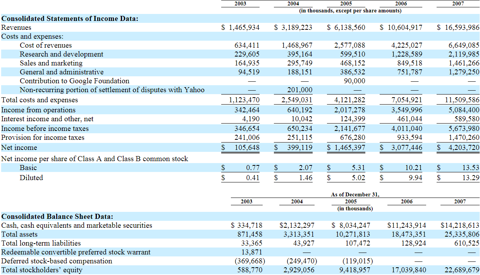 And here are Facebook's financials for the last few years.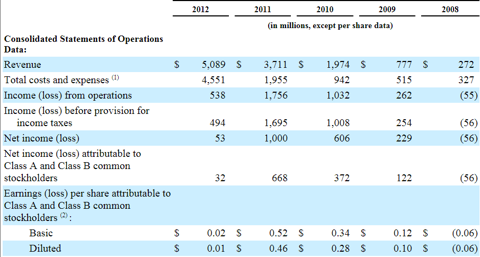 Note how Google's revenue nearly doubled between 2004 and 2005, from $3.1 billion to $6.1 billion, whereas Facebook's revenue increased from $3.7 billion to $5.1 billion - only a 38% increase. Furthermore, Google's revenue would increase by another 73% the following year. Obviously we don't have data for Facebook's full year 2013 results but revenue estimates are for around $7.4 billion, so Facebook is on track for a 50% revenue year. That's impressive - they've managed to halt and reverse the deceleration in revenue, but it's still less than Google in 2006. Moreover as I'll explain next, that deceleration trend will resume next year in full force.
Mobile has provided a one off shot in the arm for Facebook
Mobile, mobile, mobile, Facebook's investors have gone mad over mobile and in my opinion it's hard to see why. Mobile now provides 41% of revenue (for latest quarter, 2Q 2013), up from almost nothing the quarter a year ago.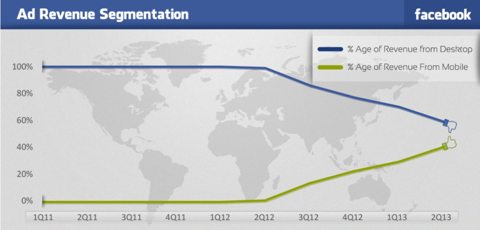 Clearly, this has given Facebook's revenue a huge boost. However it's important to note two things.
1. Mobile revenue isn't purely incremental to desktop revenue because Facebook users are now switching from using Facebook on desktop to using it on mobile.
2. Mobile average revenue per user - ARPU - has now almost caught up with desktop ARPU, limiting any further gains from mobile monetization.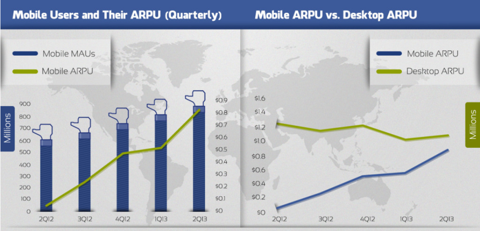 Therefore Facebook's mobile monetization efforts have provided a welcome shot in the arm for its revenue growth, but no more than that. Yet forecasts have Facebook generating approximately 30% revenue growth for 2014 - to $9.7 billion. That's not much less than FY 2012's growth rate. I would instead expect Facebook's growth rate to be under 20% in 2014, which might mean Facebook will be growing slower than Google.
Two more headwinds
Twitter's (NYSE:TWTR) IPO will raise the company's visibility to potential clients thinking of advertising on Twitter. Also Twitter's IPO will likely put that company under pressure to generate more revenue. It's therefore going to be competing hard for a larger piece of the social ad spending pie.
The second headwind is that instead of users gradually tuning out Facebook's adverts leading to advertisers on Facebook seeing falling ROI over the next few years, price deflation in social spending may be more rapid and nearer term - and will start to bite as early as next year.
Conclusion
Facebook's long-term growth doesn't justify its valuation when you compare it with what Google achieved at a similar point in its history. Facebook is projected to have revenue growth in 2013 and 2014, roughly half that of what Google achieved in 2005 and 2006. Furthermore Facebook will face difficulties meeting revenue targets in 2014 due to unrealistic expectations for mobile monetization as well as other headwinds.
Disclosure: I have no positions in any stocks mentioned, and no plans to initiate any positions within the next 72 hours. I wrote this article myself, and it expresses my own opinions. I am not receiving compensation for it (other than from Seeking Alpha). I have no business relationship with any company whose stock is mentioned in this article.